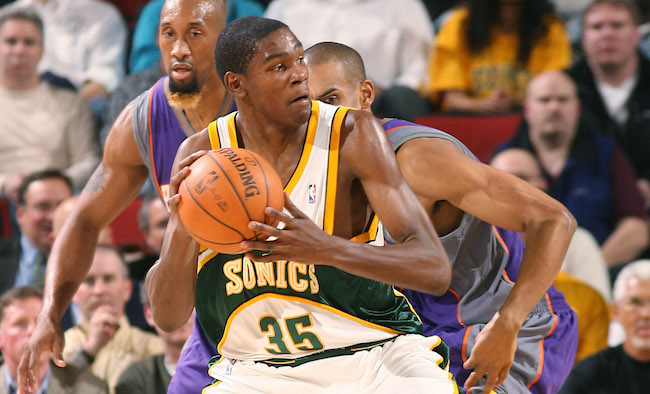 Kevin Durant spent one year in Seattle after being drafted second overall by the SuperSonics in the 2007 NBA Draft before the team up and left for Oklahoma City to become the Thunder.
While Durant didn't spend much time in Seattle, over the years he's voiced his affinity for the region and his belief the city should have an NBA team. With the Golden State Warriors headed to Seattle this weekend for a preseason game on Friday night against the Kings, Durant has once again spoken up about how Seattle is more than deserving of a franchise as the city seeks to bring the NBA back to Washington state.
For the game, it appears Durant will be rocking a special Sonics colorway of his Nike KD11, as he was seen at practice on Thursday in the green and yellow version of his latest signature sneaker.

It's nice synergy that the Sonics colors are pretty much the same as the Oakland A's, so it's a versatile colorway for Durant now that he plays in Oakland. But with the A's now eliminated from the postseason after a Wild Card loss on Wednesday night and the Warriors playing in Seattle, there's little doubt these are meant to be a tribute to the SuperSonics.