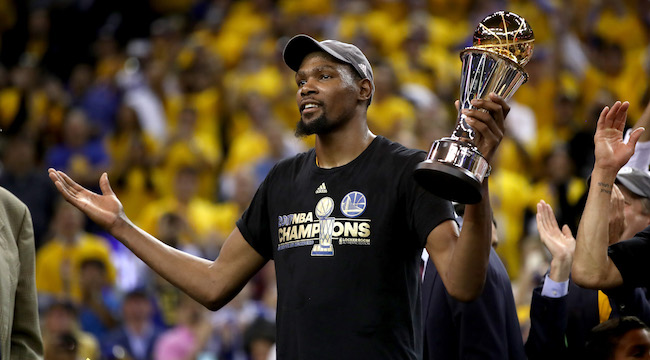 Kevin Durant's maiden voyage as a member of the Golden State Warriors ended in the way that many envisioned. In Game 5 of the 2017 NBA Finals, Durant was unbelievably effective, scoring 39 points, grabbing seven rebounds and knocking down five three-point attempts in a clinching performance.
Moments later, he was named as the 2017 NBA Finals MVP and put on a show during the trophy presentation.
Nike, who pays Kevin Durant a hefty sum of money annually, was quick to release a video celebrating the occasion but there is something to be said for the raw reaction. One of the best moments came from Durant's interaction with his mother and, even if the majority of that took place outside of the speech, the exclamation of "we did it!" certainly was affecting.
Furthermore, it wasn't as if there was any level of mystery to the proceedings, as Durant was the unanimous choice.

The presence of Bill Russell, for whom the trophy is named, adds an additional layer to the mix and it was clear that Durant holds the Boston Celtics legend in high regard. The most memorable snapshot will likely be the moment in which Durant held up the trophy with a look of almost bewilderment but he was quick to assert that he plays a "team sport" and credited the rest of the Warriors squad with the honor.
For some, Kevin Durant's ascent to this level will forever be marred by his choice to join a ready-made team. In the end, though, he appears quite content with the decision and the Golden State Warriors rode his high-end ability all the way to the title.