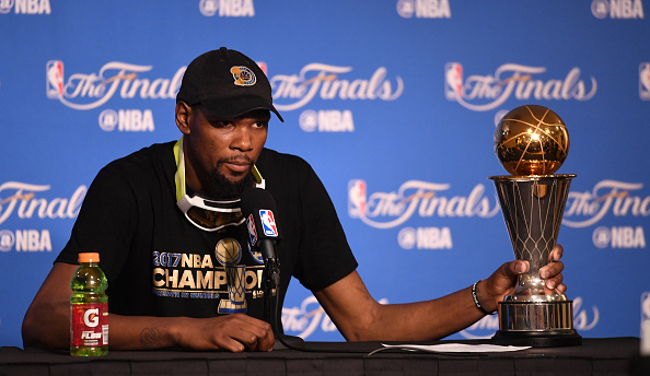 NFL legend Peyton Manning opened the ESPYs with a bang on Wednesday night when he wasted zero time before roasting Kevin Durant with an easy but serviceable joke about the former MVP joining the Warriors. Granted, it's low-hanging fruit, and Durant has been forced to endure constant criticism from the NBA peanut gallery all season long, but he made things exponentially worse when his reaction proved once again that he doesn't have much of a sense of humor about himself.
The people of the internet, likewise, wasted little time before going in on Durant with a cavalcade of meme-worthy tweets.
Then, of course, people couldn't help but point out that Durant's own mom had herself a good chuckle at the joke.
And last but not least, what would be the point of it all without a requisite Crying Jordan meme?
Immediately after delivering that now classic line, Manning turned to Russell Westbrook, who was sitting on the other side of the auditorium, to get his reaction, but Russ wisely didn't take the bait.
Durant was obviously hoping that winning his first championship, and taking home Finals MVP honors in the process, would put an end to all this, and he probably wasn't anticipating that when he showed up to this event that it would end with him being publicly humiliated, but it's painfully clear that his detractors aren't finished with him yet. Not by a long-shot.