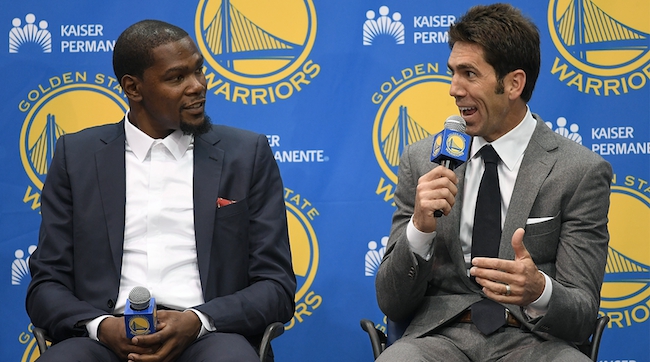 After sitting through hours of meetings and heavily pondering the next step in his career, Kevin Durant announced his long-awaited free-agency decision to the basketball world on the morning of July 4. The Hamptons, for most, represent a place for some much-needed relaxing and relation, but the lavish vacation destination served as the hub for the endless activity surrounding Durant's first foray into unrestricted free agency.
So when it came time to inform Warriors GM Bob Myers of his plans to join the defending two-time Western Conference champions, you can forgive Durant for his lack of clarity – it's not like he was lounging on the beach sipping on watered-down alcoholic beverages, after all. The 2014 MVP was stressed.
Here's how the former Oklahoma City Thunder superstar informed Myers he'd elected to sign with Golden State, courtesy of Sports Illustrated's Lee Jenkins:
"I just want to say you guys are a great first-class organization. It was great getting to know you….but…but I just want to tell you I'm coming to the Warriors."
Durant insists he wasn't trying to mess with Myers like he's Ryan Seacrest; his words just came out that way after days of being wined and dined by the league's elite. He wasn't only dead tired from seriously contemplating his future since free agency began, but also weighed down by years of speculation regarding his free agency finally coming to an end.
Myers, by the way, was expecting the qualifier Durant accidentally gave him all along. According to SI, the 2015 Executive of the Year had even prepared a concession speech.
Thankfully, the sense of ease and comfort that eluded Durant during that fateful phone call was only a minor blip in his developing relationship with the Warriors' brass. After his introductory press conference on Thursday, it's clear Durant is confident he made the right decision – especially given his friendship with Golden State consultant and future Hall of Famer Steve Nash.
The pair increasingly friendly in 2014 when they appeared together in a casual conversational video for Vice Sports. One Warriors employee went so far as to say that Golden State wouldn't have won the Durant sweepstakes "without Steve Nash."
It's no wonder the Bay Area's team proved so attractive to basketball's marquee free agent. The Warriors not only give Durant the best chance to win a championship, but he had existing relationships with several members of the organization before choosing to come aboard.
(Via Sports Illustrated)