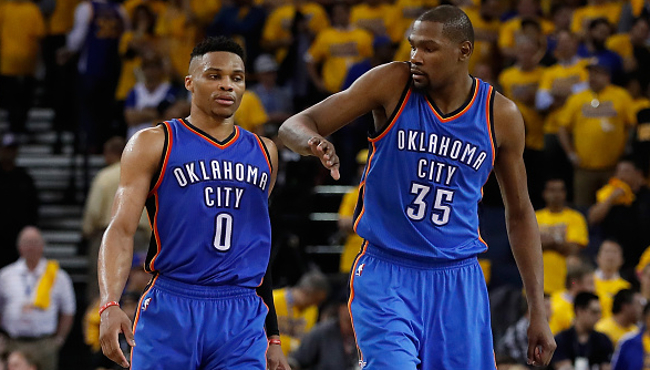 Kevin Durant's defection to the Golden State Warriors was never going to be easy. He and Russell Westbrook had built something special together in Oklahoma City as they evolved into one of the league's fiercest duos. Westbrook is an emotional guy, and for Durant to leave like that and join a rival team that had just beat them in the playoffs must have felt like a betrayal. What made it even worse was that Westbrook claims he found out about it just like everyone else.
But the bond they'd developed since the beginning of their careers is not something that's easily broken. Westbrook admitted as much after signing his extension earlier this summer. So when Durant was asked about their relationship over the weekend at a Nike event in Austin, the former MVP claimed that, despite all the turmoil, they have remained friends. Hat tip to CBS Sports:
"We're still cool. We're going to compete against each other at the highest level. We're gonna have fun against each other. We're still cool. There's no hate toward Russell from me."
Indeed, it promises to be extremely entertaining when the Warriors and Thunder face off in the coming season. To date, there's been no public report of the two talking since Durant made his fee agency intentions known on July 4th, but both players grew up in the NBA together. and it would be foolish to think they forgo any communication for the remainder of their careers. How it plays out on an NBA hardwood will likely be the first time they're around each other since the separation.
(Oklahoman; h/t CBS Sports)