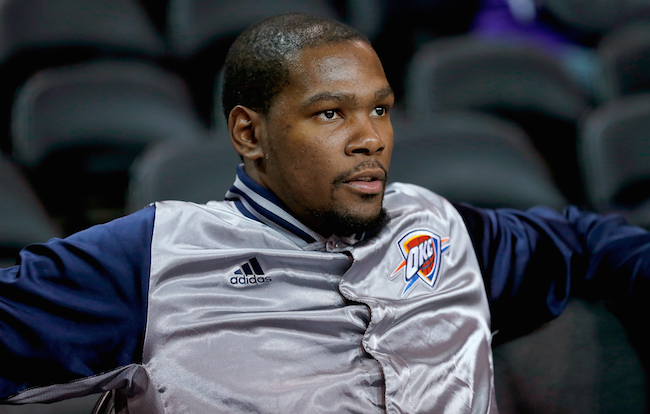 Though the playoffs seem ever likely, championship hopes of the Oklahoma City Thunder are long gone – and they might just have one more season to make good on this team's über-talented core of players. At least Kevin Durant figures to be healthy for it.
After being officially ruled out for 2014-2015's remainder last week, the reigning MVP underwent successful surgery on his troublesome right foot. Below are pertinent details of Oklahoma City's press release, per the team's website.
Oklahoma City Thunder forward Kevin Durant underwent successful bone graft surgery today for the fifth metatarsal of his right foot, Thunder Executive Vice President and General Manager Sam Presti announced.

The procedure was performed by Dr. Martin O'Malley with Thunder medical personnel present at the Hospital for Special Surgery in New York City. Durant will miss the remainder of the 2014-15 season and is expected to return to full basketball activities in the next four to six months.
The 4-6 month recovery timeline puts Durant on schedule to be ready for October's preseason action, and perhaps even training camp one month prior.
2015-2016 is arguably the Thunder's most important year since the team moved from Seattle to the bible belt in 2009. Durant is a free agent following next season, and has – smartly, it should be added – made no firm long-term commitment to Oklahoma City. In fact, he's even expressed excitement at the possibility of playing for his hometown Washington Wizards.
But the Thunder have far more than the Wizards to worry about when it comes to competition for the 26 year-old superstar. Due to a massive spike in the salary cap, almost the entire league will be flush with cap space – most with enough to offer Durant a max-level contract, and some to do so while surrounding him with a stellar supporting cast.
Combined with Oklahoma City's mishandling of his injured foot, might the lure of a new and similarly promising situation – in a big market, perhaps – lead to Durant leaving the Thunder? We wouldn't count on it, but anything is possible during free agency.
What would likely make his decision far easier, of course, is if Oklahoma City won a title just weeks before he hit the open market. And with Durant and the Thunder finally fully healthy, that certainly seems a possibility. Here's hoping they are for the duration of 2015-2016.
[Thunder]