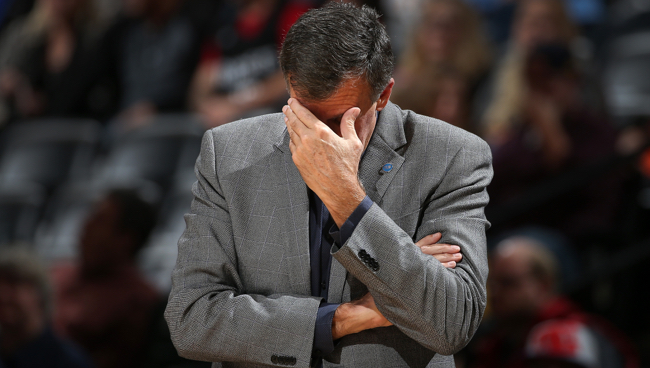 If you had Kevin McHale in your NBA head coach firings pool, then first off, you have some nerdy friends, but secondly, congratulations. After only 11 games, the Houston Rockets have fired McHale due to a 4-7 start characterized by awful defense — they are allowing the second-most points per 100 possessions in the NBA and have given up at least 100 points in every game so far. And as it turns out, there might be a pattern to the Rockets losing patience with their coaches.
And if you wanted to read the tea leaves, the signs were there. Just a night before the firing, the Rockets held the dreaded players-only meeting, and there was this from a Houston radio interview:
Defensive assistant J.B. Bickerstaff will take over as interim head coach, and he will be tasked with renewing the Rockets' commitment on the defensive end. But that didn't stop Twitter from speculating about a permanent replacement. When a team needs defense, one name has come up since the end of last season: Tom Thibodeau. But the Rockets players may not be ready for his intensity.
And of course, Twitter was there to mirthfully shovel dirt on the grave of McHale's tenure:
https://twitter.com/PeteAtTOC/status/666997649535541250
And of course, the inevitable Hardashian take from exactly who you'd expect:
Solid Mychal Thompson reference, though. And there's the one angle we, unfortunately, must consider:
BASED GOOOOOOOOOD!!! *shakes fist*
Now Watch: Who Was The Better NBA Team: The '96 Bulls Or The '01 Lakers?