At the end of DeRon Hayes' basketball games in Europe, children would take to the floor, being afforded the opportunity to play on the court. It was a chaotic scene, with hoards of youngsters dribbling around and stealing the balls from one another.
In the midst of this was DeRon's son, Killian. At two and a half years old, Killian looked a bit older — "about five," DeRon recalls — but wasn't exactly showing the early signs of the skills that would make him an NBA Draft hopeful more than a decade later. Other kids would steal the ball from him, he couldn't get it back, and he'd get a little bummed out.
Despite Killian's early frustrations on the court, DeRon and his wife, Sandrine, wanted to do something to make sure their son always got to play even though he was younger than many of the other kids. Their solution: a pink basketball.
"It was funny at the moment, but like I said, he didn't care, a ball was a ball," DeRon recalls. "The older kids were like, 'Oh, I'm not going to play with a Barbie ball, a pink Barbie ball.' It worked out."
From there, a basketball never left Killian's hands again.
His father had a lengthy career in Europe, with stops in Portugal, Sweden, Ukraine, Russia, and France following a productive collegiate career at Penn State, and for the young Hayes, there was never a doubt he was going to follow DeRon into the family business. When his grade school teacher asked what he wanted to be when he grew up, Killian said a basketball player.
"She used to say, 'That's not a job,'" Killian says. "I'd say, 'I don't have nothing else.' So, I just fully committed to basketball and just put my mind into it and I just stuck with it."
From the outside, it may have seemed like an unattainable dream, but it's hard for the people closest to Hayes to consider that the long and windy road he traveled would end with anything other than him becoming a pro hooper. That officially became the case in 2017, when Hayes made his debut for French side Cholet – one of the teams for whom DeRon played in his professional career — at age 16. And later this month, when the 2020 NBA Draft commences, he will go up to a different level.
Killian Hayes is on the precipice of the biggest day of his life.
***
"My first impression of Killian was just his poise," ESPN Draft analyst Fran Fraschilla says as he recalls the first time he checked out Hayes' game. "For a young man that is only 19 years old — and at the time I think he hadn't turned 17 yet when I first saw him — the thing that stands out is his size and his poise. To be a 6'5 point guard and you're 17 years old and you have a very good — what I would call countenance — about you, graceful under pressure, that's the first thing that jumped out at me."
Something fun that happens in reporting these stories is noticing trends in the way people talk about someone that give you a clearer glimpse into the person you're writing about. While talking to Hayes and those who know him, whether personally or through their jobs as basketball scouts, one thing kept popping up: He does not approach anything like a person who turned 19 only three and a half months ago.
It's probably not a surprise given how Hayes got to where he is today. His first memories involve playing basketball at home; the Hayes family had a little plastic hoop that he'd dunk on in their living room. Eventually it was moved outside, where a young Killian would run at full speed and perform the most rim-rocking of dunks that you can as a child.
"There has never been a question at this time," Sandrine says of how quickly her son fell in love with the game. "He was just so natural. There was no forcing, there was no need to force it."
Growing up, he'd go to DeRon's practices and hang out until they ended, at which point he'd make his way onto the court and get coached up by his dad. DeRon considers himself a gym rat and as a result, Killian became a gym rat from a young age.
"He would wait and come and watch me practice, and then we would practice and we would train or just shoot and just play around, just play around and just have fun," DeRon says. "That was our fun, that was our amusement, and that was our thing."
The floor time, and the interaction with the pro game, had a lasting impact on the young hooper.
"I got to see what it was like to be a professional at an early age," Killian recalls. "He taught me a lot, and since I was there at his practice, I could see and watch what they were doing and how they were staying, getting extra shots, getting there early, making sure they work at their craft and being sharp on the court."
These formative moments with DeRon, whom Killian calls his "best friend," were as important to molding him into the baller he'd one day become as the YouTube rabbit holes he'd fall down, watching Dwyane Wade and AND1 Mixtape legends Hot Sauce and Bone Collector. The former's Euro step is still a staple in his game, while the latter two stuck out amid the raucous atmospheres that drew a young Killian in. He especially loved watching Shammgod dribbles, to the point that he admits that he did them a ton when he was younger, although he's a little more conservative with them now.
From the time he was six, Killian was in the Cholet system. The club — which used to be home to NBAers like Rudy Gobert and Chandler Parsons — is in the western part of France, and where DeRon spent a chunk of his career. He worked his way through that system, making an impression on people like Sylvain Delorme, who coached him with Cholet's under-18 side.
Delorme recalled watching Killian with Cholet's U-15 team, which he broke into when he was a 12 year old. Killian made the jump up to the U-18s when he was 15, and in that year, he got bumped to the U-21s with the opportunity to practice with the senior side. Delorme was impressed by his relationship with DeRon, whose influence Delorme believes manifested itself in Killian's love for the game, and how games would usually end with him on the floor.
"Every championship, almost, he played, he won it," Delorme says. "He played under-18, he won it. He played under-21, he won it. He played in the European championship, he won it. If he didn't win it, he's an MVP. Everything he played, he won. I've never seen that before."
To Delorme, it was obvious after one year that Killian had pro potential. He kept raising the bar for him, and while he understands that circumstances can often determine a person's ability to make it in the NBA, there was something special about this kid.
"You put him in the under-18s, he beat the under-18s," Delorme says. "You put him in the under-21s, he beat the under-21s. You got his ability to do that. So after my first season with him, I think he [is] going to play [at a] very high level."
***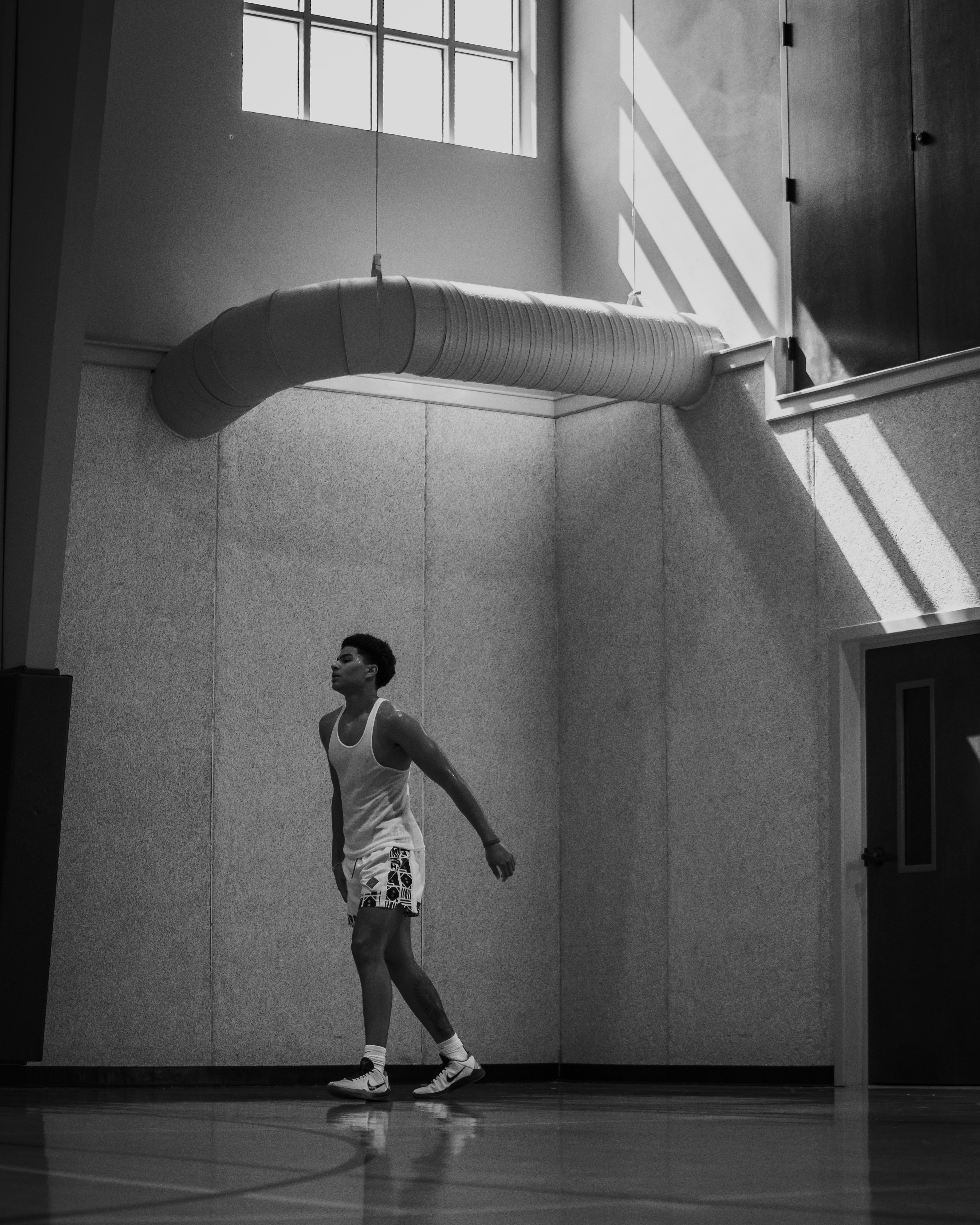 Being a young star in Europe can be tricky. It's a path so radically different from the ones that American-born standouts trudge. Instead of playing high school and AAU ball against fellow teenagers, you more or less need to put your head down and do the work, whether lining up against grown men with your club or your national team. The celebrity that oftentimes comes with being a big-name prospect in America isn't necessarily as prominent — Killian notes a certain spotlight is on teenagers in the States, marveling at how "crazy" it is that a 16 year old can have millions of Instagram followers.
He has gotten a taste of the American basketball hype machine, participating in camps in the U.S. and winning the Jordan Brand Classic co-MVP award as a 16 year old in 2017. Back in Europe, he participated in plenty of showcases, catching the eye of Chris Ebersole of the NBA's Basketball Without Borders program. It's been a springboard for plenty of youngsters abroad, and when Killian took the floor during a BWB event in Los Angeles in 2018, Ebersole praised him for sticking out despite his age.
"He was a full year younger than many of the other participants there, but his savvy, his maturity, his confidence, all those things jumped off the page, jumped off the screen when it comes to him, even at that younger age," Ebersole says. "And he made the All-Star team in that camp as well as the following year in the same camp. So he's a two time BWB Global All-Star, which is pretty rare."
All of these various showcases gave Killian a further glimpse into American ball. Seeing the athleticism of guys like fellow 2020 draftee R.J. Hampton and Phoenix Suns guard Jalen Lecque served as an "eye-opener," hammering home that if he ever wanted to make it in the States, he had to work on his body.
These sorts of events reinforced what made him unique as a player. He sits at the intersection of how basketball is played in two places, France and the United States, and he believes both of those come through in how he plays.
"Growing up in France, I really had the French culture of basketball with a lot of team plays, set plays, and stuff like that, organized basketball," Killian says. "And every time I used to go back to the U.S., I mean, we used to play pickup, and it was one-on-one. So, it was two men going at each other, trying to prove who was the better one. So, I feel like the American side really brought out the aggressiveness in me, and the French side really brought the collective aspect of the game."
He almost got a chance to really lean into the American part of his game: Killian wanted to come to the United States and play high school ball. While he doesn't remember exactly how old he was when he approached DeRon and Sandrine with this — he claims 15 or 16 — the conversation ended with him staying in Europe.
DeRon went through the American pipeline, going to high school then spending four years in college. His time in Europe, though, gave him a glimpse into how basketball works there, and how the fundamentals and "good basketball" are drilled into you from a young age. And besides, with the heights Killian reached at a young age, DeRon posited that there would not be a better situation for him in America.
"He had the opportunity to be a professional earlier, so that means for him at 16 or 15, he was already playing and making an impact with the 21 and under teams," DeRon says. "He was making an impact. So you're thinking about, this kid is 15 and he's playing with guys 21 and under, and playing at a good level and good basketball on a good team, and he's one of the main players. Where can you get this kind of education in the States?"
DeRon admits it was a tough conversation, because Killian's heart was set on coming to the U.S. It wasn't for long, though — Sandrine says Killian was bummed out for about three or four days, then he got over it. Like everyone who has analyzed his game told me, maturity is very much one of his strengths.
***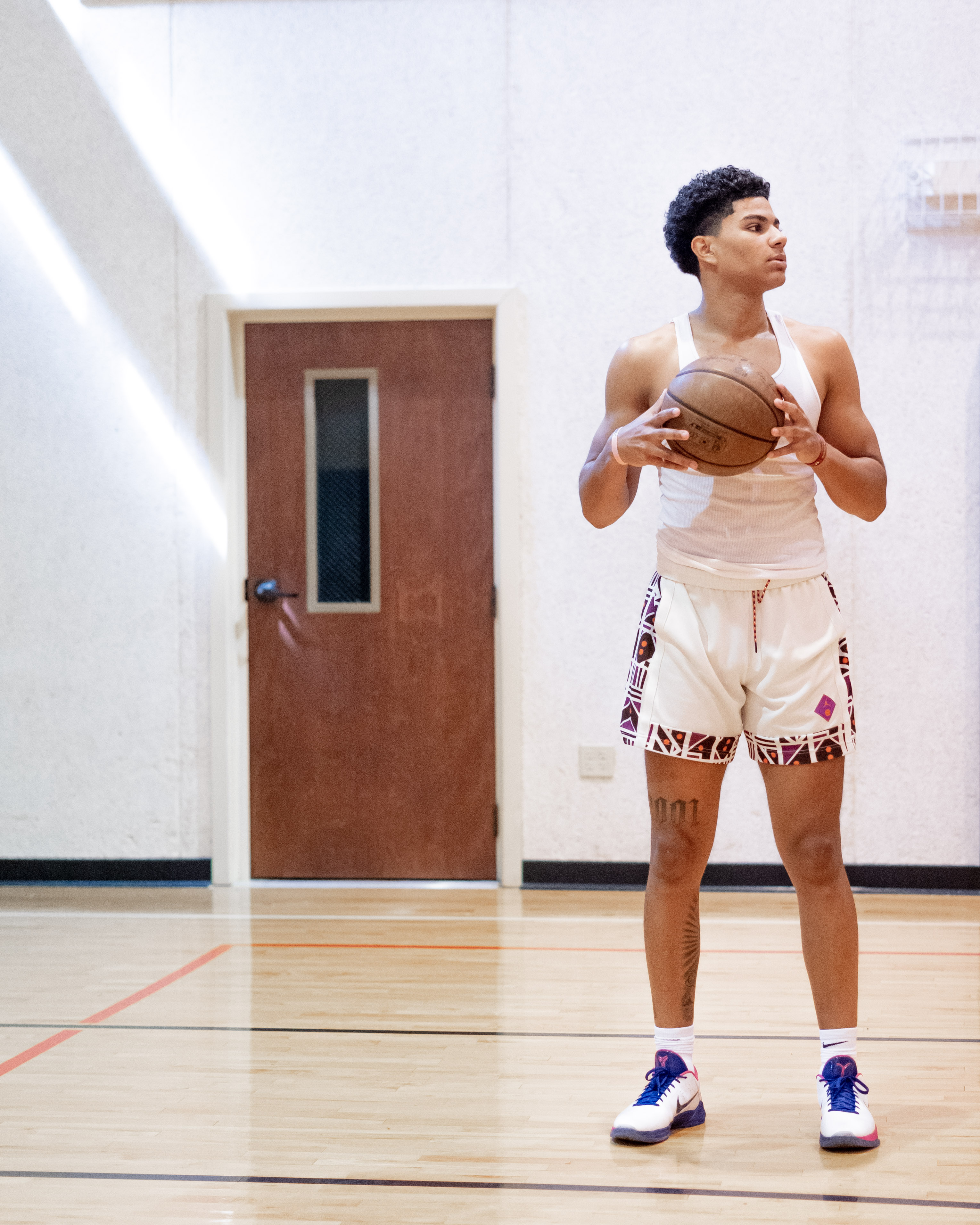 On Oct. 21, 2017, Killian made his debut for Cholet's senior team. He had turned 16 a little less than three months earlier, and after two minutes of work against Nanterre 92, he could officially call himself a professional basketball player.
For someone whose life has been a constant march towards a professional career, it's funny that Hayes doesn't remember much about that gigantic inflection point.
"Honestly, I forgot," Hayes says when asked about what he recalls from that day. "But I was probably tired because we played a game … When I used to play in France, I used to play a game right before the pro games with the under-21 team. I used to play with the under-21, 30-35 minutes, and right after, go with the professionals, the first division. So, I was probably tired and anxious as hell. I was maybe not expecting it, so I was probably surprised getting on the court."
He bounced back and forth between the U-21s and the senior team for his first year. Killian says the team wasn't great, and he needed to get stronger and more confident, but getting to the point of playing pro ball still garnered him plenty of attention. Ebersole remarked that any 16-year-old who gets to that level will find their way onto his radar soon enough, while Fraschilla first started closely following him that next summer, when Killian attended the NBA Global Academy in Treviso — he was quite impressed, as usual, with his poise.
Amid all of this, Killian had DeRon in his corner, acting as an extra coach who approaches things through the lens of an ex-pro. While he insisted he never told Killian to do something that would go against the wishes of his coaches, DeRon would attend practices and games, shooting texts to him at halftime with little notes about how he can do this or that a little better.
"I could see what coaches were doing, what they were trying to instill in their player and everything and trying to teach, and everything," DeRon says. "So I would go to the next level, and say, 'Okay, he's trying to teach me this? Okay, you can do this. You can do this,' gave him all the options. Instead of being one option, I gave him four or five other options too so he wouldn't have to be limited to anything, any type of situation."
That had to change a bit this past year, as Killian moved from Cholet to ratiopharm Ulm, a German club in the Basketball Bundesliga which closed off its practices. Still, it gave him the opportunity to play multiple games a week and participate in EuroCup, the second-highest European club basketball competition, while learning from Jaka Lakovič, a former Slovenian point guard with a decorated playing career.
There was an adjustment period. While DeRon and Sandrine packed up and moved to Germany, Killian doesn't speak the language and was getting used to a country he's never been to before, all while he had to get used to a league that is "way more physical" than what he was used to in France — Fraschilla called the Basketball Bundesliga "arguably the fastest-improving league in all of Europe."
A major adjustment was getting used to his role on the floor. At Ulm, Lakovič wanted him to have the ball in his hands and make mistakes as a way to learn and grow. At the start, DeRon saw a young, anxious player for whom the game was too fast.
"I don't have to tell him this because he already knows this, but it was just like, 'Just play the game. It'll come. It'll come. These are the growing pains that you have to go through,'" DeRon recalls. "And he went through them. And then once he got to the point where everything clicked, and I saw that everything clicked for him. Everything slowed down. Everything got easier, and he was a whole different beast, another person. He got on another level."
Sam Veceine, The Athletic's NBA Draft analyst, thought moving to Germany helped Killian make "an enormous leap" in his game. As of this writing, Vecenie — who praised his IQ on both ends of the floor and his ability as a passer but thinks he needs to iron out some wrinkles with his jumper and become less "left-hand dominant" as he dribbles — has Hayes ninth on his Big Board.
"I had worried that he was someone that, physically, played good defense [in France] because he was physically prepared, being 6'4 to 6'5, 190 to 200 pounds, but the skill level hadn't seemed to have taken the leap that I was hoping for," Vecenie says. "But this year, moving to Germany and getting out of France, I thought that the skill level did take a pretty real jump."
Everything during Killian's European career helped lay the path for him to eventually make it to the NBA, particularly going up against adults from such a young age. Vecenie mentioned getting "punched in the face" as a major formative aspect of playing in France and Germany, something Killian echoed.
"When people know that you are a Draft pick, they're going to come at you to prove to anybody that's in the stands that they earned their spot in the NBA," Killian says. "Everybody, especially the American players, were coming at me every night. So, yeah, you've just got to hold your own and stay strong physically and mentally."
***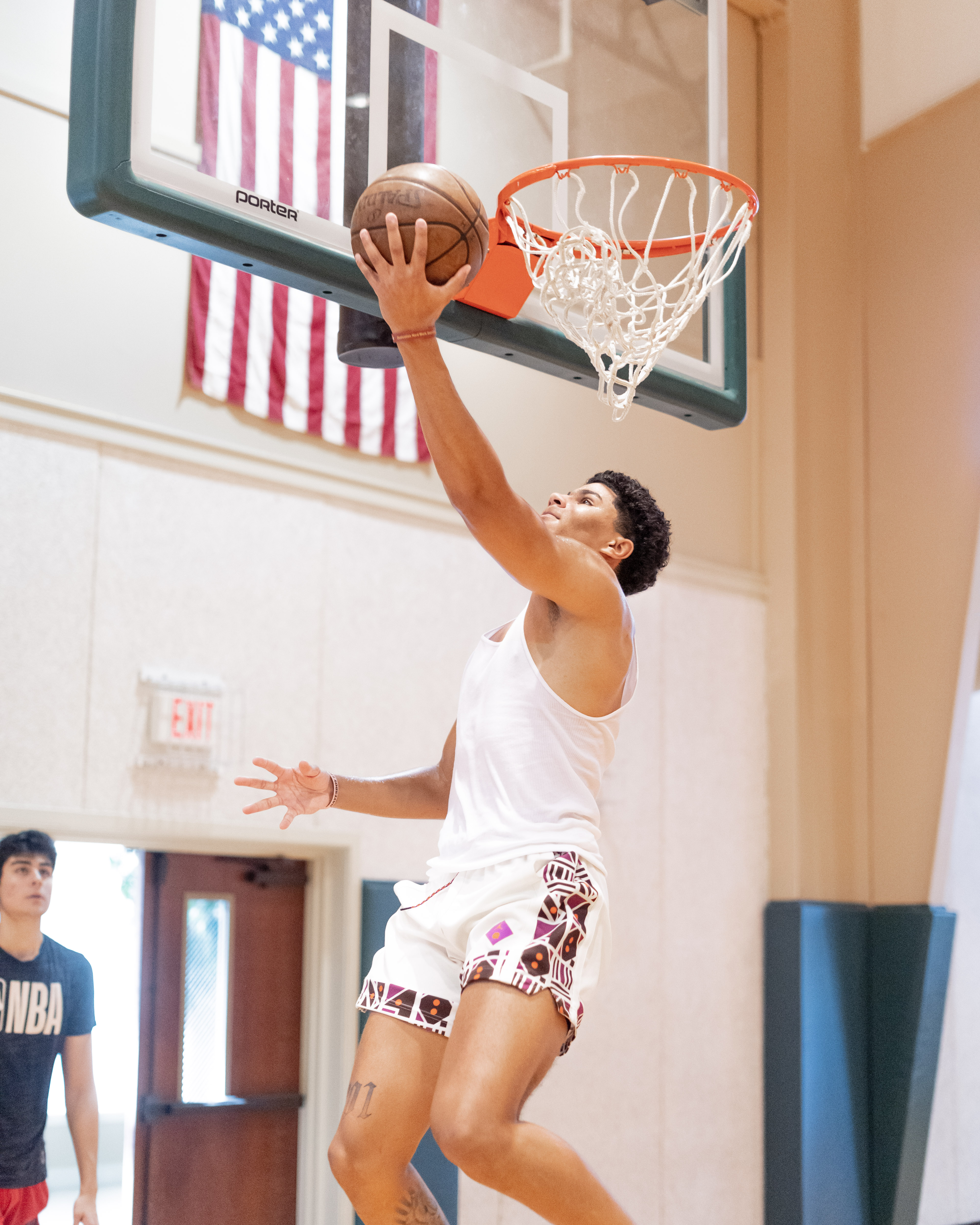 Killian Hayes has finally gotten to the biggest day of his life. It won't be in a packed Barclays Center like past Drafts, with all the pomp and circumstance that has made this a tentpole event of the NBA's offseason, but he is going to be drafted by someone. When he gets picked, in his parents' eyes, does not matter.
"I just want him to get drafted on a team that he can be good, playing good," Sandrine says. "I don't really care, pick one, pick two, pick three. I don't care about that, but if you're pick one and you're not on the right team … I don't care."
Killian also wants to end up in the right spot. In discussing what that could look like, Vecenie mentions a situation like the Chicago Bulls, which are currently slated to pick No. 4 in the Draft, as an ideal, and has him going to the Phoenix Suns at No. 10 in his latest mock. In his eyes, the best kind of situation is one that has him with the ball in his hands, either as the team's point guard or while sharing those duties with someone else.
"I see him as someone that if he plays around good floor spacing, that questionable ability to gain separation could be helped along a little bit early in his career," Veceine says.
In classic soon-to-be NBA draftee form, Killian recognizes that he has to get better at everything, even if there are a number of elements to his game — the court vision, the defending, the size, the passing — that would make any scout salivate. No. 1 on that list has nothing to do with his ability to do any traditional skill.
"I know on the mental part of the game, stop being frustrated with myself, because when I show that I'm mad at myself, that gives the opponent an advantage," Hayes says. "So, I've been told to never show my emotions especially as the point guard. If your teammate is looking at you and sees that you're down, that you're mad, they're going to be down and mad."
While ball is life, making sure his family is taken care of and in his corner is something upon which Hayes will not negotiate. When asked about where he sees himself 15 years down the road, the first thing he says is making sure his family is taken care of, even before he gets to things like winning a championship and being known as a great player and teammate.
For now, he's getting used to life in America. Despite spending summers in Lakeland during DeRon's offseasons, and despite coming to the States for a number of basketball events, he's never lived in the U.S. for an extended period of time. That changed when the Hayes family went to Florida during the COVID-19 pandemic after Killian's season in Germany was postponed, although Killian said getting stateside was "pretty stressful" because Sandrine did not have a U.S. passport.
DeRon and Sandrine have stayed in Lakeland, while Killian has done Draft prep in Orlando. He's still gotten to hang with his family, and after spending a whole lot of time studying YouTube videos, he's become the de facto barber. While Sandrine insists she won't let Killian touch her hair, DeRon thinks he's gotten pretty good.
"He cuts everybody's hair now," DeRon says. "He's really serious about it. That's a little hobby that he picked up, but when he's set to do something, he does it. He's all into it."
DeRon's excited to do things like bring Killian to Penn State for his first college football game. Killian's excited to get drafted and celebrate with his family that night, but after taking some time to take it all in, he's prepared to start grinding — "the next day," he says, "we'll just move on and go forward from that."
Wherever he goes, his future is going to feature a ton of DeRon and Sandrine. His parents plan on following Killian to whatever NBA city he ends up calling home at the start of his career. Like Killian, it'll be the first time Sandrine calls a city in the U.S. home full-time, and it'll be the first time DeRon's roots are in the States since his collegiate career ended, save for one cup of coffee in the now-defunct American Basketball Association.
Other than the game he's dedicated his every moment towards since he was a child, DeRon and Sandrine two are constants in his life. Just like DeRon's parents used to make it a point to go to all of his games when he was in college, driving to tournaments or hopping on flights to be in attendance, they've always made it a point to be there for their son, and from DeRon's perspective, that love is reciprocated.
"We did the same thing," DeRon says. "So I see where Killian, he got that from, the family values. We didn't insist on it, but it's just something that is in our DNA, and it just transcended into him."
The young man on the verge of making it to the NBA would not have it any other way.
"I'll do anything to get my family right," Killian says. "Family first, all the time."
Photos via Christopher Henry.