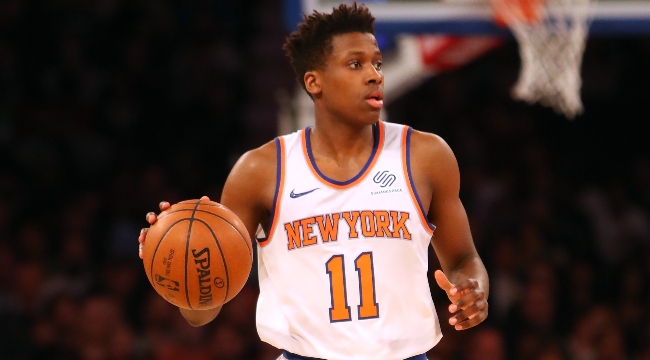 NEW YORK — I spent some time with a few members of my family over the summer. A conversation about football morphed into a conversation about basketball, and one relative — your run-of-the-mill, long-suffering Knicks fan — asked the question that every New York fan asks every August.
"Are the Knicks going to be any good this year?"
The answer was easy, but there was a caveat.
"No," I replied. "But you're going to love how hard this team plays."
That was the case on Friday night, as the Knicks — the Knicks! — absolutely took it to the Warriors. Sure, Golden State lacked the crispness that we've seen a billion times out of teams making cross-country trips for the first three quarters, but on every possession, the Knicks made it a point to fight on each end of the floor. And it showed up on the scoreboard, as New York took a lead into the fourth quarter against the champs.


And then, it happened.
One hallmark of this era of Warriors basketball is that when they get hot, the dial gets turned up to "nuclear fusion" in about two seconds. New York led by six early in the fourth quarter. It ended up losing by 28, a 128-100 final that might not have necessarily reflected just how well the Knicks played for 40 or so minutes. Kevin Durant, in a performance that Knicks fans hope they'll see way more frequently in the near future, scored 25 of his 41 points in the game's final frame. The Warriors won the fourth quarter, 41-16. Durant outscored the Knicks in the period despite not playing for the final 2:04.
It's easy to have some amount of optimism after a loss like this, one in which you so visibly hung with Golden State for an extended period. To head coach David Fizdale, though, there's still a ton that this Knicks team has to learn as they continue an encouraging youth movement that is still in its nascent stages.
"I saw our young guys… I saw that look of 'alright, we've done enough tonight, we played hard enough,'" Fizdale told the media after the game. "I just gotta get these guys to understand how to play 48 minutes. Right now we're playing college ball, 40, we played three and a half really good quarters, and with a champion? That's not enough, that's not even enough if you're an established team against a champion, so you gotta keep your focus and maintain your discipline all the way until the end, and we just haven't been able to sustain that."
Playing against the Warriors does bring the most unique set of challenges imaginable due to the overwhelming amount of talent they possess. It makes it so Golden State is never out of a game until the clock hits zero, and any team — whether they're as young as these Knicks or as battle-tested as the Cleveland Cavaliers prior to LeBron James' departure over the summer — has to find a way to deal with these challenges.
As Tim Hardaway Jr. said after the game, the Warriors mixed the ability to play like champions with the ability to hit ludicrous shots. It made it so that the 1-on-1 defense that guys played on Durant — Hardaway made it a point to shout out a "tremendous" effort by Damyean Dotson — didn't matter, because Durant was able to do stuff like this.

(Quick aside: At one point, Durant attempted a three off of one foot. He missed it, but Fizdale said that if it went in, he was going to tackle the Warriors star. Obviously there's no way he meant this, but a shot like that would have defied logic, so who knows?)
While Durant was hitting shots left and right, Steph Curry had 29 points on 10-for-18 shooting with a 6-for-11 clip from three on his own. Draymond Green took eight shots and made seven of them, giving him 18 on the night. It is not hard to feel a sense of nihilism when playing the Warriors, one that manifests itself when an avalanche starts and shots start falling on every possession no matter how locked in you are on defense.
But despite that, New York hung tough, responding to every punch with a counterpunch, even throwing and connecting with a haymaker every now and then. It just wasn't enough, so despite the fact that Curry said after the game the Knicks had earned his respect, Hardaway wasn't taking solace in that.
"Thanks but no thanks," Hardaway said upon learning about Curry's praise. "No moral victories. We wanted to win, point blank. So thanks, that's excellent, but at the end of the day, we're going home with an L."
It's a good mindset to have — moral victories are, at their core, a nice way of rationalizing losses — but to prevent this from becoming the norm, the young Knicks have to find a way to execute down the stretch. For Trey Burke, who called himself a "young vet" among the relatively green squad, it's a matter of taking the way the team scratches and claws and extending that over the course of an entire game.
"We give ourselves a chance to win every night, there's no doubt about that, because the way we play, we compete," Burke said. "I think coach right now, he's trying to get us to compete for 48 minutes, not only the first three quarters, all four quarters. We have a chance to win every night."


Fizdale hammered this point home after the game. He felt like he saw a team that was "happy to be in it" and doesn't see itself as a squad "that should be competing." New York, Fizdale points out, is a team that isn't loaded with dudes who have gone through playoff battles; the active roster on Friday night featured a grand total of 55 career postseason games, with 27 of them played by Enes Kanter (the other three players to appear in the postseason: Hardaway, Burke, and Noah Vonleh).
This means the most powerful tools Fizdale has at his disposal are things like pain and suffering. Losses present the opportunity to teach and mould if handled the right way, and if there is a way for Fizdale to take some solace, it's that he doesn't have to deal with a million little problems. Instead, there's one overarching issue that the team can attack collectively as they grow together.
"I think they all have the same symptom, and it's just constantly watching, taking that part of the game from where you have the fall off and just teach possession by possession to the guys to understand how to finish the games and how to take it up a notch in that fourth quarter," Fizdale said.
There are plenty of things that need to happen for the Knicks' rebuild to turn them into a title contender. Kristaps Porzingis has to get (and, more importantly, stay) healthy, guys like Frank Ntilikina and Kevin Knox have to play like top-10 picks, and it certainly wouldn't hurt if that copious amount of cap space turns into a superstar sometime soon. Before any of that comes to pass or falls flat on its face, though, New York understands the value of playing hard.
That will keep them in games, and as they continue to grow, that's theoretically something that can give them an edge as they find out what they need to do to win. Perhaps this is why after a game in which he tied his career-high of 17 points, Ntilikina wasn't discouraged. Instead, he was ready to get back to the drawing board and use this as an opportunity to improve.
"It's frustrating because right now we've got a way to close the game," Ntilikina said. "But to be fighting with the champion, the most talented team, it's a great feeling, and it motivates us to go back to work and to find out what we need to close those games."