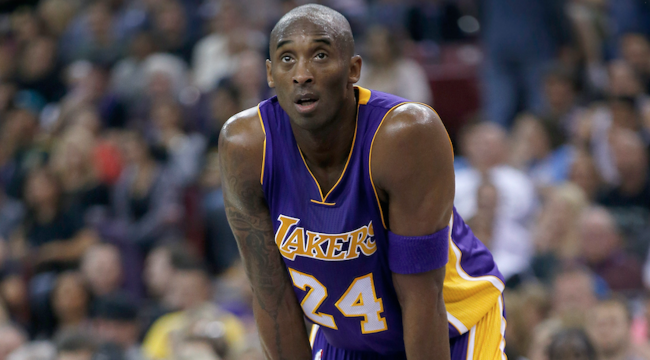 The success of what could be Kobe Bryant's last season in the NBA certainly shouldn't be judged by wins and losses. Most realistic fans also realize that the 37-year-old's performance can no longer depend on sheer production, either. What will decide his level of impact more than anything else in 2015-16 is just how willing or unwilling Bryant is to cede control of the offense to his younger teammates.
And after the Los Angeles Lakers 132-114 loss to the Sacramento Kings on Friday night, the future Hall of Famer seemed more willing than ever to do just that. Bryant told ESPN's Baxter Holmes that he "can't" take over games anymore because the purple and gold's core young players need the opportunity to grow.
Despite his advanced age and several recent season-ending injuries, the 37-year-old Bryant, now in his 20th season with the Lakers, still enjoys taking over games, or at least trying to, especially when his team is down big, as they have been many times in recent years.

Now, though, Bryant said he's a changed man.

"Can't do it," he said after Friday's 132-114 loss to the Sacramento Kingsat Sleep Train Arena. "Got to let them develop."

[…]

"Which is part of me taking a step back, which needs to be done. You have to let the young guys make those reads and you have to be able to help them and support them with those reads."
But saying all the right things is much different than actually applying them on the court, and the 21-year veteran has still been hoisting shots with abandon throughout Los Angeles' first two games.
Bryant scored 24 points on 8-of-24 from the field during his team's loss to the Minnesota Timberwolves earlier this week, then shot 5-of-12 for 13 points in just 22 minutes against the Kings. Sample size matters, of course, but the five-time champion has yet to yield much offensive responsibility this season.

He's averaging a mind-boggling 25.4 field goal attempts per-36 minutes for the Lakers so far, a number even greater than the career-high mark he established in 2005-06. Prized youngsters D'Angelo Russell and Julius Randle, meanwhile, sport time-adjusted shot marks approximately half of Bryant's number, and Jordan Clarkson's 16.8 tries per-36 minutes falls far behind it, too.
Obviously, there's still ample time for the two-time scoring champion to play a less shot-happy role in Los Angeles' offense. Considering his obvious and longstanding refusal to accept one, however, the safest bet is to hedge against Bryant doing so – not just no matter what he tells the media, but also what he realizes is best for the Lakers going forward.
(Via ESPN)