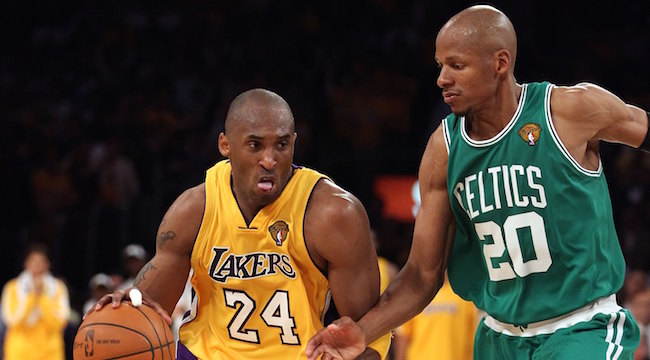 Kobe Bryant may have invented a tenth circle of hell, one which not even Dante himself would dare navigate. To push and punish himself for losing to the Boston Celtics in the 2008 NBA Finals, Kobe forced himself to listen to Journey's "Don't Stop Believin'" every day for two years straight until he exacted his revenge in 2010. Here's James Herbert of CBS Sports with this Mamba-level masochism:
"It was a tough two years in between," Bryant told reporters. "I remember when we were losing, they played that song, that Journey song, and the whole arena started singing that song, and I hated that damn song for two years. Seriously, man. But I listened to the song every single day because it just reminded me of that feeling.

"Same thing with the Dropkick Murphys," Bryant continued. "Like, I'm listening to the Dropkick Murphys all the time just because I wanted to remember that feeling, you know what I mean? To go back in 2010 and have that redemption — I was telling Metta [World Peace] on the bench when Paul Pierce was running back down, 'You know, Metta, I'm so damn happy we won that 2010 Finals. I'd be sick as s— sitting here right now.' And he felt the same way."
We've had plenty of glimpses into the Mamba's fierce – and, quite frankly, pretty scary – competitive nature, but this is the stuff of sociopaths. And you know Kobe didn't just listen to it once a day. He is a not a man to do things by half measures. That song was probably his morning alarm, workout soundtrack and cooking music. If you were to go through Kobe's music library on any device at this point in time, "Don't Stop Believin'" and "Shipping Up To Boston" were almost certainly the only songs on there.
At some point, though, one would think Kobe would reach a point of diminishing returns, with the songs fading from annoying to simple white noise. In fact, Kobe may have become so conditioned to going through his day with those songs on repeat that he's now incapable of fulfilling even the simplest task without hearing them. You might think this a sad fate, but knowing Kobe, he would say it was all worth it just to have won the rematch in 2010.