As you probably know by now, things haven't been going so well for Kobe Bryant lately. He's still putting points on the board, but for the second straight season, he's been painfully inefficient. He jacks up as many shots as ever, but fewer of them are falling through the cylinder. Perhaps more pressingly, he's disturbing the chemistry of a young Lakers team that is still figuring out how to play together.
To his credit, Kobe has been very critical of his poor performance this season, but his self-awareness hasn't produced better results on the court.
As we watch Kobe struggle through his 20th NBA season, it seems only reasonable to ask the question: Has he stuck around too long? The last time Kobe looked like his elite self was in April 2013, when he suffered a torn Achilles tendon. He tried to come back to soon, and after six subpar games in 2013-14, packed it in for the year. Last season, he played 35 games before going down with another injury, and during that time, shot a career low .373 from the field. What he's done this season has just been a continuation of his 14-15 campaign; lots of shots, not so many of them going in.
Kobe's contract is up at the end of the year, and as we get further and further from his last great season, we have to wonder not only if he'll come back next year, but if he should even still be here now. The one silver lining for Kobe? He's not the first player to stay around one year too long. Or, you know, three years too long. When we look at how the careers of our favorite players ended, it's rarely on a high note. Players tend to follow the rule of "play until you suck," and that can be painful for fans to watch. In fairness to Kobe, let's look at some other players who didn't exit the game in a particularly smooth fashion.
Patrick Ewing – 2000-02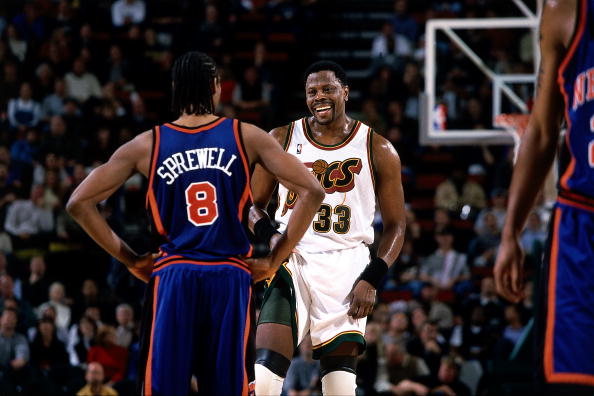 In Ewing's final season with the Knicks, he averaged 15 points and 9.7 rebounds per game. Not spectacular by Ewing's standards, but pretty solid nonetheless. Unfortunately, he couldn't stop there. As a result, we had the endlessly awkward sight of Patrick Ewing in a Seattle Supersonics (RIP) uniform. He started 79 games for the 2000-01 Sonics team, but averaged fewer than 10 points per game for the first time in his career. The following season, he came off the bench for the Magic, playing fewer than 14 minutes a night, and averaging just six points a game. Ewing's skills were going to deteriorate no matter what, but the sight of him in those Sonics and Magic jerseys was just super weird. Big Pat should only be seen in Knicks or Hoyas jersey.
Hakeem Olajuwon – 2001-02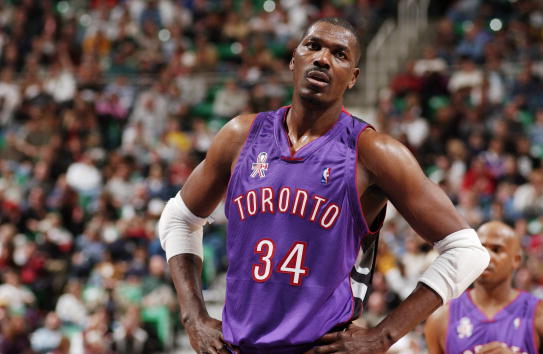 Hey, do you remember all-time Toronto Raptors great, Hakeem Olajuwon? Yes, after 17 seasons in Houston, Hakeem spent one year in Toronto, where he was decidedly underwhelming. The Dream's skills were already deteriorating in his last few seasons with the Rockets, but his lone Raptor season was the only time he averaged fewer than 10 points a game. He appeared in 61 games, and came off the bench in 24 of them. Despite being one of the greatest basketball players of all time, Hakeem was a total afterthought during his final season. Canada was treated to his final year, but Dream is now in Houston working with whichever superstar wants to practice their low-post footwork.
Karl Malone – 2003-04
You could hardly blame Karl Malone for joining forces with Shaq and Kobe during his final season. He had spent 18 seasons in Utah without winning a title, and now, John Stockton was gone. He and Gary Payton joined the Lakers in what would end up being his final shot at winning a championship. Malone was probably a little bit better as a Laker than you remember; while his averages were down from his past glories, he still averaged 18.2 points and 8.7 rebounds a game, with some killer defense for a team often bereft of that sort of effort on the defensive end.
Unfortunately, he also missed 40 games due to a knee injury. In the playoffs, he averaged 11.5 points and 8.8 rebounds a game, and knee problems continued to plague him. That last bit makes sense, since he was 40. Malone's quest for a ring ultimately fell short, as the Pistons dispatched the Lakers in five Finals games, the last of which Malone missed due to his ongoing knee problems. Malone considered playing another year in 2004-05,  before ultimately deciding to retire. It was probably for the best. The Mailman showed flashes of his old self with the Lakers, but another year might have just been embarrassing. Most people already thought Malone played one year too long, but I'd argue his lone season in L.A. was stronger than most people think, and he packed it in before things started looking ridiculous.
Michael Jordan – 2001-03
Jordan's time with the Wizards is probably the closest comparison for what's happening with Kobe right now. That's to be expected, considering how much Bean looks up to his childhood idol. MJ still took tons of shots, and he still made the occasional play that was just absolutely ridiculous, but as a whole, his body couldn't keep up with his ambitious style of play, and his game was a husk of its former MVP self.
Still, Jordan averaged more than 20 points a game in each of his two seasons in Washington. This part of MJ's career is often looked upon with scorn because it shattered our view of him; MJ was utterly mortal as a Wizard, and for some, that was a huge bummer. But it is worth noting that he was still a valuable NBA player at this point, and still a pretty strong scorer. His defense was a serious issue, especially against opposing guards, but if Kobe can raise his game to the level of Jordan during his Wizards years, it would be a marked improvement from where he is now.
Magic Johnson – 1995-96
Before Kobe became the quintessential Laker, that role was filled by Magic. And for 12 years, he was quite possibly the best player in the NBA. In 1992, he was diagnosed with HIV, and with the exception of that year's tear-filled All-Star game, and that summer's original Dream Team, ceased his professional basketball career. Initially, he had a brief period as the Lakers coach, but in 1996, he decided he wanted to return to the court. Unfortunately, he just wasn't his old self. For one thing, he looked considerably heavier (Ed. Note: this was due to the drugs combatting HIV and an increased weightlifting regimen), and more importantly, he wasn't the brilliant passer we previously knew when he averaged a career low in assists (though his per-36 minute numbers weren't bad — around 8.3 assists per game). His point total was down, too, and in general, he lacked the speed that made him so electric throughout his career — though the 1991 Lakers team that battled MJ in the NBA Finals featured a Magic who had already stopping spearheading the Showtime Lakers of the Pat Riley years. In 1996 he was still a useful player, but he wasn't his old magical self, and after 32 games in 1995-96, he called it quits for good.
Now Watch: Who Is The Greatest Laker Of All Time: Kobe, Kareem, or Magic?