Following a surprise 12-point win over an unengaged-looking Pistons squad, the Lakers lost their ninth game of the season to the Suns on Monday night. It dropped them to 2-9 on the year, the second-worst mark in the Conference. (Only the injury-ravaged Pelicans sport a worse record in the Conference through the season's first three weeks.) Kobe Bryant didn't play in that Suns game, with Metta World Peace filling in for him at small forward, and it's unclear if Kobe should ever really suit up if it's just to appease Lakers season-ticket holders. LA isn't playing into May and Bryant's body could use the down time. As most predicted before the season started, Julius Randle and D'Angelo Russell might very well be the foundational pieces the Lakers can build a new dynasty around, but Kobe Bryant doesn't have time for that.
Perhaps that's why Bryant appeared to signal John Donne's metaphorical death knell for his career during his interview with Coach Mike Krzyzewski on Sirius XM radio on Thursday. (Krzyzewski coached Bryant on USA Basketball's gold medal-winning 2008 and 2012 teams.) Here's the line that stuck out, by way of Frank Isola of the New York Daily News.
"If something changes, I'll come back and play next season," he said. "If something doesn't change, this is it for me."
Bryant is expected back in LA's lineup for Friday night's game against the Raptors, but it's worth pondering whether he should sit down on a more permanent basis.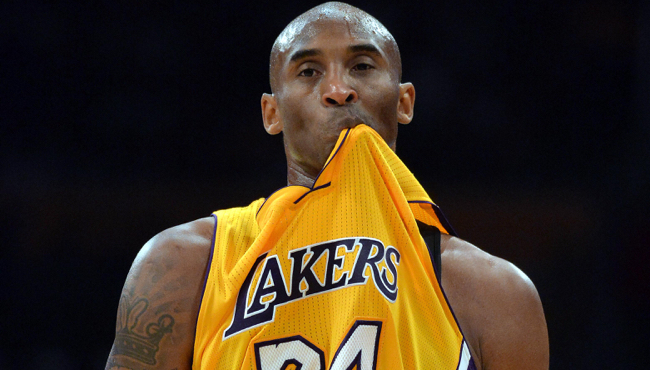 It's easy to hope for one last heroic huzzah from the Lakers' deadliest sniper in franchise history, but the five-time champion isn't really striving for one last long playoff run. He's just trying to keep the respect he's built up over his Hall-of Fame career and teach the young Lakers how to be true professionals. Bryant addressed the divide between adding to his own personal ring count and mentoring the young Lakers in his convo with Coach K, too, by way of LakersNation:
Of course, I would love to win another championship. My responsibility now is to think outside of what I want. My responsibility is to these young players, because when I came into the league, somebody had to teach me. Somebody had to mentor me. And so it's my responsibility to do the same thing for them.
But the 37-year-old is in the final year of his contract with the Lakers and he's averaging the fewest points per game since his second season in the NBA. Except, a dearth of scoring isn't really the problem. It's Mamba's 33.6 percent shooting from the floor and the 23.3 percent on three-pointers — both career lows — that leave a lot of basketball fans wondering if he's simply stuck around to long.
Bryant has kept his future after this season ambiguous. There were reports — later refuted by Bryant himself — that he's already decided 2015-16 would be his last. Then there were those silly proclamations by Stephen A. Smith, later given a shade more credence by Phil Jackson, that Bryant would come back next season, but not in the Purple and Gold he's worn for his entire career.
Again, Bryant shot those rumors down even if he seems just as undecided as the reports themselves. So, now we're all left to speculate based off what he does tell us.
One thing we do know, even if it's a relatively new development in our 20-year relationship watching the Lakers star: If this is Bryant's final season, we really hope he goes out on a better note than some of his Hall of Fame forebears.
Each man's death diminishes me,
For I am involved in mankind.
Therefore, send not to know
For whom the bell tolls,
It tolls for thee.