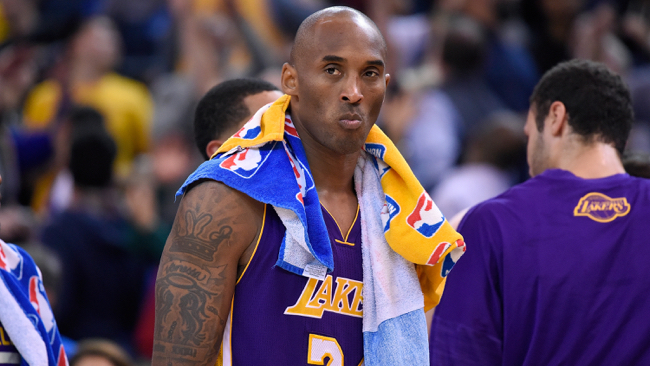 We all saw it coming, but on Sunday, Kobe Bryant announced that the 2015-16 NBA season would be the last in his Hall of Fame career, and that he would retire after this season. The one-time MVP, two-time NBA Finals MVP, four-time All-Star game MVP, five-time NBA champion, 17-time All-Star, 11-time First Team All-NBA and 20-year veteran revealed it would be his last season in a poem, one the kids didn't understand because it didn't rhyme. (But hey, at least it was short enough that they may have even read the whole thing before going back to their Twitters, Vines, Instagrams and trying to be all on fleek.)
Kobe wrote a special letter to fans, too.
Here's how the letter begins: "Some of you took me in. Some of you didn't. But all of you helped me become the player and man in front of you today."
And how he closes it: ""My love for this city, this team and for each of you will never fade. Thank you for this incredible journey."
-He also wrote a personalized letter to each Lakers player, including this one to Metta World Peace, his teammate on the NBA champion Lakers in 2010:
-"He's the closest thing we've seen to Michael Jordan," Magic Johnson told Yahoo in perhaps the greatest compliment the MJ-obsessed Kobe will ever get from anyone not named MJ. "He'll probably go down as the second greatest scoring guard. You couldn't stop him. His will to win was incredible and he stayed in the gym like no other. This guy was 24/7 basketball. I'm happy for him because he said he feels this is his time to go out. He's going out the way he wants to go out."
-Adrian Wojnarowski attempted to answer why Kobe came to his decision to retire at the end of this season.
-Here's our look back at Kobe's 81-point night, which they replayed on ESPN last night to commemorate his announcement.
-SB Nation decided to have a little fun with Kobe's anthropomorphic letter to Basketball in the Players' Tribune piece where he revealed he was retiring. Here's "Basketball's" mean-spirited response to Kobe — we get it, he's been pretty bad in season No. 20.
-Lakers GM Mitch Kupchak wasn't surprised at the announcement, but the timing:
"I'm not surprised. The surprising part of this is that he made the announcement today. My understanding all along was that this was going to be his last year. Certainly there's been speculation and this puts an end to any speculation that he may come back for another year. But it was my understanding all along."