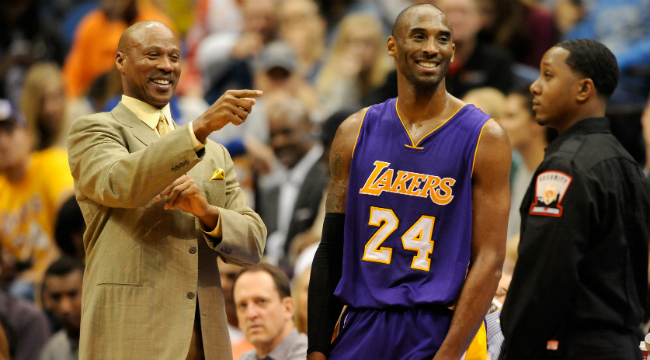 David Aldridge, in a column about the NBA Summer League published eight days ago, snuck a surprise about Kobe Bryant's role on the team next year. In discussing D'Angelo Russell's — slightly disappointing — performance at Summer League, Los Angeles Lakers head coach Byron Scott mused about the Lakers' possible rotation for the coming season, and he's got an idea that might throw some long-time Lakers watchers.
"The one thing that we wanted to do and accomplish through this draft and through free agency was to try and be a little more versatile, have some versatility. So I think all three of those guys can definitely do that. Kobe can play one, two and three. There's no doubt in my mind. And there's some games. against some teams, where he'll probably play four. With his tenaciousness, the way he guards people and when his mind is set, if I say 'Kobe, you've got him,' he takes that as a challenge. You know how he is. He'll compete."
Someone needs to check for any pigs flying around, because it looks like Byron Scott is trying to adapt to a prevailing trend in the NBA. That would be new for him, but just because other teams are going small and sliding perimeter players over to power forward, that doesn't mean the Lakers have the personnel to do so.
The Wizards got a huge boost in the last year's playoffs from playing Paul Pierce at the four (which they almost never did during the regular season; cagey Randy Wittman is cagey), and the Rockets turned to Trevor Ariza in a desperate attempt to counteract Blake Griffin's evisceration of their front line, with surprisingly good results. But both of those players are listed at 6-foot-8, 2 inches taller than Kobe's 6-foot-6. What's more, Pierce outweighs Kobe by more than 20 pounds (according to their listed weights), and Ariza is seven years younger, quick enough to offset some size disadvantages and young enough to take the punishment of a bigger body. Kobe has none of those advantages and isn't the defensive stopper he once was, especially coming back from a torn Achilles, broken tibia and torn rotator cuff.
Even weirder, the above passage followed Scott discussing the spots on the floor he'd most like to have Kobe occupy — the elbows, the mid-post and the pinch post. Those are good spots for Kobe's post-up, step-back game, but certainly not when he's at power forward. The one benefit he'd confer on a small lineup would be drawing a big man out of the lane on defense. If he isn't playing on the perimeter at the four, the whole concept falls apart. Then again, Kobe won't (and shouldn't) be a small-ball power forward every game, so maybe both concepts can live in harmony. It will be another mystery to be revealed in what's sure to be an unpredictable season in Los Angeles.
(Via NBA.com)