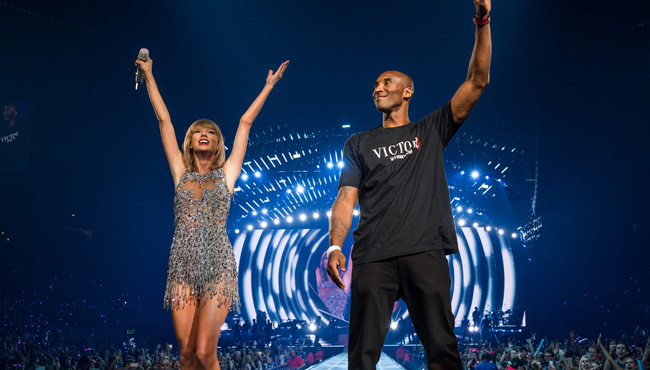 Good news for everyone who thought that Taylor Swift was going to get a banner in the rafters at Staples Center before the Los Angeles Clippers: you were right, as she received a banner that hangs high above Staples on Friday night. T-Swift set a record by performing her 16th sold out show at the Staples Center, the most by any artist in the venue's history. To honor the moment, Swift got a banner that now hangs high in the building's rafters.
To present the banner, Swift was joined on stage by a guy who knows a thing or two about performing in front of a sold out crowd at Staples Center: Lakers guard Kobe Bryant. Thanks to a video that was posted to the building's Twitter account, we see the moment where Bryant shows Swift that she got her banner.
https://twitter.com/jasonduaine/status/634973801533435904
This isn't anything unusual, as venues will sometimes put up banners to honor artists who have some kind of tie to the place. For example, both Billy Joel and Elton John have banners hanging high above Madison Square Garden. Still, it's quite the achievement for T-Swift, whose banner will look good next to the bevy of banners that hang for the Lakers and Los Angeles Sparks.
(Via Complex)