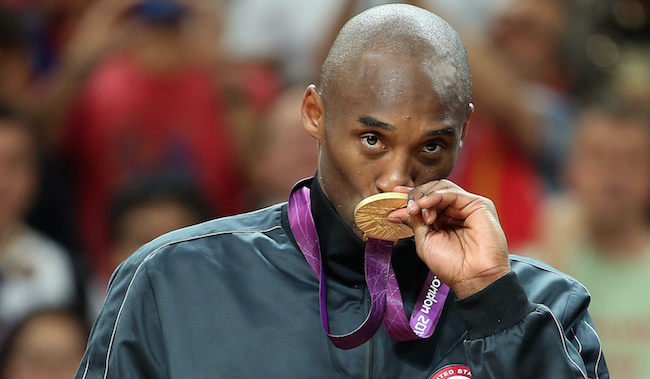 Kobe Bryant's legendary career is finally coming to a close. With the Los Angeles Lakers in the early stages of an arduous rebuilding process, though, it's highly unlikely he'll be hoisting the Larry O'Brien Trophy next June. Understanding that reality, Bryant apparently wants the chance at another kind of glory: Olympic gold.
Following the USA Basketball showcase on Thursday night, program chairman Jerry Colangelo told reporters Bryant recently said he'd "love" to make the trip to Rio de Janeiro next summer – as long as his spot on Team USA was earned as opposed to bestowed.
Here's Colangelo courtesy of ESPN's Dave McMenamin:
"And so, [Kobe] also mentioned to me in a private conversation that if he had his druthers, he would love to ride off into the sunset playing one more time and winning the gold medal. And that would be the end. But he was very quick to say, 'But, I don't want a spot. I need to earn the spot. I need to be capable of playing at that level to be considered.' And I said, 'You got that. That's always there for you, Kobe.'"

[…]

"There's a guy who's made great contributions to the game, again, one of the great players of all time," Colangelo said of Bryant. "He helped us win the gold medal in Beijing. Trust me, he really did. And so he's entitled to an opportunity.
Awesome.
The only thing better than knowing 2015-16 may not be the last we see of Kobe on the hardwood? His insistence that his potential place on the Rio roster is based on ability as opposed to honor. Even at 36 years old and entering his incredible 20th NBA campaign, Bryant still hasn't lost the competitive edge that's helped make him an all-time great.
Which begs an important and potentially hot-button question: Just how likely is Bryant to make Team USA considering talent alone? Lakers fans won't like the answer.
Bryant played poorly during the 2012 Olympics. His ball-stopping habits frequently got the best of him, a major no-no on a team stacked with the best players America has to offer. Just as bad, his defensive performance fell far behind that of his teammates'. After suffering multiple lower body injuries and a torn rotator cuff in the interim, it's just hard to believe Bryant still has the chops to play in next summer's Games without receiving preferential treatment – even before considering the wealth of superior players under consideration.
Either way, however, basketball obsessives would surely love to see Kobe go out as a champion. Let's see if Colangelo and company agree.
[Via ESPN]