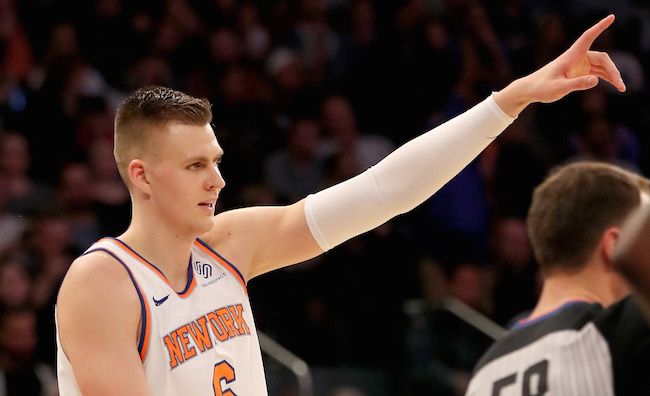 Kristaps Porzingis has been widely dubbed "The Unicorn" as the 7'3 Knicks star is capable of doing things that are rarely seen on the basketball court. However, Porzingis has another animal-related nickname for his unique abilities to heal.
Porzingis, who suffered a scary looking sprain to his right ankle against the Heat on Wednesday night, spoke with reporters after the game about his healing abilities, when he hopes to return to the floor, and why people call him "The Lizard," via ESPN.
"I hope it's next game. They call me 'The Lizard' because I recover so quickly from things," Porzingis said. "Um, so hopefully it's nothing too big and I'm going to get treatment, stay on top of it, and hopefully The Lizard can be ready for Sunday."

The initial x-rays came back negative for "The Lizard," and on Thursday, the MRI the Knicks star had provided even more good news, per ESPN's Adrian Wojnarowski.
As Porzingis noted, the Knicks don't play again until Sunday when they host the Magic, so he will have three full days to rest and get treatment to try and get his ankle right. With how severe his ankle rolled when Justise Winslow stepped on his foot, Porzingis being day-to-day is great news for the Knicks and their fans who are enjoying one of the most fun starts to a season in recent team history thanks to the play of Porzingis.