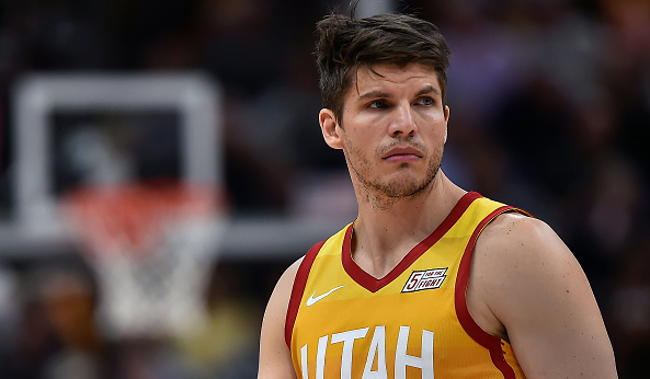 The season didn't quite end the way the Utah Jazz imagined it would. After last year's stunning first-round defeat of the Thunder, the Jazz regressed some this postseason. Granted, part of that was due to seeding, as they were forced to take on a Houston Rockets' team that was out for blood as they bulldozed their way to a rematch with the Warriors.
Now comes the fallout from their gentlemen's sweep, which is already sparking questions all over the internet about the future of the franchise. A little further down the totem pole is the future of veteran sharpshooter Kyle Korver, who played sparingly for Utah this postseason as his overall production has been roughly commensurate with his 38 years of age. On Thursday, Korver told reporters that he's contemplating retirement and will make a final decision this summer.

Via Ryan McDonald of The Deseret News:
"There's a real cost as you get older," he said of playing professional basketball. "There's what you need to put into the game, but there's also a family cost. That's probably where I'm at is weighing that cost."

Korver said that, "I think I still love playing basketball," but it's been a "long few years" for him with the unexpected 2018 passing of his brother Kirk, the fact he has young children, multiple trades and heartbreak coming up short of a championship in the NBA Finals with the Cleveland Cavaliers.
Korver has averaged just under 10 points per game for his career and shot better than 44 percent from behind the arc. He will unquestionably go down as one of the best three-point shooters in NBA history whenever he decides to officially hang it up.
For now, he'll take some time to reflect on what has been an incredible career journey and whether he has one more season left in the tank before it's time to call it quits.
(Via The Deseret News)