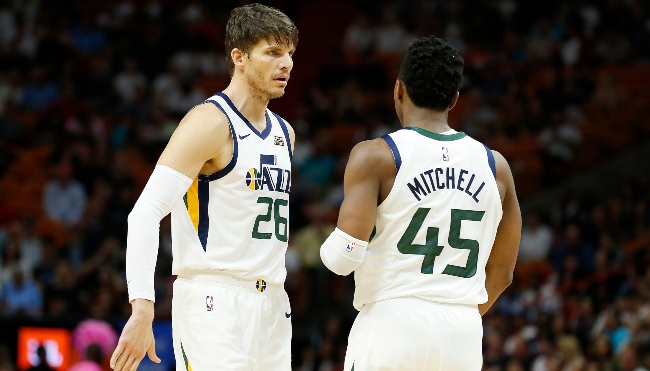 Donovan Mitchell did nearly everything he could to lead the Utah Jazz to a win over the Houston Rockets on Saturday night. Mitchell had a huge game, but unfortunately for Utah, it wasn't quite enough, as the Rockets picked up a 104-101 victory and now boast a commanding 3-0 lead in the series.
His game-high 34 points — along with six rebounds, five assists, three steals, and a block — were impressive, but he needed 37 if the Jazz were going to have a shot at winning in overtime. Instead, Mitchell got and missed a tremendous look, missed, and P.J. Tucker sealed the win for Houston at the free throw line.
It was about as good of a look as Mitchell could have gotten in that situation. On a night where he was excellent, Mitchell got the opportunity to play hero but came up just short.

After it was over, Jazz veteran Kyle Korver felt he needed to say something about Mitchell's impact on the Jazz. According to Andy Larsen of the Salt Lake Tribune, Korver's media scrum at his locker ended. At that point, he asked if he could say one more thing, then gave a lengthy speech about how impressed he is by what Mitchell means to his team at such a young age.
"I have never been around a young player like Donovan Mitchell," Korver said. "I have never seen someone so young take ownership of a team, take ownership of his play, do it with charisma, do it with class. I've never seen that in my 16 years in the NBA."
Korver went onto discuss the miss, but simultaneously predicted that will end up being part of the larger story of Mitchell's career when it all said and done. He also mentioned that getting the opportunity to take a shot like this, even if it doesn't go in, is a good thing.

"If you've played any meaningful basketball in the NBA, you have a shot like that," Korver said. "If you don't, that means you haven't played in meaningful games, or you haven't been trusted by your teammates or coaches to take that shot."
Knowing how Mitchell is wired, Korver understands how he will dwell on the fact that he missed the big shot. But at the end of the day, the future is bright for the second-year guard, and Korver wants him to know this.
"I'm super proud of him," Korver said. "He came out and, like, he had heard that he hadn't played as well as he wanted to in the first couple of games, and he put the whole thing on his back. For a young guy, 21 years old or whatever he is, that's really special."
Plenty of veterans praise young guys, but it's rare that you see someone go to the extent Korver did here. It's a testament to what he thinks of Mitchell, both right now and in the future. Even if the Jazz end up getting swept, the trust that everyone has in the organization that Mitchell is a potential star is evident.