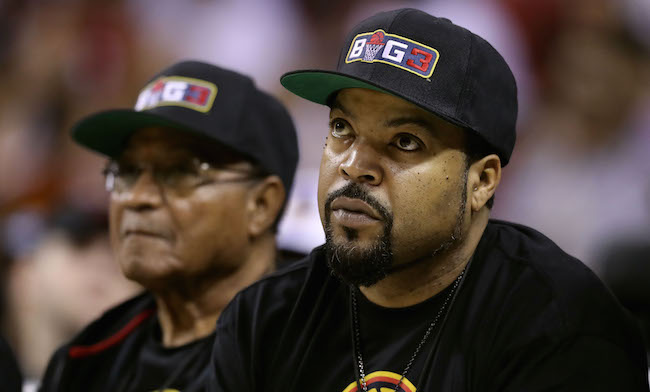 On Friday, the Lakers made the stunning decision to bring back Dwight Howard, who is one of the most vilified athletes of all time among Los Angeles sports fans because of his decision to leave the team in free agency in 2013 after a failed experiment alongside Kobe Bryant.
While a lot of time has passed since then, there are still some fans who aren't willing to put their feelings aside and welcome Howard back to Los Angeles with open arms. One would assume Ice Cube is one of those fans, considering he's had some harsh words for Howard in the past.
But the Los Angeles-based rap native is actually asking Lakers fans to give Howard another chance. During a recent interview, the BIG3 founder urged Lakers fans to let go of the past and make Howard feel welcome in his city.
Via Arash Markazi of the Los Angeles Times:
"I think Los Angeles should give Dwight a clean slate and let his game speak for itself," he said. "If he can help, it'll show and if he can't, it'll show. I would love for him to concentrate on what he does best — rebound, defense, blocked shots and lob dunks. If he can do that, Dwight will be all right. I'm not even going to think about the first go around. That's in the past."
When Howard left the Lakers in 2013, it seemed unimaginable that relationship between him and the team's loyal fanbase would ever be repairable, but there's reason to be optimistic in 2019.
First of all, the Lakers came out of the three-team blockbuster trade that sent Howard to Los Angeles alright even with the eight-time All-Star leaving after just one underwhelming season. In fact, Markazi laid out all of the assets the Lakers lost as a result of the trade, and in hindsight, they didn't give much up for Howard.
The final tally for the Lakers acquiring Steve Nash and Dwight Howard was Andrew Bynum, Nemanja Nedovic, Alex Oriakhi, Johnny O'Bryant, Mikal Bridges, Wesley Iwundu and Rodions Kurucks. Half of those guys aren't even in the NBA. Most would have to Google how the others are doing.

— Arash Markazi (@ArashMarkazi) August 20, 2019
Secondly, the Lakers need Howard as much he needs them to jumpstart his NBA career. If Howard settles into a role as a backup center or a low-usage starter, it will be a mutually beneficial partnership, which is more than what could have been said about his first stint with the team.