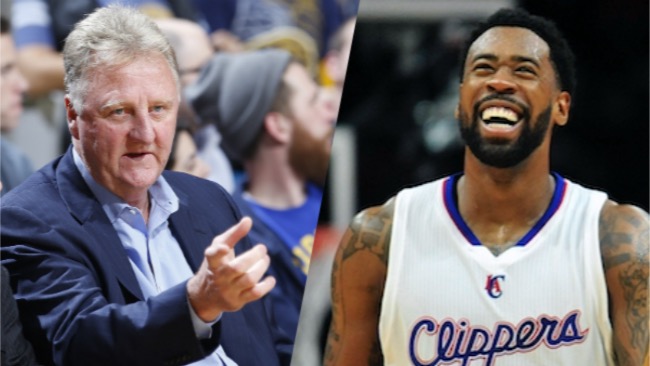 Welcome to Uproxx Sports, your one-stop shop for people talking crap about DeAndre Jordan.
It was just four days ago that Hassan Whiteside of the Miami Heat said the Clippers' center "only catches lobs," although he backed off that statement later in the day. The Clippers beat the Heat 102-98 that night, as Jordan (12 points, 19 rebounds) slightly outplayed Whiteside (11 points, 18 rebounds) in a victory.
Jordan is in his eighth year in the NBA after spending one season at Texas A&M and has developed into one of the league's top big men. There was one person who never thought Jordan would amount to anything in the NBA, but it was probably just some idiot fan that doesn't know anything about basketball. Who is this dummy that misjudged Jordan so badly?
Oh, it was Larry Bird? That Larry Bird. Oh.
Yes, the Hall of Famer and Indiana Pacers director of operations watched Jordan work out, and Bird revealed in an interview with NBA.com that he was not the least bit impressed.
When he came in here to work out the first time, I couldn't believe the kid was even thinking about coming out. He was tall, he could run and he could jump. But basketball (skills)? Had none. And I am amazed, I am truly amazed how this young man has developed his game from where he was to the point he's at today. I've never seen that before. I've seen guys get a lot better, but when he came in there that day, we had Roy Hibbert, we had some other big guys in here. I really felt sorry for the kid. I thought there's no way in hell this kid will ever make it in this league.
This feels like the Louis CK/Bradley Cooper mashup using American Hustle, doesn't it? Wouldn't it be great to see Jordan just dunking on Bird today after hearing some private tape of Bird ripping Jordan eight years ago?
Bird continues:
And I don't know who got with him, or what he did, but to watch him play and perform on a nightly basis the way he does is just breathtaking to me. After everything I've seen, I always go back to that. It's pretty amazing. And this wasn't this year; this happened five years ago. And just watching him, he was in here the other night and I thought, boy, I'm so proud of that kid. It's amazing. I've never really met him other than that day he was in here. But just watching kids like that come in, and here I'm thinking they have no chance, there's no way in hell they'll play in this league, and to accomplish some of the things he's done, to me, that's worth it all. And I had nothing to do with it. I had absolutely nothing to do with it. But that's the kick I get out of it. I mean, there's been others, but he sticks out in my mind. I never thought he had a chance in hell, you know?
It's sort of great how much Bird loves basketball. He doesn't even care that he's wrong; he actually likes that he's wrong because he enjoys watching Jordan play so much.
Hopefully, we can continue this DeAndre Jordan Stinks content this season because it's so much fun (and so not even close to being true).
(NBA.com)