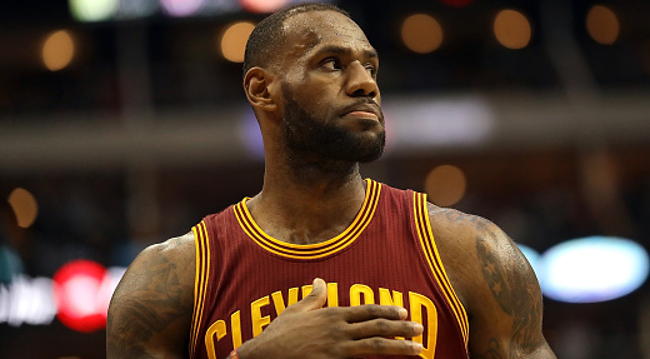 Ladies and gentlemen, I regret to inform you that LaVar Ball is at it again.
Basketball's most vocal dad fired back at LeBron James on Wednesday after the Cleveland Cavaliers superstar told Ball to "keep my family out of your mouth." James told Ball to stop talking about his young sons and their NBA potential after answering a question about basketball players raising basketball players.
Ball said his sons have an advantage over James' children because Bron Bron and Co. have to live with the pressure to match their successful father's legacy. Ball—Charles Barkley will eagerly point out to you—only averaged two points per game in his career, which in his mind makes him the ideal vessel for progeny proteges.
James didn't much like his kids being brought up in this conversation.
"He can talk all about his brand, talk about his sons, talk about basketball, talk about me," James said to ESPN on Tuesday. "But keep my family out of this."
Seems reasonable. But to Ball, a question's a question.
"I gave an opinion on what I felt about no superstars' kids really being superstars and the fact that they have to live up to their parents or to their fathers or whatever. I have yet to see one, and I've been around for 50 years," Ball said in an interview with SiriusXM's "Full Ride" on Wednesday. "Have you seen one where the superstar's son is just as good or better than him? I said a superstar. I ain't saying just a regular player. I'm talking about a guy who we picture as an icon — a Dr. J, an Allen Iverson, a LeBron James. If somebody asks me a question, I'm gonna give them an answer."

…

"I don't care what LeBron said," Ball said. "He talking about he warned me. He warned me for what? What is a warning going to do? Nothing."

Ball also referred to James as "touchy" a day after the four-time NBA MVP told ESPN that Ball's invocation of James' family is "a problem now."
It seems all of basketball is talking about LaVar Ball and his sons these days. Ball already brought Steph Curry into this and seems to be making his way through the rest of the principal players in the last two NBA Finals.
With Lonzo's UCLA making it past the first weekend of the NCAA Tournament and his father verbally scrapping with Charles Barkley on television and through podcasts, it seems like a matter of time before other big stars of the basketball world get involved. James seems fine with him using his name to grow his brand, but maybe keeping 12-year-olds out of it is a good idea.
The only thing I've really learned in this whole thing is that Chris Broussard has a podcast. I guess everyone really does have one of those these days.