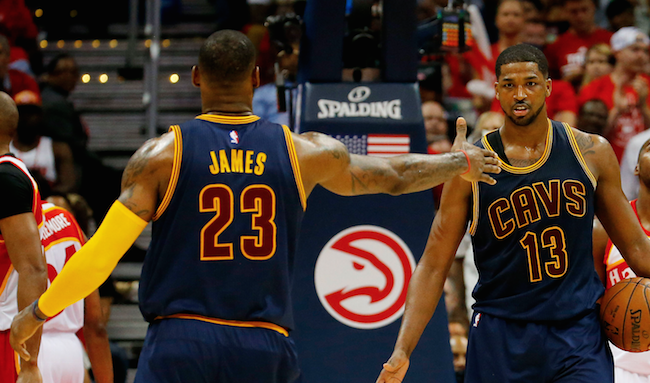 LeBron James has organized a pre-training camp for his Cleveland Cavaliers teammates to take place in Miami, but one key member of last years' Eastern Conference championship team will not be in attendance: Tristan Thompson.
According to Cleveland.com, Thompson has opted not to participate in the pre-training camp due to his current messy contract dispute with the Cavaliers.
Thompson, a restricted free agent hasn't yet been able to come to terms with Cleveland this offseason, despite the two side reportedly being "close" on the very first day of free agency.
Thompson's agent Rich Paul (who also happens to be LeBron's agent) has stated that if Thompson doesn't receive the offer he is looking for from the Cavaliers  (somewhere around 5-years $94 million) he would sign a one-year qualifying offer and then leave Cleveland after the upcoming season. 
Thompson reportedly already has three teams ready to give him max contract offers should that scenario play out.
Thompson was a key piece for the Cavs last season, especially in the playoffs. He is a good fit with Cleveland because of his rebounding ability, athleticism, and the fact that he is not a player that needs to have shots to be effective.
Still, Thompson, while a nice piece, probably isn't necessary for the Cavs to be successful in the future. Next year, they already have a healthy Kevin Love and Anderson Varejao to go along with Timofey Mozgov in their big man rotation (along with LeBron who could always play the four if the Cavs are going small).
On the flip side, depth is always needed as the Cavs were shown last year. Plus, LeBron is obviously a big fan of Thompson on the court, and off of it the two are close and share Paul as an agent, so it's probably in the Cavaliers best interest to keep the King happy and not have a disgruntled Thompson messing with the team dynamic next season.
Most of LeBron's teammates including Love, Varejao, Kyrie Irving, Joe Harris, Iman Shumpert, J.R. Smith, Mo Williams, James Jones, Richard Jefferson, and Sasha Kaun are reportedly attending the camp in South Beach.
Via: Cleveland.com