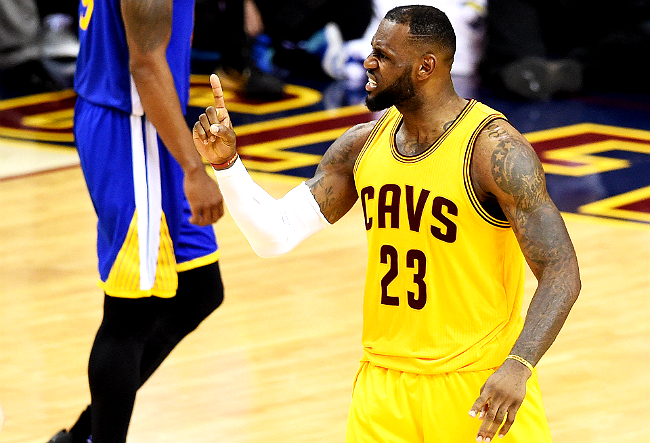 CLEVELAND – The guy in the Rubicon with the arm-sleeve tats and the Kyrie Irving jersey bumping to Machine Gun Kelly in his car off East 9th and Euclid didn't seem worried. The shirt vendor in the LeBron F****** James graphic tee leaning against the freestanding map of Cleveland off Huron didn't seem worried either. The young woman in the acid-washed jeans and a throwback blue and orange Mark Price jersey dancing to Flo Rida in the gap between Quicken Loans Arena and Progressive Field didn't seem like she had ever been worried in her life. So why would LeBron James, arguably the best player in the NBA, he of the four MVP awards and two NBA Championships, be worried?
"Every time the media or anyone thinks that he can't accomplish something or do something remarkable," Cavs power forward Tristan Thompson said at the podium on Tuesday, "he always answers the call."
Sure, the league's best offense might wake up at any second and bury the Cavs under a torrent of buckets. LeBron himself has played so many minutes already, he might need to replace his timing belt and water pump mid-series. And Cleveland is one injury away from seriously entertaining the idea of playing second-round rookie Joe Harris significant Finals minutes.
And yet, after a 96-91 victory over the Warriors in Game 3, the Cavaliers now see themselves up 2-1, two games away from doing something this team has never done and James has never done in Cleveland – winning an NBA title. That's in large part because of another masterful performance by LeBron, who has transformed his game into something almost unrecognizable from what he normally does. He's taken every hit that's come his way throughout these playoffs, and instead of wearing down on the energy meter, he and the Cavs have gone full final stage RPG boss, shedding their original form for something much uglier and harder to fully defeat.
They're defending at a level that seemed utterly unrealistic during the regular season, hounding the ball, rotating effectively, communicating on switches and attacking each and every loose ball like a zombie hoard glimpsing the first live meat its seen in months. This goes from top to bottom; even James Jones is getting his hand in passing lanes, and Mike Miller dove for a ball.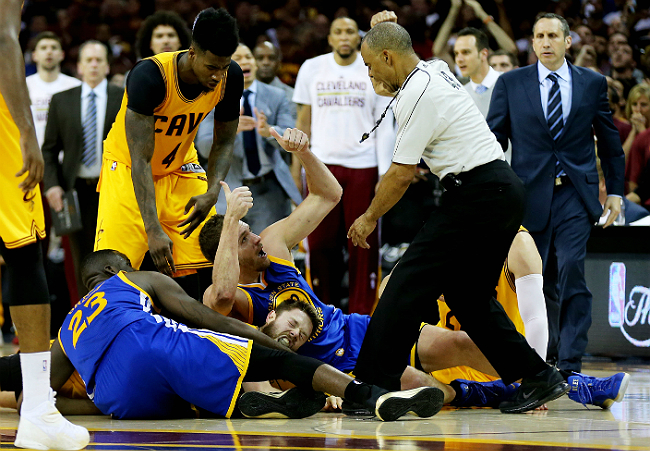 This starts and ends with James, who had a ho-hum 40 points, 12 rebounds and eight assists in Game 3. The Warriors, namely Steph Curry, tried to explain away LeBron's evening by saying his points came via volume (although he did mention that some made attempts were extremely timely), but that glosses over what James is doing. He has to take these shots. There's no one else to do it right now. The Cavaliers second and third best players are out, and their second-leading scorer on Tuesday was Matthew Dellavedova. These are the NBA Finals, and points are points. As Kobe Bryant tweeted in response to a comment about James taking some "very @kobebryant shots" mentioned to him while the game was being played, you "Can't win a shootout with a butter knife."
LeBron had a full-on semi-automatic in Game 3, and he unleashed it against the Warriors. With 1:41 to play, he hit a 3 to put the Cavs back up 7 while Curry was (finally) making the run everyone was waiting for him to make. LeBron looked off in the distance, cocked an invisible fake gun, fired, and put it back in the holster as he walked near midcourt.
James' mid-playoffs chrysalis and subsequent evolution is one we can't even begin to put into context right now, win or lose, and it only speaks to the intelligence and overall skill he possesses. The NBA has never seen a player more versatile and eclectic. He's the perfect athlete to represent the aughts: buried by expectations, unfairly judged and compared to those who came before him, under-appreciated for what he has done, and constantly being asked to adapt and evolve to stay at the top. He's a quintessential millennial hero, even if none of us know it or are willing to admit it yet.
When asked to explain LeBron's series thus far, Golden State coach Steve Kerr didn't exactly bite at the chance to say something that would be plastered all over Wednesday's news cycle. He kept it simple.
"He is who he is," Kerr said Tuesday night. "You get to write the superlatives. We get to try and figure out how to slow him down."
Neither of those two things are easy. And while Kerr and his Golden State team claim to be feeling pressure at "5.13" on a scale of 10, as he said during his press conference, this isn't the Memphis series all over again, as much as the Warriors want to believe it is. Golden State might complete this comeback and be the great team everyone thought they were heading into the playoffs. They're certainly capable of it, and the Cavs are reeling thanks to injuries to both Dellavedova (cramps, had to stay overnight at the Cleveland Clinic with an IV) and Iman Shumpert (shoulder, re-aggravated during the game). Curry seemed to have found his shot, pouring in 17 fourth-quarter points on 6-of-9 shooting after starting the first three quarters 4-of-11 for just 10 points.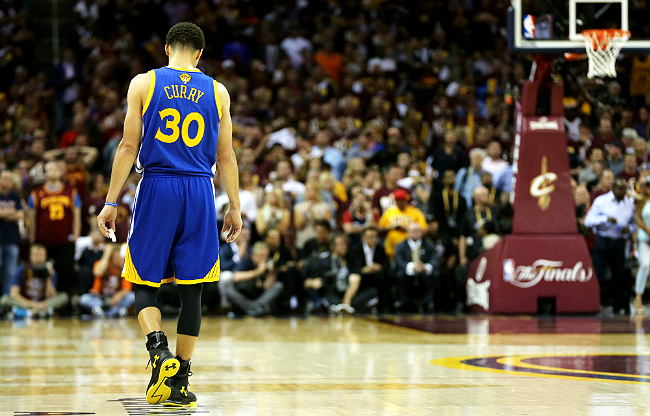 That Memphis team never had a LeBron James. This Warriors team doesn't have a LeBron James. You can stare at analytics all day. Watch as much basketball as you want. Pour through hours of Synergy data. But sometimes sports just don't make sense. They happen the way they're supposed to happen.
LeBron James is a human cheat code, and he's not playing this straightforward adventure the way it was crafted for him. He's building it on his own, going off map, and using alchemy on every item in his inventory to create some sort of super weapon. There isn't a narrative you can use to conveniently explain away what's happening right now. The Cavs have been MacGyvered into a defensive dynamo, and even if the Warriors win out the rest of the way, this series still has to go at least six games when the expectation was that it would be a neat and tidy sweep.
Golden State won an astounding 67 regular season games. The Warriors deserved the number one overall seed throughout the playoffs. But as LeBron put it himself on Tuesday night, "the regular season cannot compare to a playoff game." And there's nothing to compare the NBA Finals to. James learned that the hard way in both his first Finals appearance in 2007, and his first year with the Heat (2011), when the Mavericks put a spear through Miami's chariot and upended the Heatles parade in six games.
Following Game 2's 95-93 overtime win at Oracle Arena on Sunday, LeBron had this to say about the win and about the importance of the Cavaliers fans at home:
"If I could leave our fans with anything" James said. "These fans here are pretty loud, pretty good—really good. I'm looking forward to seeing our fans and I can't wait to see our fans. I've heard our fans pretty loud a few times before. A couple instances: My first postseason appearance was really loud; me coming home against the Knicks to start this season was pretty good. But I know we can be much louder than any fan base in this league. I know they're getting ready and I can't wait to see them."
He knows exactly what he's doing and what he's saying at all times. That mini speech was spoken right to Cavs fans to try and get the boost the team needed to push to the next level. After Game 3, James told the Cleveland faithful to have some tea and rest up.
Tea time might be the closest thing we get to sophistication for the remainder of this series. That said, there's beauty in the obscene, and LeBron James just put together a Francis Bacon-like tryptic through three games of the 2015 Finals. Two more masterpieces like that, and his legacy will be immortalized forever.