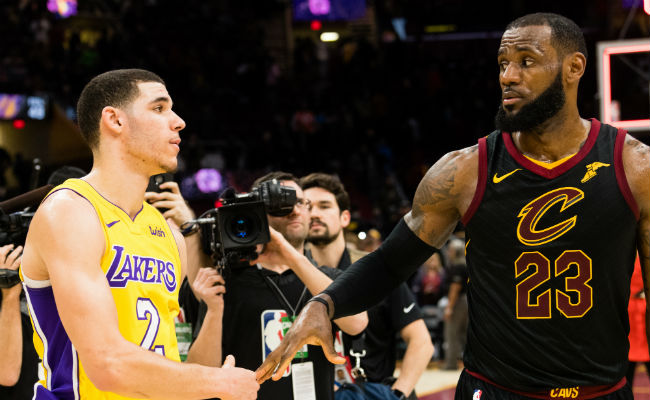 LeBron to the Lakers is going to be something you hear about a lot until it either does or does not happen. But with Luke Walton's place with the Lakers as uncertain as ever, some people might think the next coach of the Lakers might be picked in an effort to get LeBron James to LA.
Rich Eisen had ESPN reporter Brian Windhorst on his radio show on Friday and the current hubub over LaVar Ball's comments about Walton came up. Eisen asked ESPN's Brian Windhorst on Friday why the Lakers haven't publicly endorsed Luke Walton after LaVar Ball said he had no control over the team.
Windhorst's answer was simple: the team doesn't really want him long-term, but then gave every Lakers fan exactly what they wanted by proposing a theory that LeBron James and another coach on the market, David Fizdale, are possibly coming to LA.
First and foremost, though, Windhorst made it clear that the Lakers had a chance to defend their head coach and only made LaVar Ball look good by not doing so.
Whatever you want to say about LaVar Ball, he has smoked out the fact that the Lakers do not support Luke Walton," Windhorst said. "And that is now crystal clear. And there are now guys wondering openly to me executives, coaching agents, who the Lakers are going to hire as their next coach because that has been revealed here, that they do not have unconditional support for Luke."
Do you want to know what they're saying behind the scenes?" Windhorst asked before pointing out that LeBron James had tweeted in support of Fizdale recently.
"Now this may not be true, and the Lakers may intend to keep him, but what I'm telling you is the way the events have gone down, I got executives in my ear, I've got agents in my ear, saying 'oh yeah they're probably going to hire David Fizdale.'"
There's nothing concrete here, but it does certainly make sense, and if Windhorst is comfortable saying it on air it means that he's heard that kind of speculation from more than one source. Whether the Lakers would hire Fizdale just to have a better chance at LeBron might seem strange, but often in these cases when there's smoke there is absolutely a chance at fire.
Are you following DIME on Instagram? You can also check out the DIME podcast with Martin Rickman and Robby Kalland.
[protected-iframe id="00af9ca45de21b1c2881c59da0b836c2-60970621-10222937″ info="https://omny.fm/shows/the-dime-podcast/episode-15-chris-herring/embed?style=artwork" width="100%" height="180″ frameborder="0″]