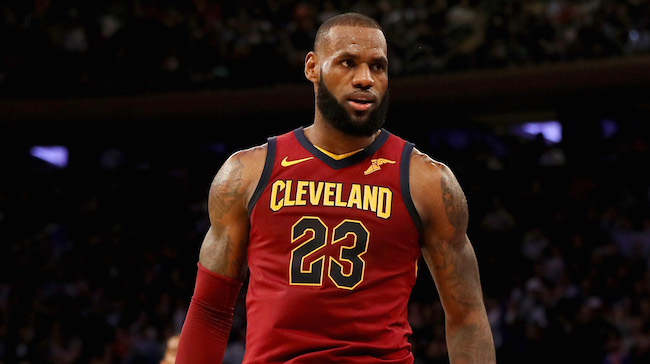 LeBron James is an insane shot blocker. This doesn't mean that he's as prolific of a shot blocker as, say, Rudy Gobert, but when the Cleveland Cavaliers star is able to get an angle on a dude, he is capable of flying high and sending a shot into the stands.
This was on display a few times during Cleveland's game against Atlanta, as he blocked two shots, both of which were wildly entertaining. His block in the first half against Taurean Price was legitimately hilarious, as he spiked the ball into the ground like it was a volleyball.
While his block against Dennis Schröder in the second half wasn't as devastating, it was far more important — Cleveland was hanging onto a 120-114 lead with time running down, and Schröder had a path to the rim with the hopes of getting two points. He was met by LeBron, though, who pinned the ball against the backboard en route to a change in possession.

After the ball landed in the hands of Jeff Green, LeBron decided to do a move that is familiar to Hawks fans: He threw one hand in the air and did the Dikembe Mutombo finger wag.
It is great whenever anyone does the finger wag, as it is a hilariously disrespectful move that gets the whole "I just blocked you" thing across rather easily, even if Mutombo (and, in this clip, LeBron) did it to the crowd and not to the guy that he blocked. Doing the finger wag in a city where Mutombo played like Atlanta makes the gesture even better.