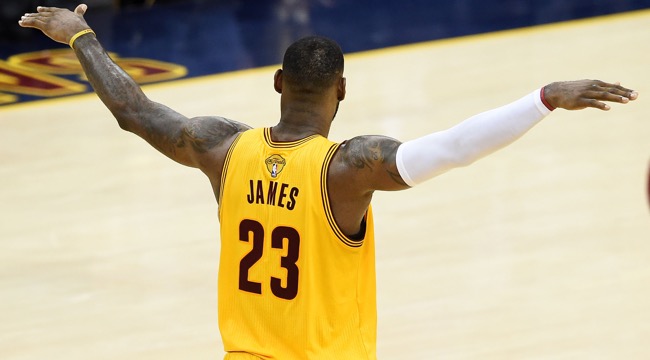 Sometimes it's easy to get caught up in the negatives when it comes to pro athletes. It seems like every day that another is getting arrested or suspended, but sometimes it's important to recognize the positive impact that they can make, as well.
Such is the case with superstar LeBron James, who will be missing part of Team USA's mini-camp, but for a good reason… to host 9-year-old Brenton Cox, who is suffering from a brain tumor.
Cox will fly to Cleveland from his home in rural Arkansas to meet LeBron as a part of the Make-A-Wish Foundation. Cox already had one wish granted when he and his youth team got a chance to face-off with his favorite college team, the Arkansas State Red Wolves.
ASU coach John Brady said in an interview with Northeast Ohio Media Group that James didn't want his meeting with Cox publicized, and that he would only speak about it after KAIT-TV in Arkansas spilled the beans:
"For a time, the thought was Brenten wouldn't be able to travel because of his condition..So there was talk of LeBron, with no media, no publicity, maybe flying in and flying out to spend some time with Brenten. His people were adamant about that part of it, so I'm not sure if I'm violating something or not. But LeBron not wanting to draw attention to it, I thought that was pretty classy."
WCIT in North Carolina is also reporting that LeBron will meet with another boy, as well, 17-year-old Ray Tripp, who is suffering from a serious brain injury.
Say what you will about LeBron, but he doesn't have to do things like this. While he still has a long way to go to catch his Trainwreck co-star John Cena, it's heartwarming to see King James take the time out to make a memory for these sick children.