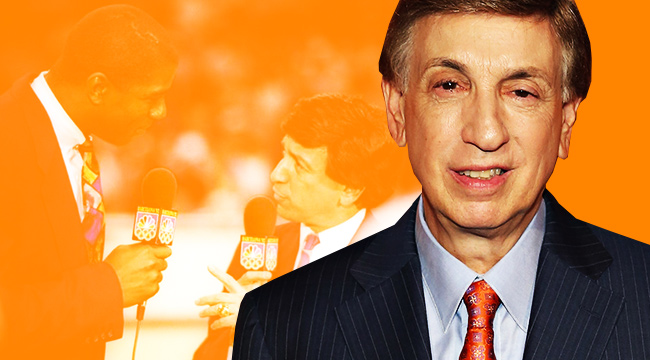 Marv Albert began his NBA broadcasting career doing radio for the New York Knicks in 1967, seeing two Knicks championships in his first six years on the job — and none since. Albert's national TV break came in 1990 when he took the lead play-by-play role for the NBA on NBC, where he called many of Michael Jordan's biggest games.
Now, Albert is the NBA on TNT's lead broadcaster, where he regularly calls LeBron James' games, including the ongoing Eastern Conference Finals between the Cavaliers and Celtics, which heads to a surprisingly non-decisive Game 4 on Tuesday night at 8 p.m. ET on TNT (and will be followed by The Dunk King).
On Monday, Albert spoke with DIME Magazine about that series, how he and the crew dealt with the historic Game 2 blowout, where Cavs-Warriors belongs in all-time Finals rivalries, the greatness of LeBron James, comparisons between LeBron and Jordan, and his favorite teams and moments he's gotten to call games for over his career.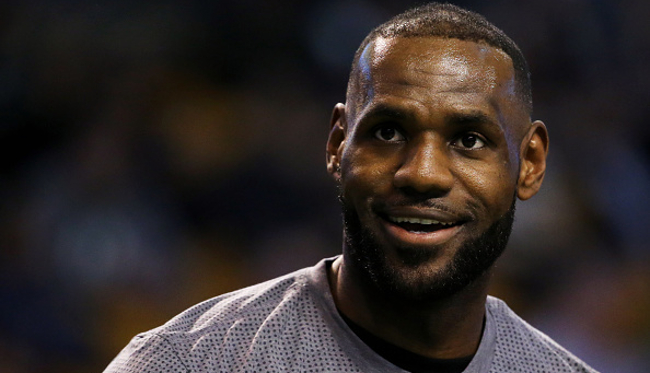 Let's start with what we saw Sunday night from the Celtics. When it was a 20-point game, how surprising was that 18 minutes or so when Boston mounted that comeback?
As it was developing it was, like, stunning. Totally unexpected. The only thing we saw differently, but you didn't think it would end up where they'd come back from 21 points like that, the Celtics were not switching as much defensively. Even though, they'd rather have a healthy Isaiah [Thomas] in the lineup, I thought that affected the Cavaliers, because when Thomas was playing there was more of a sense of urgency. The double-teaming and trapping and blitzing and they were flying all over the court.
I think without Thomas in there, I mean, it was different body language. [The Cavs] were hitting their threes early and perhaps too many so they were firing away in the second half and not successful — 2-of-17 or something — but without Isaiah playing, Boston's defense is much better. So, they were able to go without switching and have guys play man-to-man, but you have to hit shots, and they did.
Lebron, I still don't understand, we're so used to seeing him at a different level and the way he's played in these playoffs up until Sunday night has been incredible, I don't know what happened other than that, with Love hitting shots early and Irving also scoring, he felt he could step back and never got into his rhythm. It was strange to see. Obviously that was the other factor.
It's interesting you bring up Isaiah being out, because I feel like we see this a fair amount, when a star player goes down, the first game after the team that has the player that goes down sees role players get galvanized and step up, while the other team sometimes seems a bit lost. Is that something you've noticed over the years?
Yeah, it does happen, I think you'd have to look at it case by case because it's easy to generalize, but yeah, I've seen it happen. I could go back to my early days with the Knicks when Willis Reed went down, and how even against the Lakers in Game 5 when he got hurt all these role players, and they had four different guys, playing at center against [Wilt] Chamberlain who all were giving away four or five inches. And then in Game 7 with Reed hobbling around they were still able to win. That was a very good team, too. But still, there are probably many other good examples, but in this one [with the Celtics] when you see them down 21 with six and a half left in the third, we're figuring, 'Okay, this is going to be a four-game sweep.' And you just didn't see it coming.
I mean, Marcus Smart is really a very good all-around player. He's not noted as a great shooter, but he makes clutch shots and he went on a tear hitting seven threes. That's the unexpected. And Jerebko changed it with his physical play, and he's a pretty good three-point shooter and he hit a couple. It was just one of those games that came out of nowhere on Cleveland's home court.
Especially coming off of that Game 2 …
Right.
I wanted to ask about Game 2 and when you get a game like that, first, have you ever called a game where you go into halftime with something like a 40-point lead?
No. Never.
And when you get to halftime, what are the conversations like that you're having with Reggie [Miller] and Chris [Webber] and the rest of the crew about what you're going to talk about in this second half?
We're shaking our heads. They led by fifty at one point. I said to Reggie and Chris, I had never, even when I was doing Knicks — radio and TV, there were some bad years in the 80s, late 70s after the team broke up, and even in recent years or when I was doing games at NBC — I can't recall any game like what we saw in Game 2.
I'd never seen anything like that.
When you're giving the score and you have to say, 'for those just tuning in, that is correct.' But you know, even with a game like that, there are so many records that make it interesting. You become somewhat humorous, but our statistician and researcher become so important because they had all these records which the Celtics — and it was a dubious distinction — were surpassing and it was interesting to talk about.
And both Chris and Reggie, they've been at the wrong end of blowouts and, in fact, we looked up the worst loss that they have suffered, so that gave us more conversation. I always enjoy that. And, you know, what it's like to come back after that, they certainly can relate to it, but not to that extent and in an Eastern Finals game.


It was truly stunning to watch …
It really was, particularly in Boston where they thought they had seen the last of the Celtics and gave them a big hand at the end of the game — gave them an ovation. And obviously, now they're coming back for a Game 5 and that place will be crazy.
This year in the playoffs we've seen a number of lopsided games, even in series that go six games like Spurs-Rockets it seems like teams are trading blowouts. Can you put your finger on anything that's caused that this year and how do you go about trying to keep these games interesting when you're calling them?
I think it's like a cyclical type thing. I can recall other years where there were routs like this, which you don't want from a television perspective or a fan point of view, you just don't want to see. There were some games in that opening round between Cleveland and Indiana that were not like that. Cleveland, I thought, was still finding itself. You know, they finished the season something like 10-14 and the defense was terrible, and they were a C.J. Miles jump shot away from losing Game 1. And then they blew leads in two of their games. So, they were not what they became in the second round series and the first two games against Boston.
I think it's not only the super teams like Golden State, Cleveland that are doing it — and, unfortunately, in Golden State's situation that would've been a good series had Kawhi Leonard not gotten hurt, you know. That would've been pretty good.
But, I think it's just one of those things where it just happened to take place. That opening series between Chicago and Boston wasn't bad because Boston lost their first two games at home, and then came back. But, yeah, there have been too many blowouts, no question. It was nice to see Sunday night that it was compelling, and we didn't expect it.
No one really expects Boston to be able to keep this up and sustain a comeback against Cleveland and we seem destined for another Cavs-Warriors Finals. You've seen both of those teams a good bit in person this year. What do you think of that matchup this year?
You know, there's so many factors now, because it remains to be seen how Boston reacts in Game 4. How are they going to come out of this series, are [the Cavs] going to actually be extended to six games this series? Even if Boston loses tomorrow night, they could win back in Boston, but I think with all the rest that both Golden State and Cleveland are going to get, it really makes it intriguing. I think it would be better if they played it sooner, but they have to plan it in advance in case of a longer series. I stay away from predicting, because when you do a talk show or something it's OK, but when you do play-by-play people will say, 'Oh, he's rooting.' So, I have friends on both teams, working with Steve Kerr for eight years, obviously. I wouldn't pick a winner, and I hate to be trite about it, but I think it really will be a great series.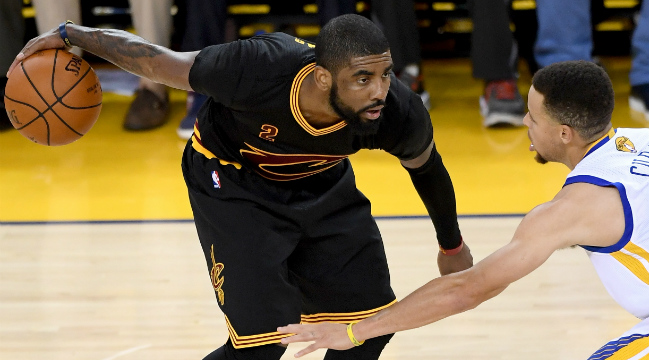 We've seen plenty of great Finals rivalries over the years, where do you think Cavs-Warriors belongs if they continue running into each other?
Oh this will go down as one of the all-time rivalries. It's so rare, I don't know has there ever been three in a row? I don't think that it has. There's been two in a row — the Bulls and Utah, the Celtics and the Lakers — but I don't know if three in a row has been done. And last year was a tremendous series because you had Cleveland coming back from a 3-1 deficit. But it always comes down to health and injuries. Last year Steph Curry was obviously banged up, and I know he doesn't talk about it and they don't make excuses, but you know, Cleveland's been pretty healthy to this point — so has Golden State now that Durant is back. Both are going to be very well rested and it's a question of how they deal with that rest period.
Cleveland, I know, when they're off before this series, Tyronn Lue felt he didn't want to scrimmage because he didn't want anyone getting hurt, so they were doing yoga and all kinds of conditioning exercises. I don't know how they're going to approach this and the same with Golden State. It's so unusual that you have this, with so much time in between.
I want to talk a little bit about LeBron specifically for a moment. How rare is it to see someone do what he's doing and to do it for such a sustained run of greatness. And it's been like a decade now in which he's had these playoff performances that are just incredible. When you get to witness it in person and get to call it, can you contextualize what we're seeing from him?
Well, up until Sunday night, my feeling was — and I did most of Michael [Jordan]'s championships — I thought it was one of the greatest playoff performances of all-time. And it still might be — he isn't done — but because here in these playoffs, his free throw shooting came to be better than decent. He was like 67 percent during the season, and was like 80 percent until Sunday night. He developed a three-point shot. He came into the league where the feeling was, he was not a strong shooter and he's become a very good shooter. He can do whatever he wants. He was driving to the basket, passing, he was looking for teammates. It was amazing what he was doing, averaging like 30-plus for eight straight games. I hadn't seen anyone do what he had been doing over the first 10 games.
Michael, there are a lot of similarities, cause Michael would also set up teammates and we've seen how many other big shot makers there had been with him. Whether it be John Paxson or Steve Kerr or Bobby Hanson that hits big shots, where he gives the ball up at the end of the game. LeBron is a lot like that, which, for a major star is great to see that it's not all about him. To see it in person is really a treat. To see that kind of play.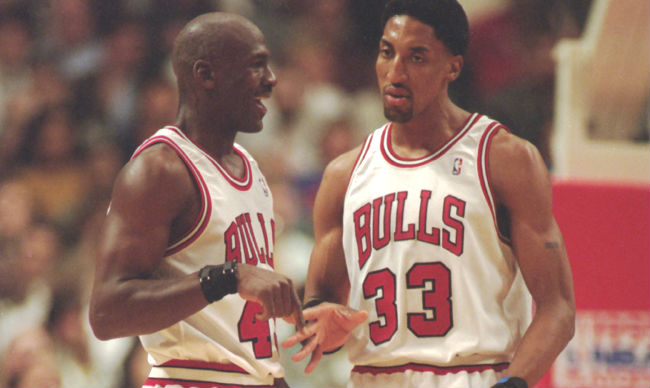 Where do you think, obviously his career still appears to have a number of years left as he isn't showing signs of slowing down, but where do you think LeBron belongs in the conversation with the all-time greats?
Well, it's so difficult to compare eras and positions too, but I mean, he will go down as one of the top five great players of all-time. People always ask about the Jordan-James comparision, but Michael played under a different set of rules, where there was a lot of holding and pushing and you were able to do things physically, things have opened up — which is good for the game, it's become more offensive geared. And also, now with so many one-and-done players in the league, it's different than the 90s when Jordan played and you didn't have that. It was very rare for a guy to come in after one year of college, so it was a more mature type of league. So you have to factor those things in.
If Michael was playing today he'd be as great as he was — he'd be better than he was, if that's possible, than he was in the 90s. So, it's tough to say, hey one guy's better than the other, they're both so good. And then others go back to Oscar and Westbrook, and that's impossible. The game was so different then to now, or the center position is so different, and you had fewer teams, and so many factors — even the travel was so different then.
What have been some of your favorite teams to call games for over your career? Teams when you got an assignment you were really excited about seeing and teams you really had fun calling their games?
Well, the Bulls of that era — that was always a big game. The whole scene at Chicago Stadium, the former arena, and I'd get the chills listening to the introductions when public address announcer Ray Clay did it. It was very, very exciting. And the teams were obviously so good. I didn't do the Celtics-Lakers nationally, I was doing the Knicks at the time, but those teams were special. In terms of calling games, now I'm doing Golden State, Cleveland, you know the top teams. I'm doing Westbrook games. Harden, we haven't done as much with Houston, but their styles — I don't know how far they can go with that style shooting three-pointers, but it's exciting doing a game when you're involved like that. Even, there were games I recall when Shaq was in Orlando or when Kobe was in L.A., those were always fun doing Lakers games in their hey day. But I'm usually pumped for most games, even regular season.


When you think back on your career, do you have a few moments that stand out that you remember as your favorite calls or moments you got to be a part of?
I would have to say the top ones were doing the Dream Team in Barcelona for the Olympics in 1992. The Olympics have always been a thrill for me, even this past summer in Rio, even though there weren't a lot of great games, I felt fortunate to be doing it. But '92 was special with that group. And you go back to your earliest memories, back when I first started doing radio with the Knicks in 1970 and '73 with the championship years. Those are games that stand out, and I would have to say there were so many Jordan games.
The thing about Michael, and it's true about LeBron too, every game they play hard. You just knew that they would use something to motivate themselves. With Michael, it could be a fan that bothered him in the front row and he would end up playing to that fan — it could be male or female. And LeBron will do that too sometimes, just to get self-motivated. So that was always fun to see.
And doing the early games when I couldn't believe I was actually doing this. My early days of radio when I first started out, although, this is what I wanted to do from the third grade on. I'd turn the sound down on my TV and do games on my tape recorder. When people who are interested in sportscasting ask me for what advice I'd give, I tell them start like that. Do them at home, turn the sound down, and do it.