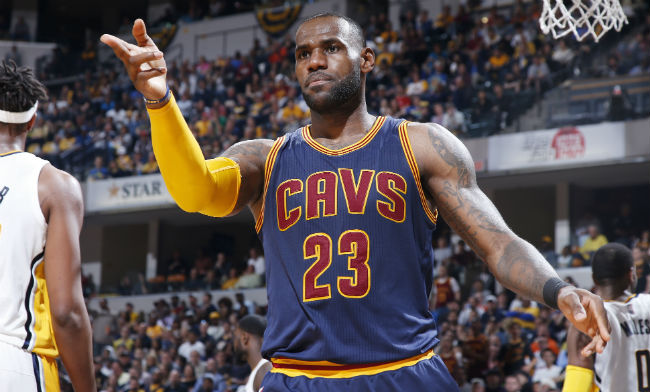 The divide between LeBron James and the other legends of the game continues to shrink. James moved up on the all-time playoff scoring list on Wednesday night, passing Kareem Abdul-Jabbar for second in career playoff points.
A 3-pointer from the left wing with 8:44 left in the third quarter of a 125-103 Game 2 win was enough to push James past Kareem.
James was feeling it from three on Wednesday night, hitting 4 of 6 behind the arc, including this one.
James finished with 39 points, six rebounds, four assists, three steals and two blocks in the blowout win. As the game got away from Toronto in the third, he had a bit of fun with Kyrie Irving.
Wednesday's blowout win contained a number of impressive statistical feats. Cleveland also set a Cavaliers record for points in a postseason game. LeBron's individual shooting performance was pretty impressive, too. He was 10 of 14 from the field, though a number of dunks like this one did help.
That kind of scoring output is rare for someone who took so few shots.
James' 15 free throws on 21 attempts certainly helped, but it's another indication of just how easily the Cavaliers are thrashing Toronto in this series. And with Kyle Lowry hurt again in Game 2, who knows if the Raptors stand a chance once the series heads back home. Oh, and then there's LeBron's record when his team wins the first two games of a playoff series.
James is now second on a few other lists, including postseason games of 30 or more points.
James now only has Michael Jordan standing in his way as the NBA's all-time leading playoff scorer. Jordan has 5,987 career playoff points, meaning it's all but inevitable that James will take possession of the record, perhaps by the end of this season.