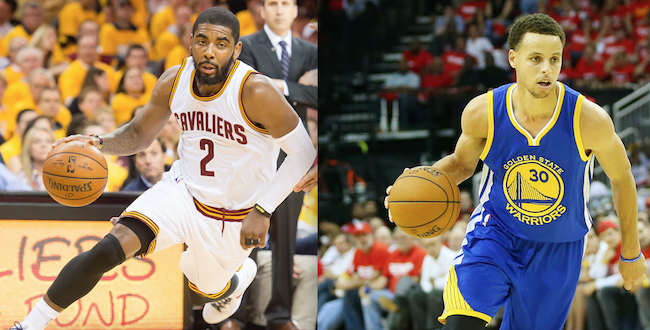 It's impossible to choose between the estimable handles of Steph Curry and Kyrie Irving.
Both point guards are absolute wizards with the basketball, capable of jaw-dropping, ankle-breaking moves that perhaps only the other has the talent to match. And we get to watch the Golden State Warriors and Cleveland Cavaliers' magicians face-off on the game's biggest stage Thursday night.
The dribbling exploits of Curry and Irving won't only delight the millions of viewers across the country watching from the couch, though. It's safe to say everyone lucky enough to be at Oracle Arena for Game 1 will be amazed, too – even LeBron James.
Just a day before the NBA Finals finally begin, the four-time MVP lauded the incredible ballhandling abilities of both his point guard and the opponent's. Here's James via ESPN's Brian Windhorst:
"They are two of the best ball handlers that this league has ever seen," James said Wednesday.

[…]

"Their ability to make shots off the handle, Steph's ability to use his handle to get off shots, those step-backs and Kyrie's ability to be crafty, use his ability to get into the lane and make shots. When you have a handle like that, you can pretty much get any shot you want, and they both show you that."
That's high praise from anyone, let alone a player whose handle is the envy of so many guards who seem half his size. LeBron is a very good ballhandler irrespective of his natural gifts. It's precisely the lack of that size, strength, and explosion, though, that forced Curry and Irving to find other means to score.
Is it a coincidence that basketball's preeminent dribbling maestros are underwhelming athletically compared to their superstar peers? No way. Whereas guys like James, Kevin Durant, Russell Westbrook and more always possessed the glaring physical advantage over opponents they still hold, Curry and Irving weren't blessed with that universal trump-card.
And thank god, too. If they had, it's fair to say neither player would have developed the all-time great handles that makes them such a joy to watch.
What a treat it will be to see Curry and Irving go at it with a Larry O'Brien Trophy on the line. Here's hoping the Warriors and Cavaliers cooperate by affording us a seven-game show starring their respective point guards.