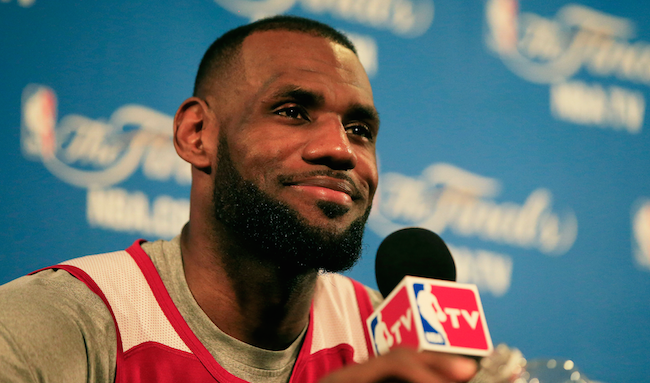 In the summer of 2010, LeBron James famously left the city of Cleveland when he announced his decision to sign with the Miami Heat. Despite that, he never forgot about his hometown of Akron, Ohio. Through The LeBron James Family Foundation, he has continued to raise millions of dollars for various charities in the area such as the Boys and Girls Club and Wheels for Education. Now, his foundation has announced it has partnered with the University of Akron and plans to issue scholarships that could send up to 2,300 area kids to college.
The program, announced on Thursday, will provide guaranteed four-year scholarships to all students who qualify for James' "I Promise" program. It will cover tuition and other services to UA in the amount of $9,500 per year.
Students eligible for the free four-year scholarships include about 1,100 students currently in those programs, as well as an estimated 1,200 expected to be added over the next four years. [University of Akron President Scott] Scarborough said he hopes the "renewable partnership" will go beyond even that.

"Our goal is to make it reasonable, to make it a level that these kids have a good chance of succeeding when they come to the University of Akron," Scarborough said. "The more students who get there, the better."

He estimated a four-year scholarship is valued at $38,000.
The criteria for receiving a scholarship is still being worked out, but recipients will be expected to meet grade-point average and attendance standards. "This is one of the best things I've ever been a part of," James said in a news conference after the staged event. "College isn't a realistic future for many, and kids need to see a finish line."
The first students who will be eligible for the program will graduate high school in 2021.
(via Ohio.com)