The new trailer for the Judd Apatow produced film "Trainwrecks," starring Amy Schumer and Bill Hader, made its debut today, and LeBron James has an extended cameo. The Cavs forward appears in two scenes and cracks on Hader's character after he had — per James — "sexual intercourse" with Schumer's lead character.
Schumer is the protagonist in the film, a fun-loving, hard-drinking editor at a men's magazine who hooks up with Hader on an assignment about the surgeons of athletes. Hader is friends with LeBron and after the former SNL cast member sleeps with Schumer's character, LeBron loves it.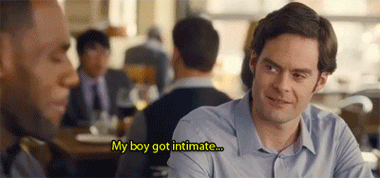 To be honest, the Downton Abbey line by LeBron earlier in the trailer falls a little flat (of course LeBron loves the Masterpiece hit),  but we love the premise of LeBron as Hader's juvenile buddy pushing him into the arms of Schumer.
Follow Spencer on Twitter at @SpencerTyrel.
Follow Dime on Twitter at @DimeMag.
Become a fan of Dime Magazine on Facebook HERE.