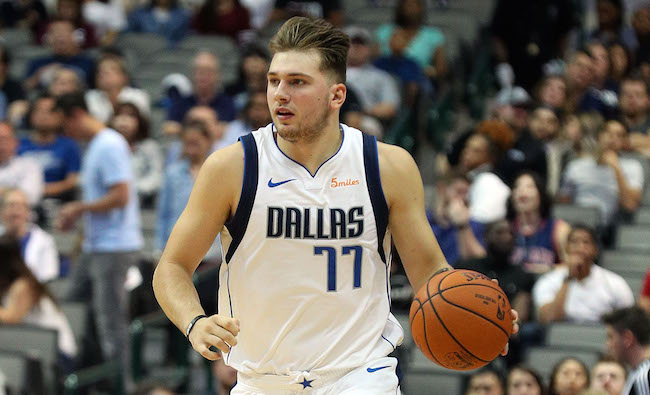 The Dallas Mavericks have been on a tear of late, winning nine of their last 12 games and climbing above .500 on the season and into the playoff race out West in the process.
A big reason for the Mavs' run of late has been the play of rookie Luka Doncic, who has asserted himself as the frontrunner for Rookie of the Year. On Saturday, the Rockets visited Dallas and appeared ready to hand Dallas their second straight loss before Doncic caught fire.
With the Mavs down eight with just under three minutes to play, Doncic ripped off an 11-0 run by himself, leading the Mavs to an improbable comeback 107-104 win, and giving himself yet another impressive bullet point on his Rookie of the Year resume.

Luka's full arsenal of skills was on display during the run, hitting a spot-up three, driving for a pull-up jumper in the paint, and a pair of step-back three-pointers that have become something of his signature shot. Doncic, as many pointed out during draft evaluation, isn't the fastest player, but he's exceptionally skilled at using different paces and his size and length to create space.
The Mavs have turned their offense over to the rookie and it's paying dividends, as he's proving to be a star in the league and is helping to elevate the play of others around him like Harrison Barnes. The rookie wall may very well come at some point for Doncic later this year, but right now it's spectacular to watch him carve up opposing defense.