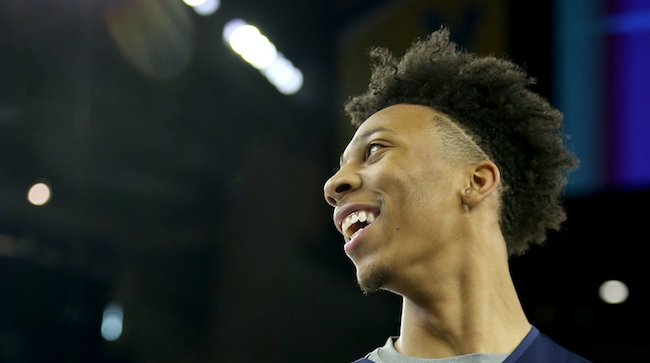 In talking with Malachi Richardson, it becomes clear Kobe Bryant's influence is embedded like html code – you know it's there but you can't quite fully understand every single line. Richardson is admittedly a disciple of sorts of the Mamba, but he isn't at all abrasive in any way like the teenage Lower Merion product was entering his rookie season. Instead, Richardson shows an appropriate confidence and wisdom of self. He has and will continue to do things his way, but his way undoubtedly includes relying on sound advice from others who have come before him and his strong familial structure.
Richardson showed immense promise during his one season at Syracuse, and his name continues to sneak up prospect rankings as the 2016 NBA Draft quickly approaches. While basketball might be his claim to future fame, he's acutely aware that the avenues the game has opened for him can aid in expediting his maturity off the floor.
On a late spring evening after further preparation for the next and most important step in his career, the ultra-confident yet firmly-grounded Richardson sat down with DIME to discuss his road to the NBA.
Dime: You are from Jersey. What was it like growing up there and honing your basketball skills?
Malachi Richardson: It was great. I started playing basketball when I was about 4 years old and my mom was the main one really who put the ball in my hands. I always played up in the local leagues and ever since then things took off for me—especially when I got to high school. I was able to play on the AAU circuit with Team Final based out of Philly and from there I was able to get to Syracuse.
At what point of your basketball ascension did you realize that you might to give it a go as NBA player?
Growing up as a young'n I always wanted to play in the NBA. My parents – my whole family, really – always used to watch basketball. Watching the TV with them I always thought that I want to do that one day. I want to be there on TV playing. I grew up a Lakers fan and big Kobe Bryant fan. I think that was the person that really inspired me. Basketball has always been my first choice; I've just always had a love for the game.
Malachi, you're living kind of reckless out there in Jersey rooting for the Lakers. How did that come to pass?
Man, I don't know. I have no clue. Growing up I always watched Kobe, loved the Lakers back when Shaq was there. But I was just such a big Kobe fan. I watched his every move even though Philly and A.I (Allen Iverson) was right there, I always had a thing for Kobe Bryant.
So playing in New Jersey, competitive AAU and Syracuse you've come across some dynamic environments to play in. What's been the toughest basketball environment that you've encountered thus far?
I wouldn't say there have been too many crazy tough ones but maybe back in high school when I played against Linden High that was pretty tough. In college playing at Pitt was pretty tough. The Final Four was different playing in front of 75,000 people. That's just not your average amount of people at a basketball game on any level. So I wouldn't say it was tough but it was definitely different.
What's the hardest life lesson you've learned both on and off the court?
Probably just that I'll never be perfect and I won't be able to make everyone happy – whether it's a decision made on the floor or off of it. You are always going to have doubters and haters but you have to able to live with yourself. I've definitely learned that I have to be happy within myself. I think that's what I've learned so far.
So is that an accumulation of life experiences that brought you to that or did something happen in particular?
It's really just been growing up and playing basketball. Whether it was not going to the local high school, transferring schools, going to Syracuse or leaving Syracuse after my freshman year. It's just a bunch of different things and you aren't going to please everyone. I've just learned that you have to make yourself happy first and foremost.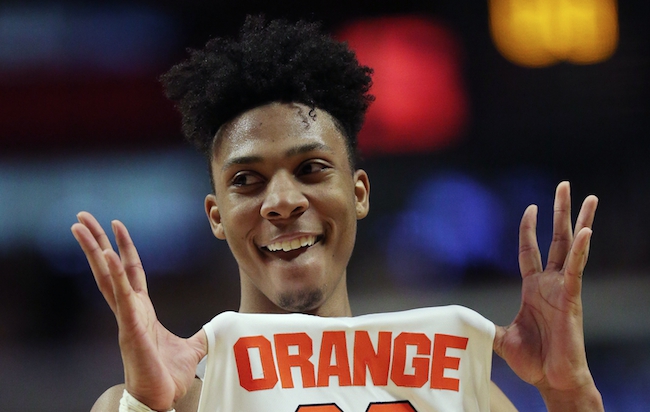 Playing at Syracuse put you on a big stage as a freshman. How do you think you handled your season there?
I think I had a really good year. I had some ups and downs but I think I handled the adversity very well. As a freshman helping my team get to the Final Four and doing things a lot of people wish they could have…I think I had great year at Syracuse. I learned a lot from teammates and my coaching staff.
A lot of guys don't like to admit it but did you envision being a one-and-done player?
Going into college my goal was always to become a professional player. I wasn't too focused on if it would happen in a year or maybe even after two. I just wanted to go in and play as well as I could, and I knew everything would take care of itself. It just so happened that things fell the way they did this year and I was able to leave after one year.
You are entering the NBA draft as kind of a hot prospect as your stock seems to be rising. I don't how much you pay attention to that stuff but what type of player will a team be getting if they draft you?
A very confident player. A great scorer. A defender. Just a total team player. I try not to pay attention to the different mock drafts and analysts. I can't really worry about that. I just have to go out there and do what I got to do.
What skill do you have that will translate immediately on the next level?
I would definitely say being able to shoot the ball. People may look at the numbers from college but I don't think that's really going to matter. I'll be able to work on my craft all day every day, especially now since I don't have to worry about class. I think everything will translate and I will be able to show a lot more than I did in college.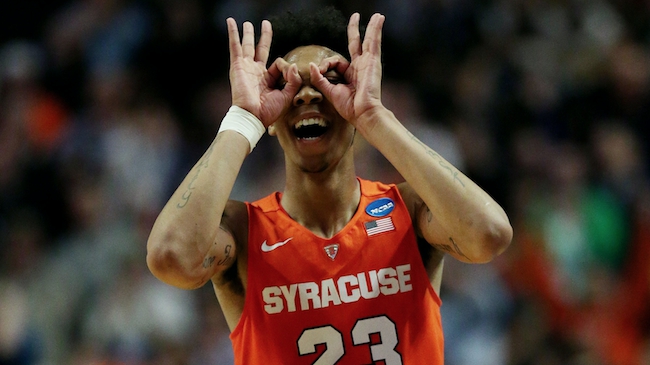 So if the shooting is what will translate what is the thing that you want to work on the most entering the draft?
I really just want to work on everything but I definitely want to work on my body – get a little bit bigger. I want to continue to eat healthy and just become a stronger player. I want to work on finishing at the basket and learning more about the game. I've been watching a lot more film than when I started.
You mentioned earlier that Kobe was your favorite player growing up. Do you have any current ties to the league or any players that you can call on to give you advice and help you through this process?
Oh yeah. I talk to [recent Syracuse alums] Chris McCullough and Rakeem Christmas very often. I am always talking to those two guys. They've been through the draft process and I can go to them and ask them anything.
If you wouldn't mind sharing, what's just one piece of advice either of them have given you that you've taken to heart as you prepare for the draft?
I was out to dinner with Chris McCullough one night and he was just asking me what I was going to do. I told him I was stuck in between on whether I wanted to enter [the draft] or not. He told me that you just have to go. You just have to do what you think is best for you and your family whether it's staying in school or leaving. But make sure your decision is based on what makes you happy, not everyone else. I think that actually helped me out when deciding to enter.
So McCullough, Christmas and your parents have all helped you. Who else do you trust with just giving you good life advice as you continue to mature into a young man growing up in the world today?
I can always go to my family, anyone in my family is always there for me. Sometimes it's my brother or my sister, but I've always been able to talk to them. Even my AAU coaches. I've grown up with those guys. They've seen me grow up as a middle schooler to the man I am today. I know I'll always be able to talk them because they've helped me out a lot too.
It's great to have a large support system. There is some push and pull when you get to the league though and guys are often forced to cut down as new hangers-on come their way. What advice have you received regarding that and how to avoid the pitfalls that come with new people at times?
Man, just always keep your circle tight. If they weren't with you when you didn't really have anything or nobody knew who you were, that means something. If they've been there since day one then they are for you. If they've been there through the ups and downs and the bad shooting games, then that means a lot.
As you look to enter the league are there goals you've set for yourself as a rookie? It's tough especially not knowing where you'll be specifically, but is there anything that you want to achieve in your rookie season?
Honestly, I just want to be able to go out there and get minutes and become the best player I can be. I want to learn as much as possible and become a better player and person. I think me growing off the floor is just as important as me growing on the floor. I just want to be around a great organization where I can learn from my vets.
Finish this sentence for me. Basketball is…
Life. Definitely life. My world revolves around basketball. I've always learned to not let basketball use you, always use basketball.
Well said. So how will you end this next one? Family is…
Everything. Family is always going to be there for you.