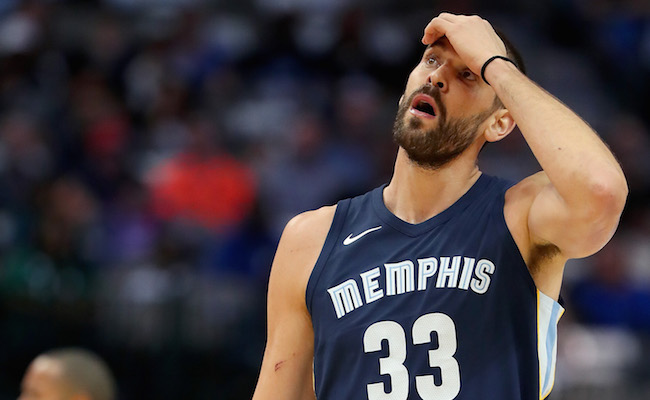 If you're wondering why there are no images of Marc Gasol former Memphis Grizzlies head coach David Fizdale on Getty to use for things like the top of a post about the two quietly feuding, it's because they tried very hard not to be around one another. In fact, some say the two communicated as little as possible for the better part of a year.
That would certainly explain the tension between the two, and maybe explains why Fizdale was fired on Monday after he benched Gasol in a game the day earlier. Though no one wants to label Gasol a coach-killer, it's clear the interpersonal failings between the two played a part in Fizdale's departure from Memphis.
And there's some talk that their issues were actually quite vast. From the outside that might not seem the case, which is why Gasol's brother Pau said Marc didn't force Fizdale out. Or maybe why LeBron James wanted answers when Fizdale was abruptly fired. But it's becomming clear now that things in Memphis were not as open and friendly as they may have seemed.

A USA Today report about the Grizzlies gossip indicated that not only did Gasol and Fizdale not like one another, they almost never spoke.
Two people with knowledge of the situation say there was little-to-no communication between the two of them for the better part of the past 10 months, with the Sunday night benching in Brooklyn merely a tipping point in a situation that started to go sour quite some time ago. And with the Feb. trade deadline looming, there was no better way to appease Gasol and quell the league-wide chatter about how he might want out of Memphis than to show him where the organization's loyalties lie. The people spoke to USA TODAY Sports on the condition of anonymity because of the sensitivity of the situation.
Despite the breakup between Fizdale and the Grizzlies, it doesn't mean Gasol is safe in Memphis anymore, either. What's clear is that things are definitely changing in Memphis, and if the team continues to struggle those changes may be bigger than just getting rid of a coach.