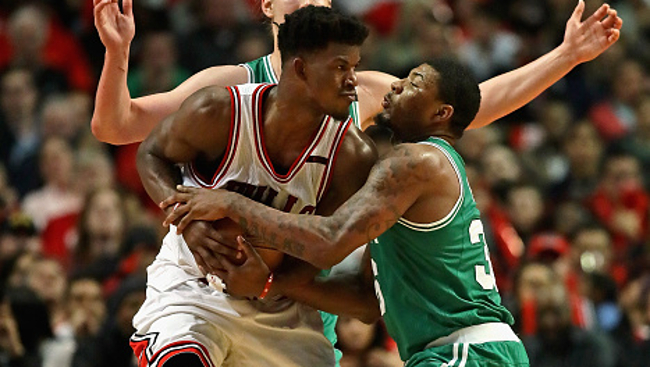 The Bulls-Celtics series has turned into a real dog fight after Chicago stole the first two games on the road, then managed to let Boston back in it by dropping the next two at home (with a little help from an untimely Rajon Rondo injury that's looking more and more like a turning point).
Things have gotten heated at times, specifically between Marcus Smart and Jimmy Butler, who locked horns in Game 4 under the basket after a made field goal and had to be separated. After the game, Butler ensured that things would stay chippy in Game 5 when he claimed that Smart isn't "about that life," which is slang kids apparently use today to accuse one another of being fake-tough.
Nevermind that literally 99 percent of guys around the league are putting on a tough-guy facade in this situations since – other than the Robin Lopez and Serge Ibaka scuffle earlier this season – we haven't had an actual fistfight in the NBA in nearly a decade. That didn't stop one wise-guy reporter from hilariously asking Smart about Butler's comments prior to their Game 5 showdown on Wednesday.
https://twitter.com/DimeUPROXX/status/856938617813512193
Granted, both are gritty, hard-nosed defenders who aren't afraid to mix it up, and we'll likely see a few more run-ins before all is said and done, but it's highly unlikely either one of them would be willing to go so far as to prove that they are, indeed, about that life.