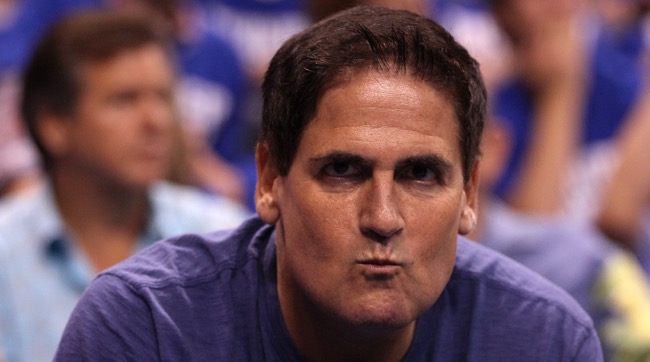 The Dallas Mavericks played Minnesota on Friday night. At one point in the fourth quarter, Dirk Nowtizki attempted a wide open three and shot an airball. It's the kind of thing that happens every once in a while, and while it was a rough play, a number of people got a laugh out of it.
This group included the people who do social media for Bleacher Report. After Dirk shot the airball, they tweeted out this video with the caption "Dirk Forever," which has since been deleted.

And here is the video from the post.

All seems pretty mellow, right? Dirk produced a blooper, Bleacher Report got some harmless laughs at his expense, life goes on.
Mark Cuban disagreed completely with this. In a since-deleted tweet, the Mavericks' owner posted a pair of emails. The tweet said ". @BleacherReport Delete Your Account" and included an email correspondence between Cuban, Turner president David Levy, and someone named Adam whose identity is unknown. The email's subject line read "Are you f*cking kidding me?" As you can guess from the subject line, the emails contain some NSFW language.
Basically, Cuban said "take this video down or I am going to make you pay," which is really gross. The irony, of course, is that after Cuban "exposed" Bleacher Report or whatever, he deleted his tweet. This is possibly because there was some kind of agreement between Cuban and the people he emailed, but that's pure speculation. Bleacher Report also tweeted out an apology for the video.
No one in their right mind believes that this is a sinister attempt by Bleacher Report to destroy the sterling reputation of Dirk Nowitzki. The tweet of the airball is just a simple laugh at someone's expense. It's unfortunate that this bugged Cuban so much, and even more unfortunate that his strong arming of Bleacher Report led to the tweet getting taken down.