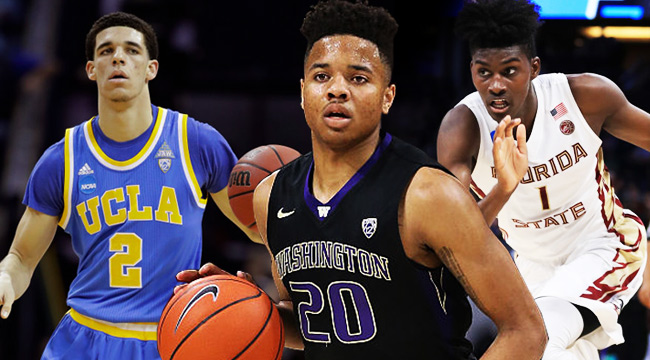 The 2017 NBA Draft is only one week away and the anticipation is palpable. The NBA Finals are now in the rear view mirror and, as a result, the draft is at the forefront of every fan's mind in some form or fashion. To that end, there are many high-profile decisions that will be made and, in this mock draft, we are going to help general managers make them.
While our previous editions have incorporated a mixture of consensus and intelligence from around league, this edition will be, in plain terms, what each team should do if presented with the context available to them. This is, of course, highly personal in that it contains the thoughts of one man (ahem, me) but it's time to get weird.
Let's get rolling, beginning with the no-brainer at the top of the draft for the Boston Celtics.

1. Boston Celtics – Markelle Fultz (PG, Washington)
The best player in the draft goes No. 1 overall. Frankly, this doesn't need to be difficult. You could certainly make an argument that there are better pure roster fits given the presence of Isaiah Thomas but, at least for me, Fultz is comfortably the top prospect and it would be a mistake for the Celtics to pass on him when all is said and done.
2. Los Angeles Lakers – Lonzo Ball (PG/SG, UCLA)
There are a few players in this class that I would rank in the same tier as Ball and that might be different from the consensus in that he isn't a defined No. 2 for me. With that said, I do think Ball is actually the best fit of that group and that is odd because, well, there are some fit concerns. Can Ball and D'Angelo Russell play together on the defensive end? That is an open question. Ball profiles as an underrated defender based on his limited athleticism and high-end basketball IQ but who covers quick point guards? Who takes away big, physical scoring shooting guards? This isn't an easy decision but, in the end, roll with Ball and figure it out.
3. Philadelphia 76ers – Dennis Smith (PG, NC State)

Yes, you are reading that right. Philly's desire (and need) for a point guard are well documented and, for me, Smith is the best fit. This selection might read as a reach in the minds of some but Smith's upside is considerably higher than anyone else in this range (including De'Aaron Fox and Josh Jackson) and his potential hiccups are more easily covered with the Sixers than that of Fox. It isn't as if this would be an "easy" choice, simply because Jackson is very good and would fit seamlessly. Still, Smith's combination of positional fit and upside is the best mix for me, even if executing the rumored trade with the Kings to move down might be more palatable if Smith was the target.
4. Phoenix Suns – Josh Jackson (SF, Kansas)
De'Aaron Fox and Dennis Smith should be in play here and they were a part of the thinking. With that said, that assumes that the Suns will (or even can) extract logical value from an Eric Bledsoe trade and that isn't a given. As currently constructed, Phoenix could really use a strong wing presence and Jackson fits the bill nicely on both ends of the floor. Trust issues with his jump shot are the concern but the presence of Devin Booker makes that more palatable for the Suns.
5. Sacramento Kings – De'Aaron Fox (PG, Kentucky)

As noted above, the trade involving the Sixers at No. 3 makes some sense for both parties but, in our scenario, Sacramento gets "their guy" anyway. Fox is one of my favorite players in this class and, if not for fit issues next to Ben Simmons, he would be a candidate for Philadelphia as well. Having Fox at the point of attack (and next to Buddy Hield) is an ideal outcome for Sacramento, especially if it means holding on to the No. 10 pick and being able to take a big swing in that spot as well.

6. Orlando Magic – Jayson Tatum (SF, Duke)
Tatum isn't my favorite player in this class but, if the Magic are serious about leaving Aaron Gordon at the 4 (as they should be), this makes the most sense. On the high side, Tatum could be a devastating offensive weapon, especially if his long-range shooting pans out as some believe that it will. Even if it doesn't, the former Duke standout gives the Magic another scoring threat they desperately need.
7. Minnesota Timberwolves – Jonathan Isaac (PF, Florida State)
Isaac just makes too much sense here and, outside of the No. 1 spot, this is the easiest pick to project in the top 10. In fact, it is hard to imagine a better fit between Karl-Anthony Towns and Andrew Wiggins long-term. Plus, Isaac just might be tall enough to convince Tom Thibodeau to bring Gorgui Dieng off the bench as a pure backup center. Success!
8. New York Knicks – Frank Ntilikina (PG/SG, France)

Ntilikina certainly isn't a safe prospect but reports that his wingspan stretches beyond seven feet definitely aid in his projection as a top-10 pick. Frankly, I'm not convinced that Ntilikina is a long-term starting point guard but he brings enough size and shooting to the table that the versatility plays well. In New York, he fits as a triangle point guard option (even if the Knicks should run quickly away from the triangle) and he's arguably the best player available. The Knicks do a lot of things wrong but they gambled (and won) on Kristaps Porzingis and this might be another example, albeit at a lower level.
9. Dallas Mavericks – Lauri Markkanen (C, Arizona)
Whenever people link Markkanen to the Mavericks, the first response is to speak about the youngster as an understudy to Dirk Nowitzki. There is something to be said from that given that many believe Markkanen is the best shooter at his size since Nowitzki. For me, though, it is more about pairing him with Nerlens Noel long-term. Markkanen's defensive issues are real but, with Noel next to him, the Mavs could deploy someone to mask that without sacrificing the spacing by pairing Noel with a non-shooter. It isn't perfect but Markkanen is a sneaky good fit in Dallas.
10. Sacramento Kings – Zach Collins (C, Gonzaga)
Much like Minnesota's pick above, this is not an ideal situation for the Kings. The two best prospects on the board are Collins and Malik Monk and, with Buddy Hield on the roster, Monk is a non-starter for me. With Collins, Sacramento supplements its glut of big men but there is still time to garner value in a trade (if desired) and both Skal Labissiere and Willie Cauley-Stein (no, I don't care about Georgios Papagiannis) have enough versatility where it wouldn't be purely insane to add a pure center to the mix.

11. Charlotte Hornets – Malik Monk (SG, Kentucky)
Monk isn't my favorite prospect, especially when compared to the consensus. This should still be his absolute floor. Pairing Monk in the backcourt with Kemba Walker isn't ideal from a defensive perspective but the Hornets could use another floor-spacer and secondary offensive creator. More than anything, he's just the best player available.
12. Detroit Pistons – Luke Kennard (SG, Duke)

This is a brutal spot for the Pistons in that there isn't a perfect fit by any means. My top available player, OG Anunoby, makes very little sense given the rest of Detroit's roster but the Pistons do have a spacing need. This might feel high for Kennard but I've been all in on the former Duke star for a long time. If you don't buy his secondary creation ability, this pick doesn't make sense because, well, he becomes a pure specialist. I do think he can create for himself and others, however, and Kennard's defensive issues could be papered over by some of the other pieces in place.
13. Denver Nuggets – OG Anunoby (SF/PF, Indiana)
This is one of the (very) few picks that I'm unwilling to change if Anunoby is still on the board at No. 13. It would be impossible to find a better fit with Nikola Jokic outside of potentially Jonathan Isaac (who will be long gone) and I'm a buyer on Anunoby. Make no mistake, this may not "work" in the sense that Anunoby's offensive game could flame out spectacularly. Even if it does, though, he's an NBA player based on his defensive package and that makes him safer that some scouts want to believe.
14. Miami Heat – Donovan Mitchell (SG, Louisville)

Dion Waiters is a free agent and, while he could be back, Mitchell is the best player available. The questions about his offensive game are real in that he has to improve the jump shot and is something of a tweener. His 6'10 wingspan is a big help in creating around the rim, though, and it translates fantastically on the defensive end. Because of his defensive profile, his floor is higher than you might think and the Heat could use him in a number of different ways. It isn't a perfect fit but the other option (Jarrett Allen) makes very little sense given the presence of Hassan Whiteside.
15. Portland Trail Blazers – Jarrett Allen (C, Texas)
Yes, Jusuf Nurkic is in Portland and firmly established as the team's center. No, the Blazers should not be done adding frontcourt talent. The Meyers Leonard contract (and his unplayable nature right now) make this a palatable pick and I'm very high on Allen. The one-and-done big man from Texas is still raw but he's a tremendous athlete and the Blazers can afford to let him develop. It helps that he is the best player on the board but the fit is a snug one as well.
16. Chicago Bulls – Terrance Ferguson (SG/SF, Australia)
This would not be a typical Bulls pick and it probably won't happen. With that said, it makes sense. Chicago doesn't have any floor spacing given their current roster set-up and they could use another young, athletic player in the mix. Ferguson's jumper is inconsistent right now but the stroke is good and I'm buying. He isn't close to contributing when compared to some other players in this range but the Bulls can (and, in my mind, should) take a swing with some upside. Players like Jawun Evans or Justin Jackson would be much more in line with what the Bulls do on a regular basis but neither duplicates the upside of Ferguson.
17. Milwaukee Bucks – Harry Giles (C, Duke)

Until (and unless) negative information emerges with regard to Giles' medicals, he is firmly a top-20 guy in my mind. In Milwaukee, the Bucks have a track record of going for big-time upside and, despite investments like John Henson, this is a team that needs another center in the long term. Thon Maker is involved in the process but, even if you believe that he'll be a pure center moving forward, a little bit of quality depth doesn't hurt. If Giles works out medically and regains his burst, he fits in beautifully on a roster of athletic freaks.
18. Indiana Pacers – Jawun Evans (PG, Oklahoma State)

Conventional wisdom suggests that the Pacers will pay unrestricted free agent point guard Jeff Teague this summer. If they do, it isn't likely to be a value contract given Teague's age (29) and career trajectory. If they don't, Indiana will have a gaping hole at point guard moving forward. Evans isn't a player that we've seen linked to the Pacers very much but, at least for me, he's arguably the best player available and would provide Indiana a cheaper long-term point guard option. I'm a huge fan.
19. Atlanta Hawks – Justin Patton (C, Creighton)
The Hawks need a young player in the frontcourt in the worst way, with or without Dwight Howard and Paul Millsap. Patton fits that bill and he would bring a high-end offensive skill set to the table at this late juncture in round one. Questions surrounding his rim protection and rebounding are unanswered at this point but Mike Budenholzer has enjoyed success in coaxing defense out of some unlikely places (Tim Hardaway Jr., Mike Scott) in the past and Patton could be the latest "Hawks University" project.
20. Portland Trail Blazers – Isaiah Hartenstein (PF, Germany)

Portland should absolutely be looking to move one or more of their three first round picks. If they stay put, though, it makes all the sense in the world to take the best international player available in this spot. Hartenstein isn't a player that I'm fawning over by any means but it is easy to see what the skill set could be on the high side. That's what the Blazers would be banking on with this investment.

21. Oklahoma City Thunder – Justin Jackson (SF, North Carolina)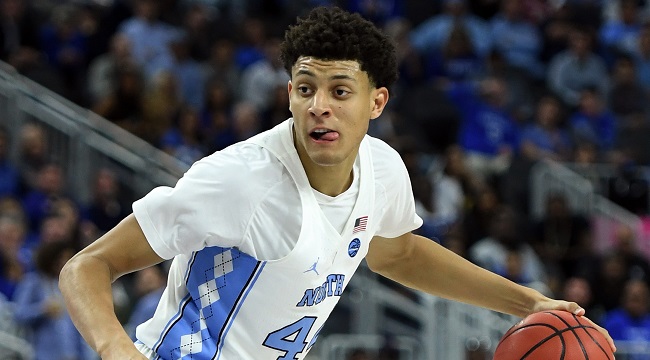 This doesn't strike me as overly likely but it would be a win for the Thunder. Jackson would fit nicely in Oklahoma City as someone who doesn't need the ball and is capable of defending at a high level. Beyond that, the college veteran would at least theoretically provide improved floor spacing on the wing and he is close enough to NBA readiness to fit on Russell Westbrook's timeline.
22. Brooklyn Nets – Ike Anigbogu (C, UCLA)
Anigbogu isn't my favorite prospect but he would make a ton of sense for the Nets. The one-and-done center is as raw as any player in the first round mix but, in Brooklyn, he would be paired with a development-focused coaching staff and Brook Lopez could serve as a tutor of sorts. At some point, the Nets have to shoot for the stars on high-end talent and, even if Anigbogu's bust potential is very real, so is his upside as a physically imposing rim protector.
23. Toronto Raptors – T.J. Leaf (PF, UCLA)
The Raptors are in a bizarre place. All indications are that the team is set to pay Serge Ibaka a large sum of money but, at this point, he should be a pure center. The issue is that Toronto still has Jonas Valanciunas on the roster and decisions to make on both Patrick Patterson and P.J. Tucker. My assumption would be that the Raptors understand that Valanciunas isn't a great long-term fit and, if they plan to move on from him, Leaf makes a ton of sense next to Ibaka. His offensive game is polished and impressive and, while the defense is a big-time concern, a mobile rim protector like Ibaka would be a good partner in crime.
24. Utah Jazz – John Collins (PF/C, Wake Forest)

I'm lower on Collins than most, simply because the defensive profile scares me to death. With that said, sending him to Utah would alleviate that concern, as he would be coached at a high level and playing behind Rudy Gobert. For me, Collins is a pure center but his college productivity was off the charts and this is a "best player available" pick if there ever was one. I'm not married to it, but he's a first-round talent and this is a reasonable landing spot.
25. Orlando Magic – D.J. Wilson (PF, Michigan)
The Magic went with upside in the form of Dennis Smith with their first pick and this investment also fits that bill beautifully. Wilson is a late-rising prospect in this year's NBA Draft and it makes sense given his complete package of attributes. The former Wolverine is incredibly long and mobile, while also bringing floor-spacing and versatility to the table. If he was more proven in a few areas (rebounding, toughness), Wilson would be a lottery-ish prospect and this feels like a heist for a team that needs to prioritize ceiling more than most.

26. Portland Trail Blazers – Derrick White (PG/SG, Colorado)
The concept of adding a backup point guard in Portland has been a theme throughout our mock draft season. This time around, the Blazers do that yet again while also adding upside and versatility. White is a player that becomes even more impressive on every viewing and his combination of basketball IQ and skill set would be tantalizing this late in the first round. White could play point guard and/or with either C.J. McCollum or Damian Lillard if things go according to plan. That's always a plus.
27. Brooklyn Nets – Semi Ojeleye (SF/PF, SMU)

This is a heist. Ojeleye can shoot threes at a high level and defend multiple positions with strength and the ability to switch. Doesn't that sound like a perfect Kenny Atkinson forward prospect? This pick also balances out the wild upside swing of Anigbogu with a player that almost certainly will stick in the NBA based on what he can do in the short term.
28. Los Angeles Lakers – Jordan Bell (PF/C, Oregon)
At some point, the Lakers have to employ someone that is a) young and b) can guard someone. Lonzo Ball's defensive limitations are overstated but the rest of this team's core could use the infusion of a ready-made defender in Bell. He would also benefit from playing in a wide-open offensive system like the one that Luke Walton employs. This is a low-upside pick but it's also a very safe one.
29. San Antonio Spurs – Anzejs Pasecniks (C, Latvia)
This would be an extremely Spurs pick and there isn't an American player I love in this spot given the way the draft has moved. Pasecniks is a bit older than your typical European draft pick (he'll be 22 in December), but he's polished and athletically impressive. He'll need to get stronger but it isn't as if the Spurs have their center of the future on the current roster and I'd rather have Pasecniks than Bam Adebayo or Tony Bradley.
30. Utah Jazz – Tyler Lydon (PF, Syracuse)

I'll grant that it doesn't make a ton of sense to invest in both Lydon and John Collins. With that out of the way, there isn't a worthy draft-and-stash investment with both Jonathan Jeanne and Rodions Kurucs now off draft boards and Lydon is very intriguing. He had the highest body fat percentage at the NBA Draft Combine and that is certainly a concern. What Lydon can do, though, is provide a stretch four option and, when you have Rudy Gobert, that is always a nice thing. Trey Lyles' camp probably wouldn't love this pick but it isn't as if the Jazz are chalked full of roster holes to fill.