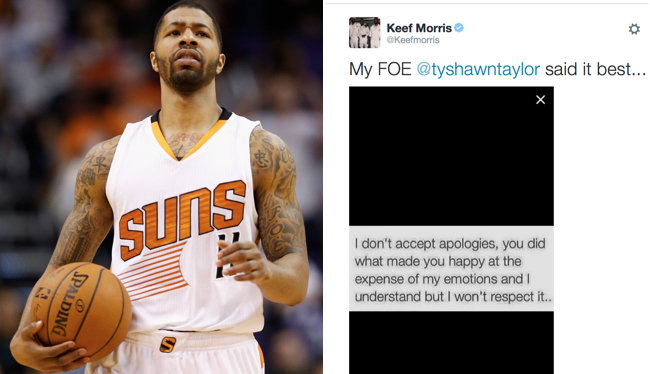 The state of affairs concerning Markieff Morris and the Phoenix Suns seems to take a new turn every freakin' week. Lets go through the whole sordid mess before we give you the most recent update. (Kieff told a Phoenix radio host to "Shut up" and "Get off my line" AFTER agreeing to an interview.) Yeah, this is where we're at with just a few weeks to go before the start of NBA training camps.
Unless you've taken the whole NBA offseason quite literally, you probably already know Markieff Morris very publicly said he'd like to be traded from the Suns this summer after his twin bro was traded to make room for LaMarcus Aldridge. The Suns ignored the demand, as they should, then wished him a happy birthday like it was all good in the valley of the Suns.
Except it wasn't, as Kieff reiterated his trade demand on Twitter. At this point, the NBA stepped in, Kieff was fined 10 large, and then oddly RT'd the news about the fine.
Yesterday, Kieff's Twitter unleashed this fun little passive-aggressive nugget, too:
We initially thought F.O.E. stood for a foe (because we're old and not very hip), but it's probably internet slang for "Family Over Everything," which is likely an allusion to Markieff's twin brother, Marcus. So, yeah, that tweet is directed at the Suns too, though it's more obfuscated this time because he probably doesn't want to get fined again. (No word on whether NBA executives can google internet acronyms like we can.)
But that isn't even the craziest addition to the Markieff Morris summer saga. No, for that, we turn to the Burns & Gambo radio show, specifically — with a big H/T to reddit's r/NBA forum for bringing this to our attention — their interactions with Markieff when they were recently trying to get him on the show. It seems Burns (or was it Gambo?) texted Markieff to ask him onto the show. Markieff agreed, texting "OK, when do you want me on." It was a bit of a coup for them after all that's happened with Morris this summer. But that wasn't the end of their story.
The hosts explain starting at around the 5:00 minute mark HERE that they made it clear in their text what they wanted from Markieff and he was still gung-ho to make an appearance.
"You should come on the show and talk about frustrations of summer and what you want," the host then texts. "Immediately, he texts back 'OK! When do you want me on?' 'Lets do it now. I'll call you in three minutes.' "
Justifiably, the hosts are amped for their new surprise guest, a Suns player who's been in the news all summer.
But the host calls Kieff at this point and it goes right to voicemail. When the host texts Markieff about this, the embattled Suns power forward responds, "Stop it clown. Why would I give you an interview?" followed by four 'I'm laughing so hard I'm crying' emojis (????).
The host texts back to say, "Look we should talk so you can ultimately get what you want; tell your side of the story."
His response? "Shut up. Get off my line."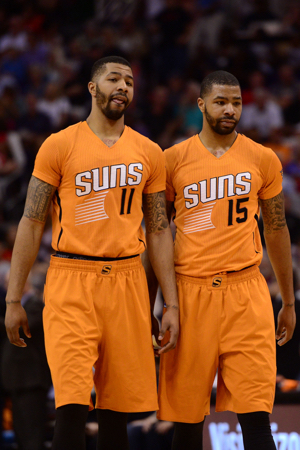 At this point, the hosts go on a tangent about why players should do radio instead of talking to reporters, or bloggers, because their quotes won't get taken out of context. That's not really important. What's important is that Markieff vacillated so wildly when texting with the radio hosts.
It's either an odder-than-usual footnote to the whole Kieff ordeal this offseason, or perhaps it's a microcosm for his entire behavior this summer. And the worst part about the whole thing is Kieff's actual value is really hard to quantify, even if we think he's a lot more valuable to the Suns than some others.
One of those others might be Grantland's NBA expert Zach Lowe, who recently spent some time going through what Morris can, and cannot, do as an "average starting NBA power forward," while also theorizing on possible landing spots if the Suns capitulate to his demands and deal him.
Morris is an interesting case study for a position that's in the throes of a sea-change. Can he defend the perimeter enough to stick with more mobile wings? Is he a small-ball five? Is he the standard power forward, or an outlier found between the Draymond Green's and the LaMarcus Aldridge's of the league? Will he ever differentiate himself as a better-than-average player after a so-so 2014-15 season? Will an NBA team give anything up for him after all his summer drama? Is he even worth trading for despite his actions this offseason?
We think Morris is a bit better than your average NBA four, but he probably wasn't as good last season as many in Phoenix were hoping. The Suns will probably deal him despite what they've said so far. Maybe we'll never know what's really going on here since we've only seen glimmers of what Morris is thinking on Twitter. Also, what does Marcus think of this whole kerfuffle, since he's the supposed driving force behind his twin's antipathy toward Phoenix?
One thing we do know is that it's not likely Markieff Morris is gonna be on the Burns & Gambo show anytime soon.
(Via Burns & Gambo; H/T reddit)