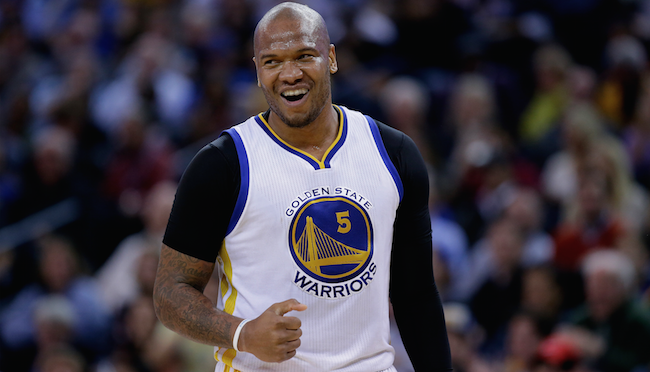 Marreese Speights isn't exactly a defensive maven. The Golden State Warriors big man has been known as a chucker first and foremost throughout his career, and rightfully so.
The 27-year-old was reborn this season, though, becoming a key bench cog for the 67-win Warriors. Speights' instant offense off the bench proved a boon for Steve Kerr's club throughout 2014-2015, and his new commitment to defense helped make him a viable reserve behind Andrew Bogut, too.
He should absolutely be confident about his team's chances in the NBA Finals against the Cleveland Cavaliers. Having said all that, Speights still isn't quite the guy whose assessment of this series should be taken as gospel – especially when it comes to stopping LeBron James.
Speights is available to play in the Finals after missing Golden State's previous eight games with a calf injury. Might his excitement to get back on the floor be coloring his judgement?
Perhaps. But we agree with him for the most part, too.
The Warriors are not only basketball's best team, but also uniquely equipped to give James fits. Harrison Barnes, Draymond Green, and Andre Iguodala are all capable of limiting the four-time MVP individually, and Andrew Bogut's presence at the rim always looms large.
But LeBron will undoubtedly get his points. What Golden State must do is ensure the majority of them are hard to come by while keeping his influence as a playmaker in relative check. Obviously, that's a task far easier said than done. If any team can do it, however, the Warriors are the most likely candidate.
We can't wait to find out if Golden State lives up to Speights' sky-high expectations. Game 1 of the Finals tips-off at 9:00 EST on Thursday.
[Via Diamond Leung]