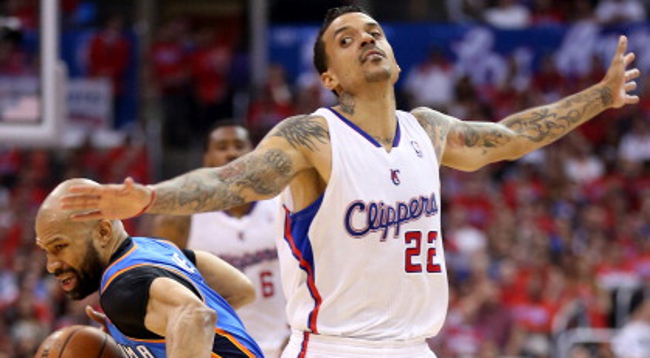 Buckle up, because this story isn't going away anytime soon. Not as long as people keep asking Matt Barnes about it. He's never seen a beef he didn't like and never missed an opportunity to throw shade at his various enemies. He was at it again on Monday during media availability as his new team the Memphis Grizzlies prepares to play his former team the Los Angeles Clippers at Staples Center.
As if there wasn't already enough drama surrounding his bitter departure from Los Angeles this summer and his very public distaste for Doc Rivers, someone in the scrum had to go and bring up the Derek Fisher thing again, and as is standard operating procedure for Barnes, he didn't hold anything back.
First, it's hysterical to think that the Knicks somehow have the New York Post in their back pocket, given how consistently critical the publication has been of the team. His only quasi-legitimate qualm with the Post has to do with what he said was an erroneous report that he drove 95 miles from where the Grizzlies were holding training camp in Santa Barbara to attack Fisher, who had apparently been dating Barnes' estranged wife, Gloria Govan, one of the stars of the insipid reality series Basketball Wives.
Barnes insists that he was at his home in Marina del Ray, about a 15-minute drive from the beach house Barnes and Govan purchased together in Redondo Beach. Regardless, Barnes is going to court controversy everywhere he goes, but it'll be interesting to see how things play out on the court when he faces his former team and new arch-rivals.