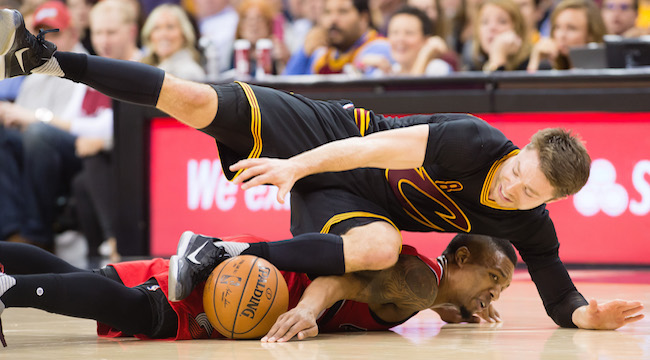 Chinese shoe company Peak signed Matthew Dellavedova to a contract this offseason and gave him his own signature shoe, the Delly 1. It's a simple low-top design, similar to the look of the Nike Kobe 11s he wore prior to signing with Peak, and now they are going on sale to the public.
Well, at least the public in Dellavedova's home country of Australia as the Delly 1s are not yet available in the United States, where Peak only sells Tony Parker and Dwight Howard's signature shoes. The Delly 1s hit the Australian market for pre-order and there are six colorways to choose from.
Most of the colorways are pretty self-explanatory. There's "Team Green" and "Team White" in the Milwaukee Bucks colors, "Down Under" featuring the green and yellow worn by Australia's national team and the "College" colorway in red, white and blue for St. Mary's, where Delly went to school.
However, there are two colorways with very Dellavedova names. There's "Defender," which is a gray color with a green Peak emblem on the side, but the best is "Hustle," which is just a black shoe.

This is either the most self-aware name for a shoe ever and Peak is playing into the jokes about Delly being a super gritty player or they really just named a shoe "Hustle" not ironically. Either way, it's amazing. The only thing that could be better is if Peak named an all-white pair "Grit."
(Via Kenny Ducey)