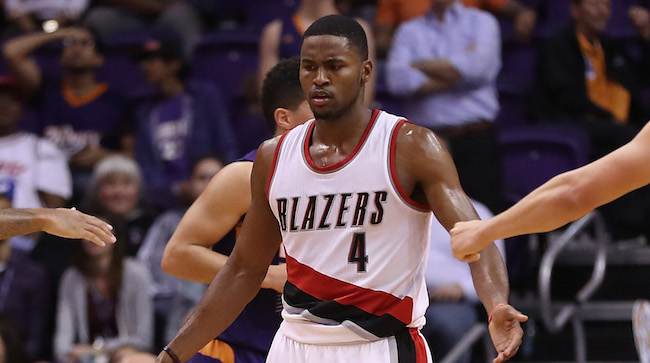 NBA contracts often have bonus structures that reward players for reaching certain performance milestones in a season. These bonuses can range in value, with some being very much worth a player's time and effort to try and get. They also can make the end of the season very interesting as players keep one eye on their stat sheet as they near the regular season's finish line.
This was the case with Portland's Maurice Harkless, who had a $500,000 bonus coming his way if he shot better than 35% from three-point range.
Harkless finished the regular season at 35.1% and collected that check. In order to get there, Harkless pretty much shut himself down from beyond the three-point arc in the final few games. Harkless did not shoot a single three-pointer in the final three games of the regular season to preserve his percentage.

For those thinking maybe he just wasn't getting the looks, Harkless took 194 three-pointers in 81 games, had 0 three point attempts only three times prior to the final three games of the season and took only one three in 18 games. In two of those games that he failed to put up a three, he played fewer than 22 minutes. So, no, this wasn't just a quirk, it was a business decision and a shrewd one at that. Harkless posted this to his Instagram page after the game on Wednesday and his stats went final for the regular season, knowing that fat check was about to clear.
I love this. I'd have done the exact same thing for $50, much less $500,000. Getting buckets is great and my favorite thing to do on a basketball court, but if someone told me I'd get a $50 bonus to not shoot a three in the last three games of my rec league season, I'd shut it down in a heartbeat. Get that money, Moe.
(h/t Fox Sports)