HOUSTON — The sun's only still rising on the collection of tawny brick and glass medical buildings clustered together on either side of Brays Bayou, the river that flows all the way inland from Galveston Bay to wend through South Central Houston and the group of hospitals that make up the Texas Medical Center. But inside an unassuming low-rise there's some serious concentration being put toward glitter.
At a table set in a corner of the Ronald McDonald House (RMH) Houston's common hall, a group of lanky, masked teenagers clad in matching tracksuits are bent over open paper bags, carefully measuring portions of iridescent confetti into each. Once the glitter is measured the bag is passed around the table for more craft supplies to be added and finished off with a small cowboy hat tied to the bag's handles. The final step is a handwritten note penned out in permanent marker, such as "You are strong."
It's a production line of the utmost care and it's clear the deft hands doing it are used to the patient work of practice. This is the first stop in what will be a whirlwind weekend for 48 of the best U.S. high school basketball players who were named McDonald's All Americans.
All throughout their Saturday morning, the girls and boys will spend time with the kids and families staying at RMH — swapping through indoor tables with t-shirt and cupcake decorations, outdoor activities like a spontaneous game of HORSE on the House's small outdoor court, and blowing bubbles with kids too little to hoop. What's evident in watching the athletes interact with the kids, many in wheelchairs or visibly sick, is how easy they are with them. There's a comfort to every interaction, from carefully lifting kids up to dunk or bending close to talk through a painting strategy. Part of it comes from the involvement athletes have within their own communities (a central consideration to being named an All American), but more of it is, as much as every move from here in their budding careers hurls them toward the accelerated maturation that goes with becoming a professional athlete, they're still, all of them, kids.
What's special is that in a weekend meant to celebrate their athletic achievements — and in many ways mark the transition from this stage to the next (college, alternate training programs like Ignite that funnel right into the NBA) — that central fact is never lost sight of. It's an even more miraculous feat considering that with the rise of NIL, the college transfer portal, and ongoing discussion on lowering the minimum age for NBA draft eligibility to 18 (the WNBA currently has a minimum age of 22 for draft eligibility), the pressure on young athletes to have complete athletic and brand identities by the time they're college freshman is more intense than ever.
"They're going to get hit with a lot of stuff that I probably didn't get hit with," WNBA champion A'ja Wilson, tells Dime. "You got NIL coming up, you have a way of branding yourself that is really under a microscope. Their worlds are in a spotlight, instantly. When for me, it wasn't like that. I had the opportunity to be that kid, say whatever, do whatever, and still get through."
Wilson, a former All American herself, was invited to address the 2023 class in Houston as the group's fireside chat speaker on the night of their ring ceremony. When the floor was opened up for questions, the age of the athletes, for all their poise and coolness taking the stage to collect their rings (not so for the proud, whooping parents in attendance), was evident. They shifted nervously in their seats, shot surreptitious looks around at their friends. Nobody wanted to be first. When some awkward hands did get raised, many of the questions were about going pro and Wilson's experience there and felt prompted by an awareness of their families watching in the rows behind them. It wasn't until a final call for questions that the first real one was asked.
"Did you party?" A girl in the front row quietly asks Wilson.
Wilson smiles back at her, "In college?" The girl nods. Wilson breaks out into deep belly laugh and nods her head, emphatically, "Of course I partied in college."
The girl who asks gets slapped appreciatively on the back by her friends and instantly, 48 pairs of stiff shoulders relax.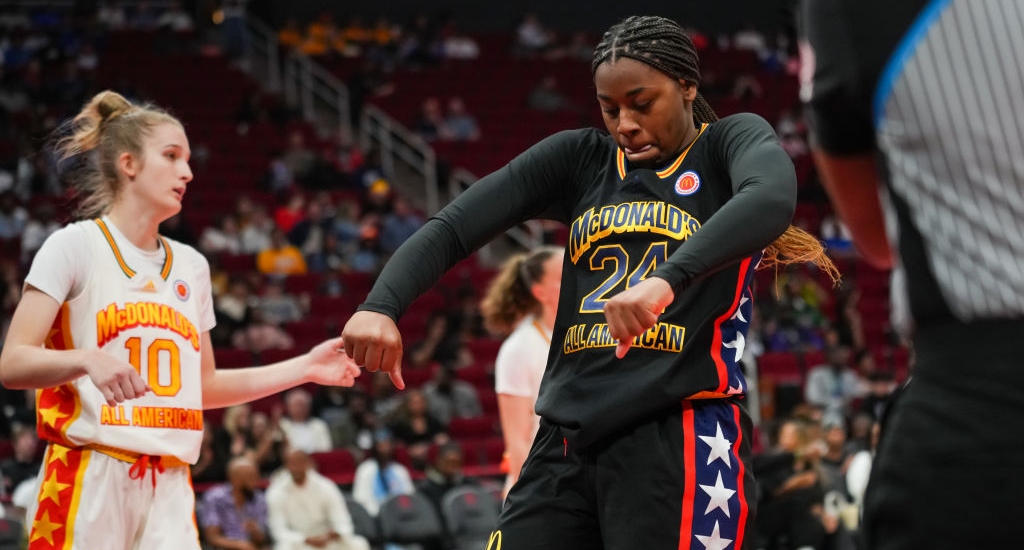 The history of the McDonald's All American Game (McDAAG) goes back to 1977, when McDonald's picked the best boys high school players in the U.S. for their sponsored team entry into the Capital Classic game in Washington, D.C. That tournament, started by Bob Geoghan in 1974, was smaller and focused on putting the best high school athletes in the D.C. area up against a handful of national players. Geoghan sensed it had legs and, wanting to start a tournament with more national scope, approached Bob Beavers, a regional VP with McDonald's and the company's first Black executive, with the idea. Morgan Wootten (for whom the game's National Player of the Year award is named) and John Wooden (the UCLA coaching legend and for whom the tournament's MVP award is named) were also approached to get the new tournament off the ground.
A year later, McDonald's launched its own all-star style tournament, with the East vs. West style matchup adopted the next year — the girls' honors and tournament were added in 2002. The Jam Fest, the McDAAG version of All-Star Saturday Night with a Dunk and 3-Point Contest, were added in 1985 and 1987, respectively. A Skills Contest was added in 2002. Former Dunk Contest winners include Vince Carter, LeBron James, and Candace Parker.
The schedule of the weekend expanded over time. Because the community aspect of McDAAG was a centerpiece of the tournament's founding, a visit to a Ronald McDonald House in the host city often starts things off. From there, daily practices, media day, the ring ceremony, Jam Fest, a game-day shootaround (this year, the kids were surprised by Don Toliver), and then back-to-back girls and boys games. Kids at this level are accustomed to tournaments, from AAU to competing in FIBA events, but the McDAAG scheduling adds a buffer of levity, or just a basic breather, at every step.
"We've felt for a long time that this weekend was much more than just about tonight," McDonald's Chief Marketing and Customer Experience Officer Tariq Hassan tells Dime while sitting in the Toyota Center, looking down at the court being prepped for the night's games. "There's a reason we invite the families. There's a reason that we bring the events together where the families are so involved. Because at the end of the day, they're still high school athletes who are carrying an inordinate amount of responsibility, and frankly today, in a socially connected world, some of that responsibility they may or may not even ask for."
Talking to Wilson about her experience as an All American is the same as talking to the kids there for their own weekend. The level of pride and prestige in being named and being there with the rest of your class, in going everywhere that weekend and beyond clad head to toe in McDAAG branded tracksuits and uniforms (announcing this year's class, Vince Carter showed his own shoes from his game, encased in plexiglass like a museum artifact and falling apart), and the specific anointment of skill being named means for your future career (at present, there's at least one McDAAG alumni on every WNBA and NBA roster) is one and the same. It's the seamless melding of ethos and brand, plus history and recency, that corporations covet, and McDonald's has done it mostly by getting out of the way.
"If you're gonna move into culture and you called it out, these kids have a very high BS radar. Authenticity is the best way through that," Hassan says, emphasizing that as massive as McDonald's is, as a brand it can't actually control consumer perception given its own origins and still contemporary product in the service industry. "We don't over-fixate on this as being a brand property. We focus on this being, kids are first and it's about the recognition of the best. How do we create the weekend for them?"
Given the compulsion some brands have to overcorrect when they, or the issues affecting them, are called out, many of McDonald's offerings over the course of the weekend resist by not engaging. Streetwear designer Eric Emanuel gave the uniforms an overhaul, and Toliver performed during halftime of the boys' game, otherwise the most ostentatious part of the event was a malfunctioning smoke machine on the court. Where the NCAA scrambled to catch up in its equal treatment for the women's March Madness tournament, simple inclusions at McDAAG that have been there all along are still the most meaningful.
"The difference of the women's game now, it's just the recognition of it all. The visibility. It's really starting to beam. And I really have to give credit to McDonald's, because they were the only ones that didn't separate the swag bags," Wilson recalls. "Coming in, [we] got the same amount of swag as the number one guys got. And that's what we needed, and the drop off was in college. But now it's on it's way up, so I think it's always a good start here when they have that equality.
"That was a big, big deal to me," Wilson stresses. "Especially to a young girl, that confidence wasn't there, and you're constantly running into stuff."
Being ahead of the curve doesn't mean the McDAAG weekend and its components aren't figuring out ways to keep up. Classes focused on branding and financial literacy were introduced this year, given the prevalence of NIL and how soon these players will be (or already are, in some cases) exploring it. The onus is still on letting the kids and their families step back and have moments of recognition for the work it took them to get here, and Hassan says they're continually asking for feedback on whether or not courses like this are worthwhile.
Wilson thinks the benefits will fall somewhere in the middle.
"Cause high school kids are always going to be high school kids. Why am I learning about money when I got enough? I'm good. They're always going to be that," she chuckles. "I feel like my head would be spinning if you came to me my freshman year and said I need an agent, cause I'm like, why? I just want to go to class, what do I need an agent for? And so for them — and their minds are like play-doh, they see it, it's on TikTok, it's on Snap. To grasp that, to get a handle on that, I think Mcdonald's is on the right track that they execute that here in the couple days they have them, cause they're all about to go their separate ways and life is about to hit them so fast. If they can just remember a piece from something they learned to help them out in the long run, I think that just speaks for itself."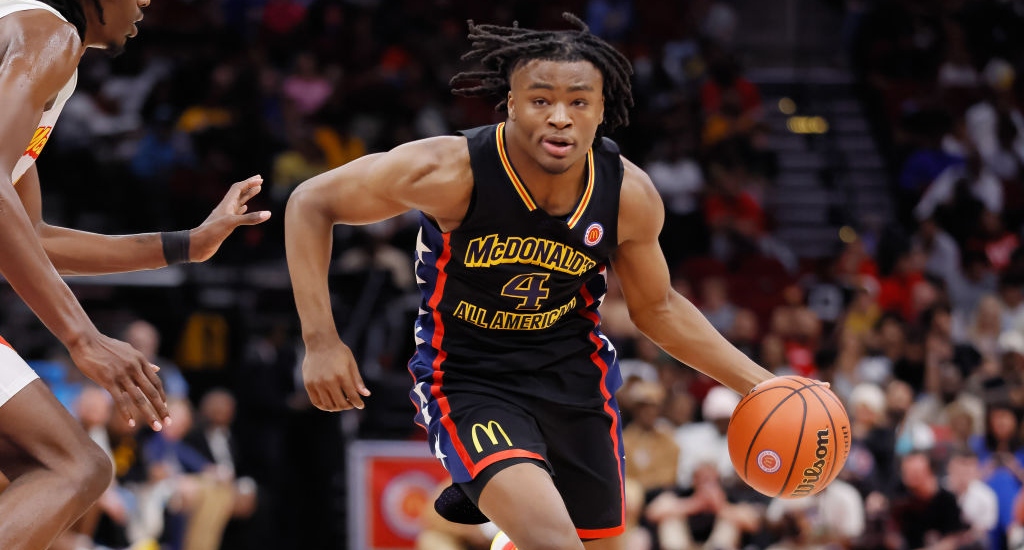 The label of McDonald's All American denotes an echelon of talent and refined skill. It's singular. A stamp 48 young women and men get that will always set them apart while grouping them together. They become part of an interpreted history. But their own stories and experiences on the way to one weekend couldn't be more different.
Where college athletics and the drive to go pro can force accelerated growth, it can also blur out the vivid and most formative aspects of an athlete's life leading up to or outside of, in this case, basketball.
Isaiah Collier, the No. 1 prospect in the class of 2023, is quiet, if a little shy. His ease came through at the morning visit to Ronald McDonald House, where he painted a t-shirt with a really small, really happy kid. It also comes through on the floor, where he's a psychic menace.
Often three steps ahead making passes to teammates not even there yet, he has a knack for slowing his role in a game down even as it roars around him,
"It's playing at your own pace," Collier nods. "Not letting anybody speed you up. It's all about you, basically, before you think about them. It's your pace." The USC signee studies film of passing intently, noting, "At first it was starting to get stolen a lot, so I just started working on it more and more. Not many people just work on passing."
Collier's cousin, who he calls his brother, drowned in August while the family was on a kayak trip in the Chattahoochee River. He's said family is what keeps him going.
"It's been a real hard season," Collier says quietly. "So, for me it's like, I'm just living like him every day. Pushing for him. My family has come real tight. That's just what I live by, really."
Matas Buzelis shares in Collier's knack for passing but will be taking a different route on his hopeful journey to the NBA. The son of two former Lithuanian pro basketball players, Buzelis was a dual competitive swimmer and basketball player, giving the former up to his mom's chagrin (he cringes with guilt, recalling how upset she was at the decision). Before he hit the growth spurt that currently has him standing at 6'9, Buzelis played point. His height is an asset as he towers over defenders he's able to weave passes around the floor like an air traffic controller.
Buzelis decided to sign with the G League Ignite, citing the alternate pathway to the NBA as a way to fast-track his body and its physical development as much as his own chances.
"When they say, Matas didn't want to go to school. It's not anything like that," he jokes. He has a keen understanding of European and American basketball, with a foot in both worlds having forged close friendships with the boys also in Houston and also from parents who played the international game. But he had his eyes opened further in the All-Star Weekend Basketball Without Borders camp.
"Those players from Europe know how to play basketball. It's very fundamental. It was good to just a part of something special like that. I had to adjust a little bit," he laughs, adding that he liked the aspect of Ignite that offers opportunities to young international athletes who don't have the option of an American college. "It helps a lot of kids."
Mikaylah Williams has also gone against international competition. She spent a chunk of her last two summers representing the US in the FIBA U17 Women's Basketball World Cup in Hungary, but during the weekend in Houston her thoughts are, intensely, of home. Williams is committed to LSU, and at the time we spoke, the Tigers were clawing through the NCAA Women's Basketball Tournament en route to an eventual title. She notes that there's "no choice" but to make it equal to the men's game now that so many eyes are on it.
Watching Williams, who's ranked number one in the country, there's a joy that comes through like an audible hum in how she plays. Asked about it, she breaks into a broad smile. She admits that the best part of weekend was "just being able to touch the basketball again," politely cutting me off to finish my question that, yes, she feels off if she doesn't play for a few days. As someone who started playing softball, Williams remembers feeling "timid" when she switched to basketball. She chalks it up to an initial lack of preparation and second-guessing herself, none of which are evident watching her command the floor with her absolute guard's vision and intensity.
Asked how she feels about using the weekend as a springboard, Williams instead stays thoughtfully grounded in the present. "The best of the best are here," she says, "and we'll never play with all these people again."
Coming into the weekend, I watched many of the athletes' college commitment announcement videos. Most were pro-level production slick, bite-sized for social media with plenty of in-game highlights and just the right balance of personal flair. At first, it felt strange seeing kids emulate the pros, but then I realized each video was its own small flag of identity, staked as a marker of memory for them in the slipstream of time. Watching them, getting to talk with them, having enthusiastic run-ins with their families in elevators, there was a palpable weight to the importance of the weekend in its own historic prestige, but also for the space it created around them. Breathing space, space to compete, to show out, to goof off, to be humbled and realize how good they had it, to be awkward, frustrated, upset they'd botched a shot or lost the game, to roll their eyes at their families and, when no one was looking, allow themselves to be wrapped in a hug. It was a gift and a simultaneous celebration of time. It was a whole lot more than just a game.
Dime was invited on a hosted trip to the Final Four through McDonald's All-American Games for reporting on this piece. However, McDonald's All-American Games did not review or approve this story in any way. You can find out more about our policy on press trips/hostings here.