LOS ANGELES – The math spills from Metta World Peace's mouth effortlessly, and it adds up to a parallel universe where a few things break a bit differently and his resume is unquestionable. Do I believe him when he says that, in the infamous 2004 season, he would've averaged 22 points if he wasn't sent home after landing that straight right to the jaw of A.J. Shackleford? Not necessarily. Do I believe he believes it? Absolutely. It doesn't take a long conversation with Metta to realize that this is something he thinks about a lot: The career he could've had, the acclaim he never received, and the tallies he's missing.
The world at large has long forgiven World Peace — defensive lynchpin, Queensbridge legend, restless savant, gorgeous human being — but that does not mean that he has forgiven himself. So in an ersatz macrobiotics cafe in Beverly Hills, donned in a cinched athletic top and matching black basketball shorts, World Peace makes his Hall of Fame case.
"I'm not a big individual player, but if I had a more stable career, my stats would've been better and the argument would've been better," World Peace says. "I would've had the Defensive Player of the Year the year I got suspended. MVP that year, sh*t. Three All-Star appearances, that's three more All-Star games. Then I got traded to Sacramento, so now I'm not even in the East, and I miss those All-Stars because it's crazy over there. You've got Shaq, and Kobe, and Duncan.
"All the suspensions, all the games I missed," World Peace continues, between bites of a ghastly yellow lump of unidentifiable vegetable pulp piled high on his plate. "Two points there, five rebounds there. I missed out on so much, that's more important than the money. I lost all my endorsements, and no teams wanted to rescue me, so no max offers, but that's not a big deal to me. The stats, the numbers. The numbers don't lie. I can't show those numbers. That hurts."
It's only been a year since Metta World Peace finished his NBA career with a season full of DNPs on one of those desultory, post-Kobe Lakers teams, but he refuses to call himself retired. After all, he still plays in BIG3 and Nike's Drew League (alongside his son, Ron Artest III).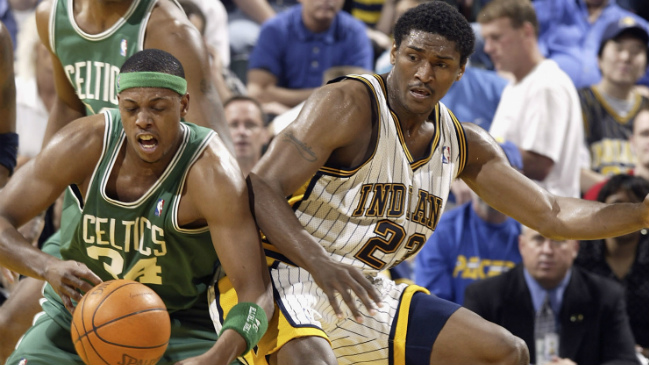 His business interests have multiplied exponentially throughout 2018. In May he published an autobiography, instinctively titled No Malice, with a foreword penned by Phil Jackson. He's enthusiastic about a genial, vague-sounding app, in which people will connect directly to World Peace through self-help modules like "Metta's Mental Health Club" and "Metta's Book Club."
"People just join my club, and we have a conversation," World Peace explains. "If it's the mental health club, we have a conversation about a new product or a new practices."
World Peace is in the process of raising capital ahead of an official launch. He was on a forgotten season of Celebrity Big Brother, and he's a standard call-in firebrand for dozens of sports radio hosts across the nation. Most conspicuously, and most sincerely, he was hired as a player development coach for the South Bay Lakers, the El Segundo-based G League affiliate for the team with which he won his only championship.
In a sense, Metta's portfolio is no different from any retired basketball player in the social era. Kevin Garnett stepped off the court and into his very own TNT segment. Matt Barnes reemerged as a medical marijuana advocate. Baron Davis is an investor in everything from boot design firms to Dime's own Uproxx Media Group. Still, the brand resuscitation of Metta World Peace is nearly unprecedented.
It was only 72 months ago when he concussed a 23-year old James Harden with an elbow to the skull … which happened a year after he did the same to J.J. Barea, and five years after an ugly, still-mysterious domestic violence incident, and eight years after the brawl that solidified his legend for the rest of his life.
But now, the tone has changed.


The Malice at the Palace is revisited as a lovable fragment of NBA lore, the sort of folk tale that earns misty oral histories from the basketball media intelligentsia. The man born Ron Artest, who was once the league's most radioactive player, is trusted enough to shape the mechanics of the Lakers' rawest prospects.
World Peace loves his new job. That much is clear, and a bit unsurprising. After all, everyone swore he'd be a good coach, including the famously acerbic Kobe Bryant. That's the thing with Metta — even in his darkest moments, he was always the most motivated guy on the floor. He connects with the South Bay Lakers kids, in part, because they remind him of himself. They're journeymen with limited god-given athletic ability. They will need to dig in their heels if they have a hope of getting called up to the STAPLES Center, so who's better to teach them?
"I wasn't a Vince Carter type," World Peace explains when asked about what makes him a good coach. "I wasn't jumping over the rim. I was pretty strong, but I worked on my defense. I listened to my coach and I applied it. I was a man on my team, and I was also a role-player. I understand the importance of both."
Metta takes an holistic perspective to his role as a coach, echoing the same self-care koans he made famous during the latter period of his career. Player development is more than just basketball, he says, so he instructed each of his players to have as much fun as possible. He wants them to spend time with their family and friends in order to lessen the load of the famously unglamorous G League grind.
World Peace says he learned the value of levity from Kobe and his roster-wide team-building trips to the beach. After nearly 20 years in the NBA, he notices one major cultural difference in a developmental squad.
"The money," World Peace says with a grin. "Regular people, regular lifestyles. That's why I like it."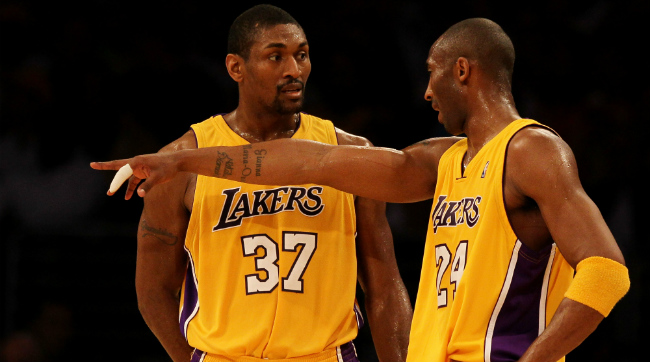 If there is a central thesis to his coaching philosophy — the zen-ness behind the X's and O's — it's this: Your passion overrides everything else in your arsenal. It's a power you shouldn't take for granted, because it will consistently be able to bail you out.
"It's not that I know more than anybody, it's that I been through more," World Peace says. "Your passion is always going to be smarter than what I tell you, and if you give 100 percent, I guarantee you'll figure it out."
World Peace used to get laughed at for this namaste stuff. For one, it was funny that one of the most aggressive defenders in the Association was preaching wellness lessons while selling panda-patterned athletic gear and starring in Lifetime movies written by Nancy Grace. (That part is still funny. It will never be not funny.) But then you think about Metta World Peace's famous salute to his psychiatrist after Game 7, and the tidal wave of disingenuous jokes about his mental health that poured through the floodgates of 2010's prototypical shadow of NBA Twitter.
The political culture has changed a ton over the past decade, with Kevin Love and DeMar DeRozan publicly sharing their struggles with depression and anxiety this season. It makes you wonder how much the media's response to World Peace's championship decree was keeping a negative stigma alive. After all, it's not like it was a secret that he was in pain.
There's already been plenty written about that moment. World Peace, in his typically good-natured, grandiose way, said he was trying to reach out and relate to anyone who felt isolated in their fight. (Years later, Roy Hibbert would publicly thank him for his candidness.) Still, World Peace dismisses the notion that the NBA's value system is just now coming around to mental health.
"The league has always been like this," World Peace says, unambiguously. "When I was 19, they addressed my mental health issues as a rookie in Chicago. The league got me a lot of good help. Marriage counseling, anger management, parent counseling, they've been doing this a long time, people just didn't know about it. Sometimes we don't give the NBA enough credit, but that's because we might not be publicizing it. Maybe I don't want you to know, because of how people might think about me."


World Peace didn't get the choice of disclosure afforded to DeRozan and Love. He is one of the few people on earth to know what it's like to live a socialite's life in the middle of a long bout with mental illness, and he's also watched firsthand as his diagnosis became something empathetic — from fan rancor to fan compassion, from a year-long suspension to Metta's Mental Health Club. They say you find strength in vulnerability. Metta found that, and then some.
So perhaps that's why World Peace has room for regret. At 38, with more ups and downs than just about anyone in NBA history, the big picture is coming into view. He says he still thinks he has a chance at the Hall of Fame when he considers how other players with singular elite skills have made it in. For Rodman it was rebounding; for Metta, it could be dogged perimeter defense.
If not, he resolves to keep plugging away. Maybe he'll keep writing books, maybe he'll muster the investors for that app, maybe he'll return to Big Brother. Something will work out. It's in his blood.
"When I got suspended, the next day I was promoting an R&B album," World Peace remembers, with a laugh, as he counts back a life full of hustle. "If I'm not gonna keep playing, I've gotta get something else together."
Coaching at a higher level seems to be the most likely step, and World Peace says there are three jobs in particular at the front of his mind: The Lakers, which he's already crossed off partially; St. John's, from where he was drafted in 1999; and the Knicks, for which he was openly campaigning after they terminated Jeff Hornacek. (Though not anymore after they hired David Fizdale, "I don't want [to take] anyone's job," he says.)
It's posited to him that, perhaps, this is the suitable end of the story: Metta World Peace eventually makes it to the Hall, not as a player, but as a coach.
"That wouldn't be as fulfilling to me," World Peace replies, after a pause. "I want to be in as the best wing defender to ever play the game."
At the end of the day, Metta World Peace is right, and his dissatisfaction is understandable. He probably would have the numbers if he didn't jump in the stands, if he didn't drink Hennessy during practice, if he didn't struggle with his demons mightily and beautifully within the public eye. Of course, that'd mean he wasn't Metta.
Instead, the world has decided to love him for the facts as they are, the legacy he's left behind: The evolving, indomitable spirit of Metta World Peace. No matter where he is, or what he's feeling, his career will always be a triumph through a certain lens.