Are you familiar with Meyers Leonard? Most simply refer to him as the guy who tricks teenage Bieblers* into thinking their idol is on steroids, but the 7'1, 250-pound teen idol doppelgänger actually has some game.
The No. 11 pick out of the University of Illinois at Urbana-Champaign, appeared in 55 games for the Blazers this season and connected on 42 percent of his three-point attempts this season. That's while taking two of them per game. That's pretty good for a guy who averaged under nine minutes per game in his disappointing sophomore campaign. He also sported a career-high 14.8 PER this season, and a 63.1 percent true shooting percentage.
That last number is where the two deadliest shooters in the league come into play. Look at this graphic comparing field goal percentage, free throw percentage and three-point accuracy, via reddit's r/NBA community:
As the whip-smart r/NBA community originally pointed out, this isn't really the best way of determining overall NBA accuracy, that would be true shooting percentage, which takes into account, 2-point attempts, 3-point attempts and free throws, with more of an emphasis on the three's, obviously (effective field goal percentage, for those who don't know, doesn't take into account free throws, but mathematically accounts for the larger return on a three-pointer).
Leonard, with his 63.1 true shooting percentage would have been No. 6 in the NBA this season in front of Rudy Gobert and just behind Kevin Durant.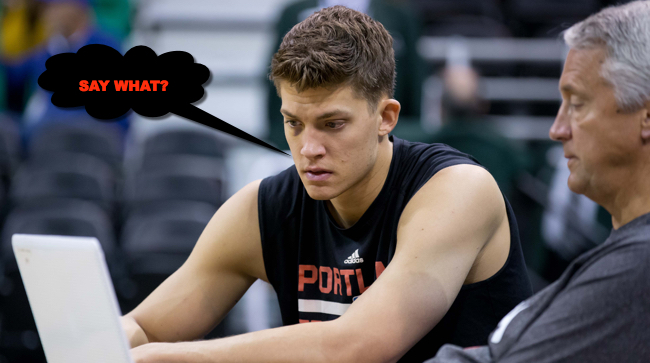 But, Leonard didn't meet the necessary 500 true shooting attempts (TSA) needed to qualify for basketball-reference's rankings — at 276 overall attempts this season (32 FT and 245 FG attempts), he wasn't even close. To give you a comparison, KD only appeared in 27 games this season for the Thunder, less than half of Meyers' totals, but he still easily exceeded the 500 TSA's needed to qualify.
What's crazy is adding up of field goal percentage, three-point percentage and free throw percentage, even though the first two numbers overlap, has actually been used to assess the historical shooting accuracy for players. And by a pretty smart guy, too.
As titsmagee9 notes (love you reddit) in the r/NBA thread with the above graphic, ESPN's John Hollinger wrote about this combined shooting rating (CSR) in a 2010 article discussing the best shooters ever. Hollinger — if you didn't know — invented player efficiency rating (PER), still the best tool for measuring a player's overall impact (primarily on the offensive end). His ability to analyze and evaluate basketball statistics is why he's now the Vice President of Basketball Operations for the Memphis Grizzlies — who are somewhat ironically, one of the worst shooting teams in the playoffs this year.
Meyers should enjoy his moment lumped among real shooting studs — Curry and Korver — because its unlikely to last, especially if he actually attempts enough shots next year to qualify for season shooting rankings.
*If you're concerned with the (mis)use of this, please take a long break from the online world.
(r/NBA)