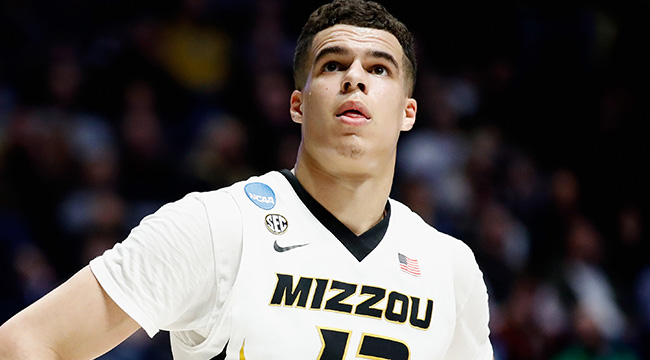 There are a whole lot of questions that exist at the top of the 2018 NBA Draft. You can make a case for any number of them being the most fascinating subplot of the night, including the question of which team will make the call to select Missouri forward Michael Porter Jr. Are the rumors true that the Sacramento Kings are going to pull the trigger and take him at No. 2, or is Porter in for a potential slide that will see him among the final guys to leave the greenroom?
Either way, whichever team drafts Porter will draft someone with superstar potential. There may be concerns about his floor — especially as questions persist about his health — but if everything works out, Porter projects to be quite the unique player, a 6'11 guy who can score from all over the floor and give opposing defenses nightmares.
Before Porter finds out where he'll start his NBA career on Thursday evening, the former Missouri Tiger spoke to Dime about his health, being coached in high school by former Trail Blazers star Brandon Roy, and his fairly unique take on the LeBron James vs. Kevin Durant debate.
Dime: I know you had some hip issues this last week. How do you feel right now?
Michael Porter Jr.: I feel great. I'm moving around, feeling better every single day. I just had a little muscle tightness that I had to walk off. I'm feeling good and I'm excited for the week.
The primary ailment that caused some chatter was your back. To the best of your understanding, is that something that will have to be monitored, or was the surgery with the hopes that that won't pop up again?
That problem won't pop up again, but it's always something I want to build on. Keep my core strong, keep my mobility good, just so no other problems arise. But that surgery site is all the way healed and I'm good to go.
Is it frustrating for so much of the conversation around you to be about your health? Do you shrug it off? Use it as motivation?
I kind of just shrug it off because there's a lot of questions about me, but for me, it's just whatever team decides to draft me and believes in me, then they'll see the package that they're getting and I'll just get to show on the court what I can do.

It's one of those things where, I'm assuming, you're kind of excited to get to a place to show that people were passing on you for an issue that doesn't exist.
Exactly. So at the end of the day, for me it's like, that's just God's plan is that maybe some of these teams are passing on this so I end up in the right situation. For me, it's not what pick I go, it's where I go.
One thing that kind of added to the debate around you was going back and playing in Missouri's final two games. Looking back, can you just walk me through your decision to come back for those final two games and would you have done anything different if given the chance?
Obviously I wasn't feeling great, but you know, our team only had six players on scholarship at the time. The doctor had told me, "There's no risk of re-injury, even though you're months away from being 100 percent." I knew I was gonna go out there and put on a show, but I just wanted to be there for my teammates if I could and try to help them out if I could.
Ultimately, the important thing is what you do when you start playing. You've said that you think you're the best player in this draft. What things do you have in your game that you think separate you from everyone else?
There's a lot of great players in this draft. For me it's just, I'm 6'11 and can do it all, I can dribble, shoot, defend. I'm really multi-positional. In the way the NBA is going, I feel like I'm the perfect fit. If you'd have asked 20 years ago when it was a big man dominant game, it might've been different, but the way today's game is going, I feel like I'm a perfect fit.
Do you feel like, over the course of the last however many years, you've kind of molded your game because of how the league is changing?
A little bit. My dad is kind of a genius. He saw, when I was little, when I was three years old, he saw the way the league was headed. Big guys that can dribble, shoot. That's different, so he kind of molded my game. My dad put a ball in my hand when I was really young, had me dribble and shoot and all that.

Of course everyone can stand to get a little better at everything, but what's the one area where you want to make the biggest strides between when your name is called on Thursday and when your pro-career starts?
Really, just keep getting stronger, keep improving my ball handling a little bit are two main things.
I believe Isaiah Thomas has called you the best player in the draft. Tracy McGrady said he sees himself when he watches you. What's it like hearing praise from these dudes who have been in the league, and see something special in you? I'm seeing a big smile on your face.
Yeah, yeah. Seeing stuff like that, it's amazing. Those are Hall of Fame dudes who, I mean, they're legends and they're talking about me, so it's really cool to hear those guys talk about me like that.
And I think I saw on Twitter you're a little tight with I.T.?
Isaiah Thomas is my guy. I'm from Seattle, so.
I believe it was yesterday, you said you think Kevin Durant and not LeBron James is the best player in the league right now.
Did that air yesterday? I said that about a month ago.
It popped up on Twitter yesterday. Of course it's right after the Finals, so everyone's doing the KD/LeBron thing. What's kind of the argument for KD being the best player in the league right now?
Well that was before I saw LeBron the first game in the Finals, so. [laughs] No, for me it was like, LeBron's the best player in the league, but then when he plays against KD, I feel like KD usually gets the best of him. So, I always said LeBron's the best player in the league, but then when he plays against KD, he's the second best player in the league.
Interesting. What is it about KD's game that you think might throw LeBron off a little bit?
I think just his length. Being 6'11" and can move like that, I feel like he scores on LeBron a lot easier than LeBron can score on him. He can defend LeBron a little bit better than LeBron can defend him.
Is that influenced at all by the fact that … I remember when you were in high school, KD's a comparison being thrown out. You're 6'11", you can handle, you can score.
KD is my guy, but no. I watch the game and I just see how easy KD scores. LeBron, obviously he's a phenomenal player, but it's just, I feel like the game comes easier to KD when they play against each other.
Giving you a chance, do you want to walk it back right now?
No, I'm staying with it. I'm in it.

So, one thing that I find really interesting about you, you mentioned Thomas being a west coast guy, you got a chance to play in high school for Brandon Roy. He was a guy who, when he was in the league, just such a crafty, skilled score. How did he kind of shape and help develop your game a little bit?
We worked out all the time. Brandon's a mastermind when it comes to the floor. Kobe Bryant said, Brandon Roy's the hardest player he ever had to guard. Brandon, he's taught me so much just in getting to my little spots, shooting little fadeaways, getting little footwork stuff, playing with the defenders feet. I mean, he's a mastermind when it comes to basketball and stuff.
I imagine with the injury issues that he had, he's been a pretty good resource for you. What's the best piece of advice he's given you as you've been working to get back to 100 percent?
Really just stay patient. This is a process. I'm gonna be in the league for 10+ years, and so don't rush it, don't rush the first year, don't rush the first game. Just get 100 percent and I'll be good from there.
So you know we're here because of your partnership with Autotrader. I got to ask, are you a big car guy?
Actually, the reason I partnered with Autotrader is just because one of the first things I'm gonna do when I get to a city is buy a car, shop for a car, and I don't know a lot about cars. That's why I partnered with them. They know all about it.
I was gonna ask, is a car gonna be your first big purchase when that first NBA check comes in?
I think for most players, it depends on the city you go to, but I mean, it's up there for sure.
Any cars you have in mind?
Well, actually I like the Tesla, and the all new Autotrader, that has the largest selection of vehicles, so they're gonna help me find the right one. They just added Kelley Blue Book Price Advisor, so I'll find the best deal, find what works for me.