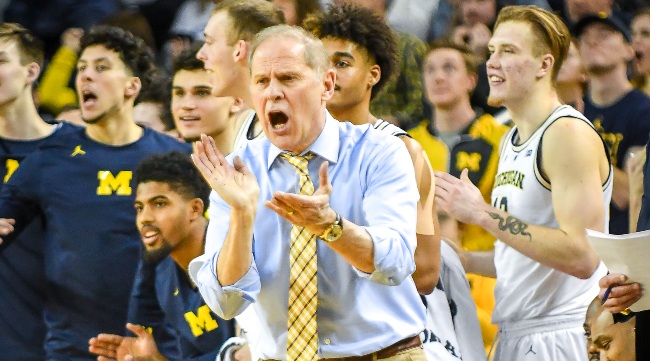 ANN ARBOR, Mich. — On the heels of a season in which Moritz Wagner, Muhammad-Ali Abdur-Rahkman, Duncan Robinson, and company came within 40 minutes of a national championship, the Michigan Wolverines were supposed to take a step back. The presence of one of the best coaches in college basketball in John Beilein can't be overstated but, as a general rule, most did not expect Michigan to replicate their lightning-in-a-bottle run from March and April of 2018. However, the Wolverines have been lights-out in the early going, compiling a 12-0 record that features wins over Villanova, North Carolina, and Purdue in dominant fashion.
The prevailing narrative during Michigan's scalding start has been the impressive baseline established by Beilein from a program-building perspective. Since devoting a position on his staff to a "defensive coordinator" of sorts, Beilein has overseen elite units on that end of the floor and, when matched with the always-efficient offenses he's known for building, the Wolverines are terrifying for the opposition. This season, the defense has once again been stout, ranking fourth in KenPom in adjusted defensive efficiency, while the offense has been a Beilein offense, especially when Michigan plays top-20 squads.
Perhaps the most surprising aspect of this success may be that Michigan is a rare national title contender that does not boast a projected lottery pick on its roster. It is, after all, true that the Wolverines aren't exclusively built with five-star prospects and sure-fire professionals. With that said, the 2018-19 team does bring pro-level talent to the table, including two players with legitimate chances to garner first round consideration when the NBA Draft arrives in June and another, Jordan Poole, with the tools necessary to make an impact for 2020.
It should be noted that neither Charles Matthews nor Ignas Brazdeikis are likely, by any stretch of the imagination, to crash the lottery party this summer. In fact, Wagner was likely a better professional prospect than either top-tier player from this year's Michigan squad and, when all was said and done, the talented big man fell to the mid-20's with a soft landing spot in Los Angeles. Still, any notion that this Michigan squad is not led by professional talent is overstated.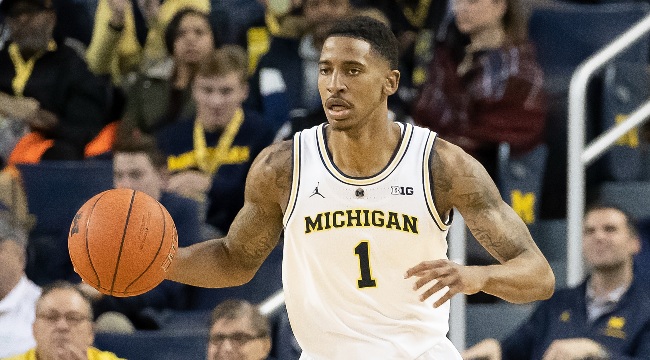 Matthews is the bigger name at this juncture, as the former high-four-star prospect began his career at Kentucky before transferring and occupying a pivotal position on last season's national runner-up team. He was, by nature of his skill set, supposed to be a supporting piece at Kentucky upon arrival and, while Matthews has contributed in a big way in Ann Arbor, he will certainly be a projected role player as a professional.
At 6'6 with a 6'9 wingspan, he brings a defense-first skill set to the table, putting him on a very short list of the best defensive players in college basketball. He is a fantastic athlete, both laterally and vertically, and Matthews' ability as a defender at the next level isn't in question. What is up for debate, though, is what he can bring offensively (though he is averaging nearly 15 points per game this season), with Matthews struggling to reassure evaluators when it comes to his jump shot.
This season, Matthews has converted 14 of 45 attempts (31 percent) from beyond the three-point arc, which is barely passable at the college level. In the NBA, he'll need to prove much more to ascend to full-blown status as a 3-and-D player and, while almost every prospect has a swing skill of some sort, Matthews' entire projection will pivot based on whether he is able to develop a workable offering from long distance. At the age of 22, his overall offensive upside is relatively limited, at least when compared to other potential first-round picks, but Matthews' overall profile can lead to a lengthy pro career if he is able to simply mature into a solid catch-and-shoot player to go along with his ability to finish at the rim and defend at a high level.
Brazdeikis entered his first season with a bit of a lower profile. The 6'7 forward was a top-50 prospect according to many services, but Brazdeikis arrived from Canada and wasn't projected (at least by most) as one of Michigan's players right away. That narrative evaporated with haste, though, as the 19-year-old announced his presence with authority in an 18-point, 7-rebound showing against Villanova and reaffirmed that breakout with 24 points (on 13 shots) during a nationally televised rout of North Carolina.
https://www.youtube.com/watch?v=ehVS71e5BiM
Brazdeikis brings a very different skill set than Matthews, one heavily based on skill and positioning rather than dominant and explosive athleticism. Given that description, it almost goes without saying that Brazdeikis will face athleticism questions when "auditioning" for the next level despite being a pretty solid athlete, but, on the bright side, his shooting and overall profile should help to alleviate at least some of those concerns.
He is a tremendous shooter who projects as a player that could be a legitimate plus in floor-spacing at the NBA level. In a limited sample during his first and potentially only college season, Brazdeikis has converted 38.5 percent of his three-point attempts to go along with season-long averages of 16.1 points and 4.8 rebounds per game, with his shooting being a skill that he can bank on going forward.
The rest of Brazdeikis' game is more subtle, as he plays with off-the-charts basketball IQ on both ends. Athletically, there will be match-ups in which he'll need to be schemed for in the NBA but Brazdeikis is always in the right place and operates with a tremendous motor, both of which help in seeing what he could be at the next level. Though some of his damage comes on the offensive glass in college, Brazdeikis will need to continue filling in the gaps with smart cuts and timely crashes to the rim, even if he acts primarily as an offensive floor-spacer in a supporting NBA role.
Unlike Matthews, who appears to be a lock-down defender with a shaky offensive forecast, it is much tougher to project Brazdeikis in the NBA. In many ways, it is poetic to compare the two players and the comparison epitomizes the very difficult nature of taking non-elite NBA talent and evaluating it through the prism of the draft.
Discussions with scouts and evaluators can send you down a number of avenues with regard to both players. Is there a scenario in which Matthews is a 10-year NBA player and Brazdeikis ends up playing overseas for the majority of his professional tenure? Absolutely. Could the inverse be true in that Brazdeikis carves out a niche as a do-everything forward while Matthews simply can't make enough shots to stay in the league? Certainly. Could Michigan, which has a shot at winning the Big Ten and making a Final Four run again, fail to place a player within the top-40 picks in June? It's in play.
That is, of course, what makes prospect evaluation virtually impossible as a science but, with a dozen games of evidence, Michigan does have two players with a realistic chance to be selected in the first round in June. That won't distinguish the Wolverines from other national title contenders, but the next time a narrative is proffered that centers on Michigan as a scrappy bunch of underdogs coalescing in perfect harmony, it's worth remembering that both Charles Matthews and Ignas Brazdeikis could be wearing NBA jerseys less than a year from now.