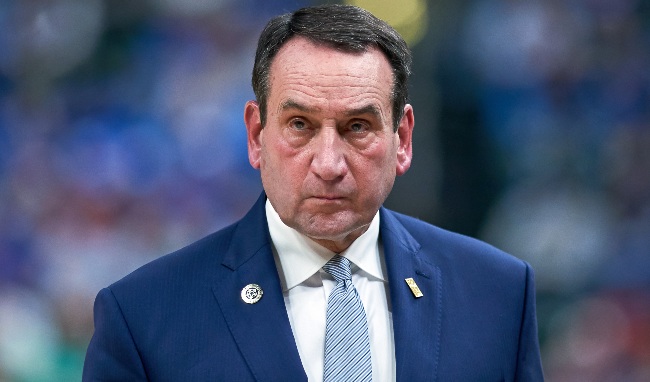 A significant portion of coaching in the college basketball world is recruiting. Programs can be built without top-tier prospects but, at the highest levels of the sport, Kentucky's John Calipari and Duke's Mike Krzyzewski (with Memphis head coach Penny Hardaway in the wings) dominate on the recruiting trail. As a result, many believe that recruiting is everything, but a recent piece from Gary Parrish of CBS Sports sheds light on more subtle work being done by Coach K.
The entire piece is absolutely worth a read but, within its confines, Parrish highlights the fact that Krzyzewski does a good job in taking advantage of late-half and late-game situations with two-for-one scenarios. In addition, he does not follow the crowd in "auto-benching" his players with two fouls in the first half and, in short, that duo of approaches can provide real advantages.
When asked by Parrish about these choices, Krzyzewski was respectful but shed a bit of light.

"I think there's so many ways to coach, so many different systems, and all of them, at some time, have won," Krzyzewski said. "So there's not a perfect way of doing it. I think you just have to do what you believe is right. And so for my whole career I've played guys with two fouls [in the first half]. And if I'm playing against a coach that doesn't, then I try to go at that guy at different times during the half because that's the best way to play defense on them. But again, sometimes when we have done that, in the second half, that coach has beaten me. So it's not a perfect thing. But we have always gone two-for-one. And I think the international stuff that I've done helps me in that regard because that's what those guys do. They do it just naturally — and it's beautiful when you get it done."
When it comes to two-for-one spots, it isn't always easy to pinpoint head coaches that aren't doing everything right, simply because players have to execute on the floor. The auto-benching phenomenon, though, is easy to spot, and there have been high-profile instances of this (perhaps most visibly with Michigan's John Beilein and Trey Burke in the national championship game against Louisville in 2013) that have clearly worked to the disadvantage of teams deploying the strategy.
Debates will rage, even with Krzyzewski on the record here, and that isn't going to change. Still, it isn't a fluke that the most successful college basketball coach of the modern era is making a point to emphasize small edges within the game.